Go ahead, fuel up at the blue pump! Why you should use E15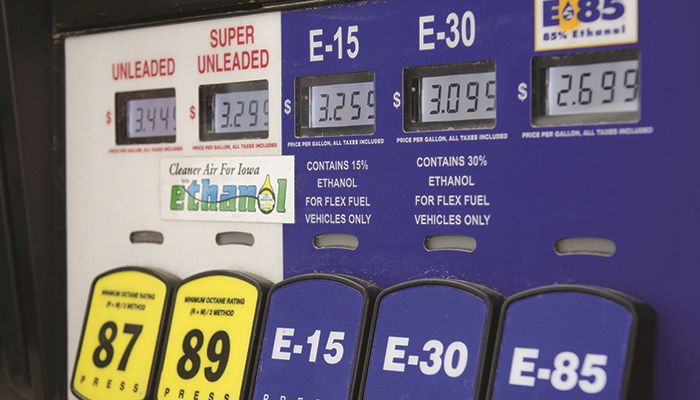 Like many central Iowans, my commute takes me through the fast-growing Highway 141 corridor in northwest Des Moines.
This winter, two new gas stations opened for business along Highway 141 in Grimes. I stopped in Kwik Star on its grand-opening weekend and walked out with a free box of donuts as part of a promotion, plus a tank full of E15 fuel in my car.
Of course, the fuel wasn't free like the donuts. But E15 was under $2 a gallon at the time, and about a nickel per gallon cheaper than the E10 gasoline I typically fuel up with.
If you haven't tried E15 yet, I encourage you to do so. I've been fueling up with E15 all winter, and I haven't had any problem starting up my car, even when temperatures dipped to a record -20 degrees Fahrenheit in early February.
E15 is a new fuel option made of 15 percent ethanol and 85 percent petroleum. It's usually found at the blue pumps, often under the name "Unleaded 88," referring to the octane level.
E15 is typically priced less than regular gasoline and E10, the common 10 percent ethanol blend you see at gas stations here in Iowa.
E15 is approved for all 2001 and newer vehicles, or about 90 percent of the cars on the road.
Motorists have driven more than 1 billion miles on E15 without any reported issues, according to the Iowa Renewable Fuel Association (IRFA).
E15 is also higher in octane, so it helps your vehicle run better. Plus, it's a cleaner fuel, resulting in less greenhouse-gas and cancer-causing emissions, the IRFA says.
Not to mention, ethanol is a home-grown fuel that boosts Iowa's economy. Iowa is the number-one producer of ethanol in the nation.
A growing number of Iowa fuel retailers, including Kum & Go, Casey's, Kwik Star and many more, are adding E15 pumps to give customers a lower-cost, environmentally friendly fuel choice.
Now I know it can feel a little odd trying something new, especially when it comes to fueling up your car.
But trust me, it's OK to pull up to the gas station and select the E15 fuel in the blue pump. You will save money, improve Iowa's air quality and help your car run better and cleaner.
And if you get a free box of donuts with the deal, then your day is made.
For a list of Iowa retailers offering E15, visit the Iowa Renewable Fuels Association website.
By Teresa Bjork. Teresa is Senior Features Writer for Iowa Farm Bureau
Want more news on this topic? Farm Bureau members may subscribe for a free email news service, featuring the farm and rural topics that interest them most!