From apple cider to Christmas trees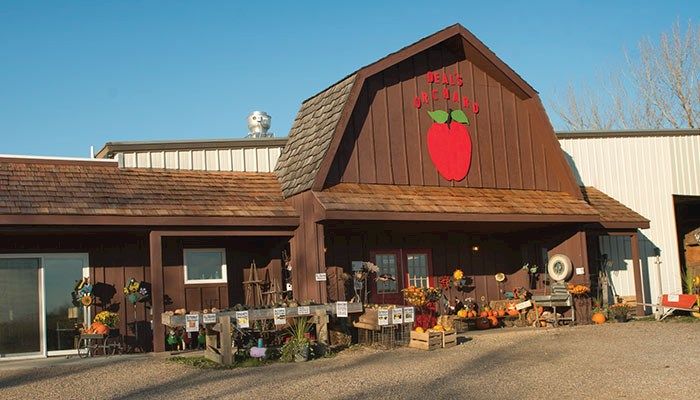 The beverage of choice in Colonial times was hard apple cider. It was so popular that when Prohibition hit, people chopped down their orchards, seeing no further use for the trees or the fruit if they couldn't distill their favorite drink.

Luckily, that wasn't the case at Deal's Orchard south of Jefferson, which has been growing apples and pressing cider for decades.

Now, the family business has taken a trip into the past, producing a hard cider that is rapidly growing in popularity.

Farm Bureau member Gerald Deal is the third generation to supply the region with apples. His grandfather started the orchard when he came to Iowa in 1917, expanding the existing stand of apple trees. His son, Forrest, gained interest in his time, making apples the family business. The infamous 1940 Armistice Day freeze nearly wiped them out, but they replanted, even expanded.

In the mid-1950s, they were presented a bumper crop. With excess apples in need of a purpose, they borrowed a hand-cranked cider press from a neighbor, and Deal's Apple Cider was born.

Beginning with that first 200 gallons, taste and reputation did their duty, and the drink became an area staple. Nearly 35,000 gallons of cider is now sold through 50 outlets in a 50-mile radius of Jefferson.
And Deal's Orchard is a regular at area farmers markets.

Deal's Orchard includes 45 acres of apple trees, 10 acres of pumpkins, 10 acres of sweet corn and four acres of Christmas trees. Deal also row-crops 160 acres of corn and soybeans.
A modern automated press creates the Deal's Orchard cider known for its sweet blend of Golden and Red Delicious with Galas. Paula Reds, Wealthies and Jonathans add tartness to create the signature flavor.

Benji Deal was in his last year of teaching high school math before joining his parents, Jerald and Cindy, in the family business. His brother, Chris, is part of the operation as well. When Benji received a winemaking kit for Christmas, he thought it looked like fun and started to experiment with the obvious fruit choice. The hard cider was a hit at family gatherings.

Like his ancestors before him, it didn't take long for Gerald to spot a business opportunity in his son's new venture.

By 2012, they were licensed to sell 150 gallons of hard cider. Now, thanks to a U.S. Department of Agriculture (USDA) Value Added grant to help with additional marketing, the hard cider enterprise is expanding even more. Benji anticipates up to 1,500 gallons of the 2015 crop will be pressed this winter.

Unlike most hard ciders made from apples high in tannins, Deal's hard cider features dessert apples, creating a unique flavor.

"We use what we have," says Benjamin. "It's really about the sweet-tart ratio. Hard cider fans say they prefer it to other popular varieties because it is dryer, or not as sweet. " It is quickly earning itself a market. Fareway and Hy-Vee stores throughout the area carry the cider, and others are calling with inquiries.

Benji continues to experiment with various flavorings for variety. Benji hopes to have a raspberry flavored option as well as a pear hard cider available in stores by the beginning of 2016.

Hard apple cider is the fastest growing type of alcohol consumed today, opening the door wide for local enterprises like Deal's. But Benji says he doesn't see them as becoming a major player.

"It's fun to experiment, and we're glad so many people enjoy our product," he says. "But the best part is being able to be part of the family business and share a drink with Mom and Dad at the end of the day."
More information on Deal's Orchard and sales outlets can be found at http://www.dealsorchard.com.
Queck-Matzie is a freelance writer from Fontanelle.
Want more news on this topic? Farm Bureau members may subscribe for a free email news service, featuring the farm and rural topics that interest them most!