Fremont County farmer, Chris Teachout, named Iowa Conservation Farmer of the Year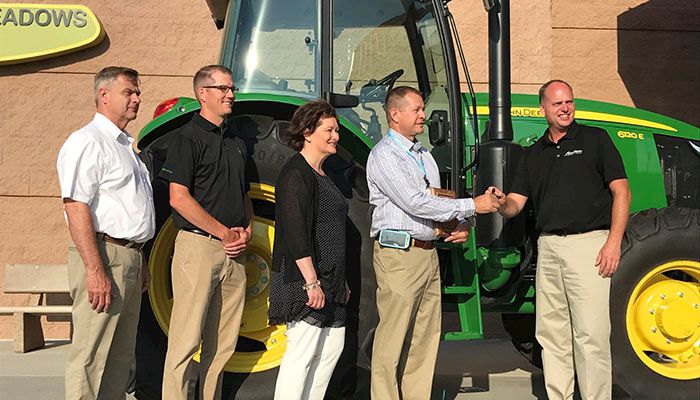 Chris Teachout of Shenandoah was using cover crops on his family farm long before they became a widely recognized and popular conservation practice in Iowa to reduce erosion and improve soil health and water quality.  Teachout's innovative approach and dedication to conservation has earned the 5th generation farmer the 2017 Iowa Conservation Farmer of the Year award, presented on July 17 during the 71st annual Iowa Soil and Water Conservation District Commissioners Annual Conference in Altoona.   
The prestigious conservation award, co-sponsored by the Iowa Department of Ag and Land Stewardship (IDALS) and the Iowa Farm Bureau Federation (IFBF), honors an Iowa farmer who has a proven track record of excellence in soil conservation and water quality improvements and is committed to continuing efforts that continuously improve the land and water.  Now in its 65th year, the Conservation Farmer of the Year Award is designed to help raise awareness about the importance of caring for Iowa's fertile lands and vital waterways and to acknowledge those who accept the challenge of continuously working to improve conservation.
In addition to being recognized with the prestigious honor, Teachout receives use of a new John Deere 6E utility tractor for a year.  The grand prize is courtesy of Van Wall Equipment of Perry and is valued at more than $12,000.  Teachout will take delivery of the John Deere from his local John Deere dealer, AgriVision of Hamburg, and will have use of the utility tractor for up to 12 months or 200 hours of use. 
While cover crops in Iowa have seen exponential growth over the past decade, growing from less than 10,000 acres in 2009 to more than 600,000 acres in 2016, Teachout was a pioneer of the conservation practice, using the cover crops from bedding for their livestock dating back to the 1980s.  
Along with no-till acres and cover crops, the Teachout farm has more than 25,000 feet of terraces and 4.7 acres of grassed waterways, which control erosion on his farm.  He's also installed riparian forest buffers in a 7.6-acre area near his farm pond, a 2.59-acre field windbreak, and a wetland restoration project that covers 26.31 acres. 
Teachout is always willing to experiment with different practices to learn something new, which in turn inspires new experiments and research.  While the thought of trying a different practice or planting a new cover crop may sound intimidating to farmers, Teachout recommends that farmers give it a try, and encourages attending soil health field days and meetings to learn more. 
"Most likely there's somebody in your neighborhood that's doing something," Teachout says.  "Stop and ask, and start the conversation.  There are a lot of us out there willing to share, and a lot of farming is social.  We need to share and help each other out."
Regional conservation winners were also recognized during the annual conservation conference, showcasing the statewide commitment to conservation by Iowa farmers.  Regional winners include: Tom Oswald of Cleghorn; Dwight Dial of Lake City; Greg Palmer of Waukon; Steve and Ann Brinkman of Audubon; Steward Baldner of Dallas Center; John Maxwell of Donahue; and Ray Menke of Ft. Madison. 
"Leading by example is so important, because everyone has a role to play in protecting our soil and water quality.  Over the years we've proudly honored incredible Iowans who lead by example and have made incredible progress in conservation and their efforts encourage others to step up to the plate," says IFBF President Craig Hill.  "Our role as farmers is to do more than grow food; we must all work towards leaving the land and watershed better for the next generation."   
"Iowa farmers continue to take on the challenge of better protecting their soil and improving water quality.  This award is an opportunity to highlight and recognize a farmer that has gone above and beyond in their conservation efforts and serves as a model of land stewardship in their community and across the state," Iowa Secretary of Agriculture Bill Northey said. 
Want more news on this topic? Farm Bureau members may subscribe for a free email news service, featuring the farm and rural topics that interest them most!