Farmer Stories Articles
Check out the stories on what Iowa farmers are doing to protect the environment. 
Justine Stevenson of Knoxville placed first in the Iowa Farm Bureau Federation's (IFBF) Young Farmer Discussion Meet held Dec. 5 during IFBF's 99th annual meeting in Des Moines. As winner of the event, Stevenson will represent Iowa at the Young Farmer and Rancher (YF&R) National Discussion Meet during the American Farm Bureau Federation (AFBF) Annual Convention in Nashville, held January 5-10.
Beth Rachut's extensive involvement and leadership with the Mitchell County Farm Bureau as well as in her community of Osage has earned this young farmer the prestigious Young Farmer Leadership Award, presented during the Iowa Farm Bureau Federation's (IFBF) 99th Annual Meeting in Des Moines, Dec. 5-6.
A lifetime of dedication to Iowa agriculture and unparalleled achievement and promotion of farming has earned two families the 2017 Iowa Farm Bureau Distinguished Service to Agriculture Award.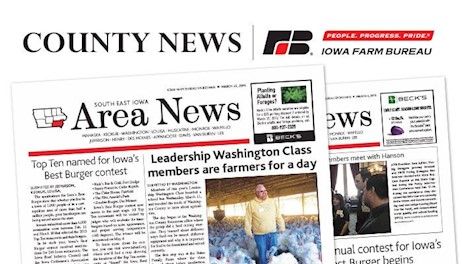 Chris Teachout of Shenandoah was using cover crops on his family farm long before they became a widely recognized and popular conservation practice in Iowa to reduce erosion and improve soil health and water quality.