Farmers trim electric costs by harnessing sunshine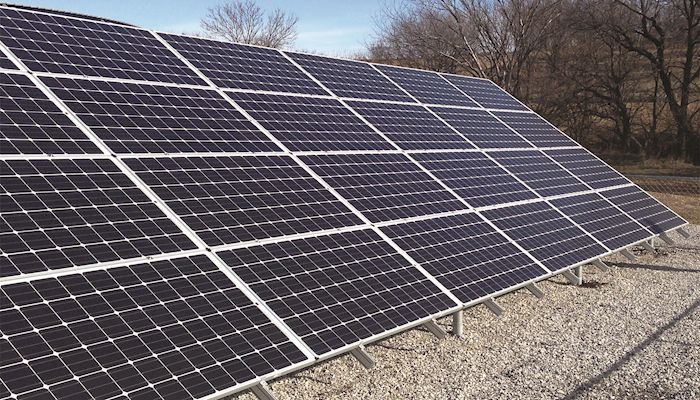 Crops aren't the only thing utilizing the sun on Iowa farms. Farmers are also using the sunshine to power their barns, their grain drying systems and their farms with solar panels.
Brothers Travis and Shane Sonksen decided to add solar panels to their new broiler barns near Stratford to reduce energy costs.
Other farmers and business owners in the state have the same goal, says Jake West, a solar energy specialist and manager for the renewable energy division of Van Wall Energy.
"Farmers want to reduce the risk of rising electric costs, and we feel like with solar we can make our producers more profitable and more competitive while reducing the risk of that electric cost affecting them in the future," West said.
Tax credits add benefit
Coupled with the benefits of state and federal tax credits, the price of solar has come down in the last year, West noted.
For a roof-mounted solar array through Van Wall Energy, customers can expect to pay about $1.70 to $1.80 per watt installed. A ground panel costs about $2 per watt installed, depending on the size and location of the project, he said.
The Sonksens, Hamilton County Farm Bureau members, settled on a roof-mounted array on each of their four barns since there wasn't enough ground space to accommodate a ground array, Travis said. However, he said he's happy with the project so far.
"It's cut our electric bill in half, at least," he said.
The solar project on the farm is expected to cover 65 percent of their annual needs, reducing their energy bill significantly, Sonksen said.
Russell Brandes, a hog farmer near Hancock, decided a ground array was the best fit for his barn site.
"I have some extra ground by the hog building, and it made sense to put it there," the East Pottawattamie County Farm Bureau member said.
His project came online in December, but the summer sunshine has worked to his advantage, he said.
He worked with Van Wall Energy to determine the best size of array for his hog finishing site. Working with Mid-American Energy, he's able to bank the extra energy the solar arrays have produced and store it for months when it's not as sunny.
"In the winter, we weren't getting much out of it, but this summer, naturally, we're getting quite a bit. The year-round average is going to work out how we had figured," Brandes said.
Jeff Koch of Van Meter hopes to bank the extra energy his roof-mounted solar array is producing for use when it's time to dry grain this fall.
His array is mounted on his new Morton building, perfect for solar panels, he says.
"We sized it to take care of all the electricity for the farm and my parents' house," he says. The Madison County Farm Bureau member also has room to expand his array should he need to in the future.
App monitors functionality
Not only is the solar array low maintenance, Koch says, but it also provides instant feedback about how it's working.
Working through a smartphone app, Koch can determine not only which panels are capturing the most sunlight, but he's also able to see if there's a problem with the array.
That provides peace of mind to customers, West says.
"The benefit of a solar project is we can monitor the system remotely with an internet connection," West says. "Many times we'll know before the customer if there's an issue."
Member benefit
One of the many benefits of being an Iowa Farm Bureau member is the perk that Van Wall Energy provides to members. Only Farm Bureau members receive the first five years of a required maintenance agreement for free from Van Wall Energy when installing a new solar project for their farm or business, saving you $2,500.
For a free assessment, visit energy.vanwall.com, or call energy specialists Jake at 515-221-0765 or Caleb at 515-414-1811.
Want more news on this topic? Farm Bureau members may subscribe for a free email news service, featuring the farm and rural topics that interest them most!