Farmers are making huge strides in water quality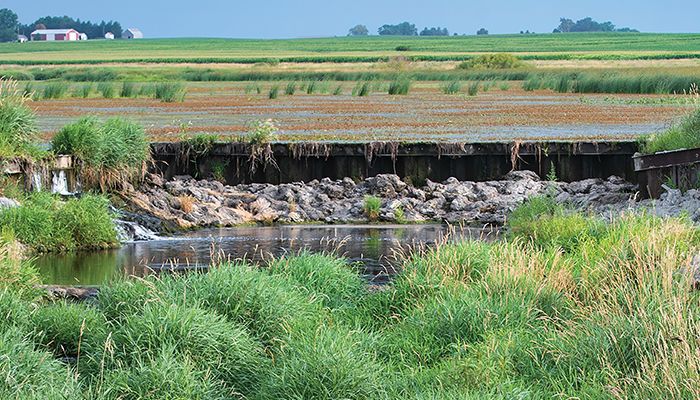 Editor's note: This editorial originally appeared in the Des Moines Register Feb. 12.

As an environmental scientist in agriculture for the past 25 years, I've been involved with Iowa setting lofty goals to take on the challenge of improving water quality and evaluating our progress.

Since the Iowa Nutrient Reduction Strategy started in 2013, it has spurred unprecedented efforts to build on successes from the past while focusing on the priority issues of today.

Some believe that no progress is being made, but there is an abundance of evidence to the contrary.

It's well known that Iowa is a national leader in agriculture, being the number one producer of corn, pork, eggs, ethanol and biodiesel. We're also a nationwide leader in the environmental stewardship of our lands that produce this agricultural bounty.

We're number one in conservation tillage, buffers, grassed waterways, filter strips, water quality wetlands, bioreactors, saturated buffers and Conservation Reserve Program pollinator habitat.

Iowa farmers have also built numerous erosion control practices over time, resulting in more than 100,000 ponds, 304,000 acres of grassed waterways, 85,000 miles of terraces and 246,000 water and sediment control bas­ins. Last year, nearly 3 million acres of cover crops were planted in Iowa, up from around 10,000 acres in 2009.

Other data shows progress as well. The U.S. Department of Agriculture shows that Iowa cropland erosion decreased by 47% from 1982 to 2017, and U.S. Geological Survey monitoring data shows nitrate concentrations have trended downward in the Des Moines and Raccoon rivers by 83% and 77%, respectively, from 2014 through 2021.


Cedar River improvement
A recent example is the Iowa Department of Natural Resources' proposal to remove the Cedar River, a source for municipal drinking water, from the impaired waters list because it is no longer impaired for nitrate by standards set by DNR and EPA.

Many examples of progress exist, all of which show farmers' efforts have undeniably had a substantial impact. Thanks to the work of the Iowa Nutrient Research and Education Council and Iowa State University (ISU), we can better quantify what the impact has been. The council collects statewide data on the levels of conservation practice use and partners with ISU to quantify the impact on nutrient loads. According to their data and assessments, Iowa ag­riculture has reduced phosphorus loads by 27% since the Iowa Nutrient Reduction Strategy baseline, which is just shy of agriculture's goal of a 29% reduction.

While the amount of progress on phosphorus reductions is impressive, we know there is more work to be done. As we look back, we see that tremendous progress has been made where we have focused our efforts. Now that our focus is shifting to nitrogen, I expect to see similar progress there.


using a variety of tools
We know not every practice will work on every farm, every year because of varying weather, terrain and soil types, which is why it's important for farmers to have access to a variety of tools.

In addition to the tried-and-true practices that have led to major gains in reducing soil erosion and phosphorus loss, we have invested in the development of new science and technology to provide additional tools to address nutrient concerns.

Tile drainage is one of the best examples I can think of when it comes to finding new ways to address nitrate concerns in partnership with agriculture. Scientists have developed practices such as wetlands, bioreactors, saturated buffers, oxbows and drainage water management that all provide ways to substantially reduce nitrate while maintaining agricultural productivity. These types of win-win approaches provide a great pathway to future success.

With 10,000 pounds of naturally occurring nitrogen in the topsoil of each acre of our naturally fertile lands, there's no denying that nitrogen management will play a part as well.

According to nationally re­nowned ISU soil scientist Michael Castellano, fertilizer ap­plication accounts for 1.5% to 2% of the nitrogen in our soil, and the remaining 98% is naturally occurring. Despite the small fraction that fertilizer ac­counts for, we are still working to collect new data and develop improved fertilizer applications that reduce nutrient losses and keep naturally rich soil in place.

Thanks to investments in science and research, tremendous new levels of technical and financial resources, and collaborative partnerships, Iowa has never been more equipped to take on the challenge of improving water quality.

There isn't one perfect ap­proach or magic bullet for water quality. As we obtain new data and insights, scientists will be better able to determine which practices work best and where, better enabling us to focus our efforts. With the proven strategy Iowa has in place, there will be continued progress through collaborative conservation efforts.

Richmond is Iowa Farm Bureau's conservation and natural resources policy advisor.

Want more news on this topic? Farm Bureau members may subscribe for a free email news service, featuring the farm and rural topics that interest them most!