Farmers, advisors work toward achieving water quality goals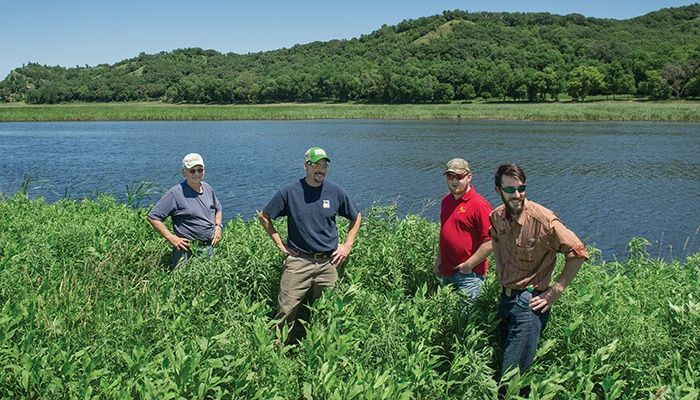 The leaders of the Iowa Nutrient Research and Education Council (INREC) strongly believe that collaboration by a wide range of private and public groups is the key to helping the state's farmers achieve conservation and water quality goals.
And INREC — a non-profit organization established by ag retailers through the Agribusiness Association of Iowa (AAI), the Iowa Farm Bureau Federation (IFBF) and other farm groups — is gearing up to be the private side of that conservation and water quality effort in Iowa.
By working with Iowa State University (ISU), the Iowa De­­partment of Agriculture and Land Stewardship and other public ag­­encies, INREC is documenting progress on conservation and water quality efforts and developing programs to provide farmers the information they need to address environmental concerns through the state water quality initiative, formally called the Iowa Nutrient Reduction Strategy.
Fostering innovation
Specifically, INREC is developing systems to help ag retailers statewide gather data on privately funded efforts to address environmental issues in Iowa agriculture and to track on-going progress. The group is working to equip certified crop advisors (CCAs) and other reps for ag retailers to be the "change agents" to help farmers install conservation practices, such as cover crops, bioreactors and wetlands, that reduce nutrient loss and improve water quality. And the group is working to foster innovation in environmental technologies and practice.
"We know that it's going to take a collaboration to get where we want to be in conservation and water quality," said Dave Coppess, INREC chair and vice president for sales and marketing at West Des Moines-based Heartland Co-op. "And ag retailers across the state want to help their customers achieve conservation goals and are very invested in the success of the state's water quality initiative."
The Iowa Farm Bureau Fed­eration is a founding organization of INREC, and Craig Hill, IFBF president, is the group's vice chair.
Documenting efforts
A key part of INREC's initial effort is work to gather data to measure and document existing conservation efforts by farmers across the state, said Shawn Richmond, the group's director of environmental technology.
Most of these installations, typically done without government cost-share funds, have never been documented, he said.
"We've had practices going on for decades because farmers believed they were the right thing to do, but they were rarely documented," Richmond said. "So we want to have systems that we can capture that information and show it fits into the (Iowa) Nutrient Reduction Strategy. That way we can highlight the progress we have already made and the gains we continue to make toward the long-term goals for soil conservation and water quality."
As it gathers data on conservation and water quality practices in Iowa, INREC will aggregate and make sure that farmers' privacy is maintained, Richmond said. "We need to work out all of our statistical procedures to make sure we are getting good quality data without endangering privacy."
Iowa State University chose INREC for a state-funded project to explore ways to measure Iowa farmers' progress in reducing nutrient loss from fields. INREC will aggregate data and analyze the impact of water-quality improvement practices, such as soil and water conservation practices and structures or technologies implemented to slow or reduce nutrient losses. Iowa State researchers will use the field-level data to estimate nutrient load reduction for the state.
While it works to gather data, INREC is developing plans to get CCAs and other crop advisors more involved in farmers' conservation and water quality plans, Coppess said.
CCAs and crop advisors from co-ops and other ag retailers are typically the most trusted sources of agronomic information for farmers, according to an ISU farmer poll. But the role of the crop advisor is evolving, Coppess said.
Holistic approach
Instead of simply recommending fertilizer or crop protection products, the crop advisors today are taking a broad, more holistic approach to help clients determine the best agronomic and conservation practices, he said.
"Conservation is really becoming part of a crop advisor's repertoire," Coppess said.
Richmond added that a crop advisor is in an ideal position to help farmers choose and install conservation practices. "The crop advisor typically knows the farm well and can see how conservation practices will work in real world conditions."
INREC, Richmond said, is also developing education modules to help crop advisors share conservation and water quality information to farmers. "These will help create another point of contact between the crop advisor and a farmer to discuss conservation and water quality practices," he said.
In addition, INREC will help validate the environmental performance of the products and practices to help validate the conservation work that farmers are doing. The organization will also work to spur innovation that will help farmers reduce nutrient loss, while retaining profitability, Richmond said.
Want more news on this topic? Farm Bureau members may subscribe for a free email news service, featuring the farm and rural topics that interest them most!