Farmer revels in calving season as he works to build his herd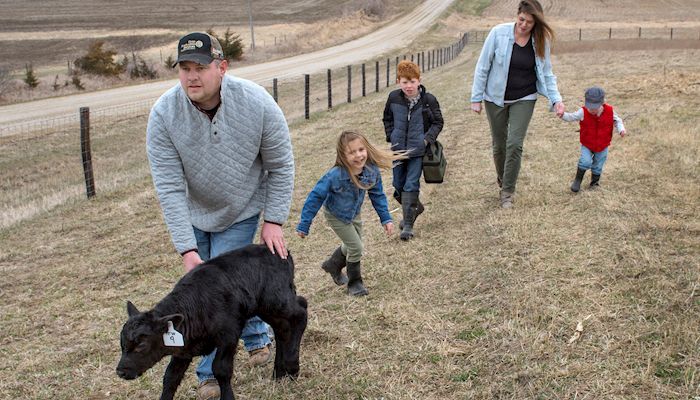 For T.J. Wiemann, spring calving time is one of the best times of the year. And despite some rain and mud, this year's calving season has gone well, says the Audubon County Farm Bureau member who farms near Exira.
"I've just had one cow that didn't want to claim her calf, but she's coming around," said Wiemann. "The best part of calving for me is to see a newborn calf stand up and start feeding on its own. Then I've done a good job keeping the cow, and the calf in healthy condition," added Wiemann.
Wiemann, 37, started farming full time eight years ago, after a decade of working at a factory in Atlantic and farming part-time.
Starting from scratch, Wiemann began farming with a well-used tractor and his grandpa's John Deere four-row planter.
Along with building his crop farm, Wiemann has worked to build up his cow-calf operation. But, he admits, building the cow herd has been tough because pasture is so hard to find.
"We had about a dozen cows last year, but we lost some pasture and now we're down to six," Wiemann said. "It took me a long time to find ground to rent."
Working together
Calving time on the Wiemann farm is a family affair. Along with his wife, Megan, Wiemann is assisted by his two older children, 9-year-old Carter and 5-year-old Addison. Their youngest, 2-year-old Beck, is mostly along for the ride on the ATV.
This year Wiemann added new fencing around two acres near the barn to control the area where the cows calve. "That way if we have any problems, we can get them right up to the barn for the night."
Wiemann, a 1999 farm management graduate of Iowa Lakes Community College in Emmetsburg, says he's been fortunate to have some people help him get started in farming. Wiemann credits his dad, Tom, for teaching him the basics of farming and raising cattle.
Wiemann also takes advantage of local experts and farmers with experience. "I do work closely with the local veterinarian for advice with any questions or issues I may have."
Patrick Gunn, a cow-calf specialist with Iowa State, said tapping into outside knowledge is critical for a cattle raiser's success. He recommends building a team of experts, including a nutritionist, veterinarian, lender and more.
Calling on experts
"It takes a village of expertise and resources to efficiently grow the operation," Gunn said. "Nobody expects you to have all the answers, but make sure you know somebody who can answer questions in every situation."
Gunn said one of the biggest problems he sees with beginning farmers is that they want to get too big, too quick. "Start small. Find a value-added marketing scheme that allows you to grow slow and steady over time," he said.
Wiemann agrees and continues to look for off-farm income to help him grow his farming operation and cow-calf herd. In time, he hopes his children will be able to take a more active role in the farm.
"We're just growing crops, calves and family, and we're always looking to expand," he said. "That's the plan."
Want more news on this topic? Farm Bureau members may subscribe for a free email news service, featuring the farm and rural topics that interest them most!