Farm Bureau expands eligibility for health plan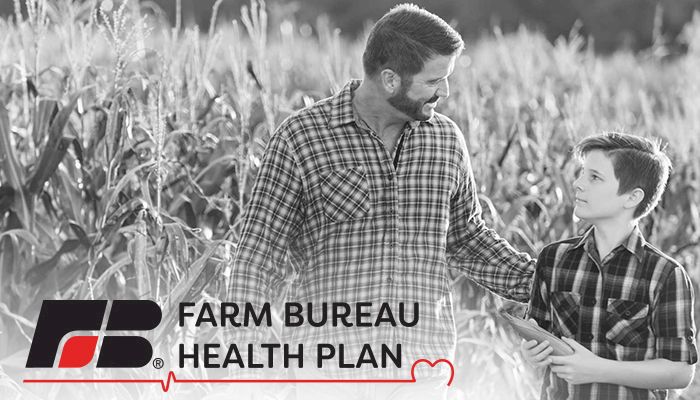 The Iowa Farm Bureau, which launched a new health benefit plan for Iowans in November, recently expanded the eligibility of the Farm Bureau Health Plan to include those who are eligible for their employer's health care plans but are looking for more affordable options. The health benefits are being provided through Iowa Farm Bureau's wholly owned subsidiary, Farm Bureau Health Benefit Plan LLC.
View Plan Information
Farm Bureau's cost-effective healthcare option, which is designed for Iowans who don't qualify for subsidies under the Affordable Care Act (ACA), is attracting interest from many Iowans, Farm Bureau Financial Service (FBFS) agents said. They are finding it has the potential to provide quality health care coverage and significant savings compared to their current plans.
"I'm really getting a lot of inquiries about the plans, and we've been able to help a lot of people," said Ann Williams, an FBFS agent in Washington County. "It's not the right fit for everyone, but it really has helped some of my clients."
Families that Williams has worked with have been able to realize significant savings through the Farm Bureau Health Plan. Williams highlighted the case of one couple who had been paying premiums of more than $2,700 per month through the ACA. Although the wife didn't qualify for the Farm Bureau Plan, they were able to reduce the premium on the husband's plan to $626 per month, she said. In 2018, his premium had been nearly double that at $1,350 per month.
"This family was able to significantly reduce their premiums and are very happy with the Farm Bureau plan," Williams said.
Keith Hennessey, an FBFS agent in West Des Moines, agreed that the new Farm Bureau Health Plan fills a clear need in the market and can help a lot of Iowans gain access to more affordable health care. "There is the potential for quite a bit of savings for a lot of folks," he said.
Fits well for many Iowans
The Farm Bureau Health Care Plan has fit well for many different groups of Iowans, including couples who are just starting families, older Iowans who want to retire before they are eligible for Medicare, people who are self-employed or those who have a dependent who turns 26, the FBFS agents said. "I talk to a lot of clients who are just happy that there are more options out there than what is offered under the ACA," Hennessey said.
"Clients are willing to pay their share for health coverage, and with the Farm Bureau health plan, it has brought the cost back down to a more reasonable amount," Williams said. "Kudos to the Iowa Farm Bureau for listening to their constituents and for taking the risk of creating this new company for health benefits, one of the most volatile industries in the country right now."
There are many other examples of families who have seen significant reductions in premiums from the Farm Bureau plan, said Steve Kammeyer, vice president of the new Farm Bureau Health Plan.
Kammeyer cited examples of a north-central Iowa couple who saved over $16,000 annually on the cost of their plan and a single person in central Iowa who saw savings of $6,000 annually. He also noted with the new eligibility guidelines, it could help other Iowans.
For example, many employers only provide premium assistance to their employees and not the employee's families. In these cases, the coverage provided by Farm Bureau Health Plan may save the family significant dollars.
Year-round enrollment
Another advantage of the Farm Bureau Health Care Plan, the agents said, is that enrollment is open at any time of the year unlike the limited enrollment periods for ACA policies.
"We have been getting a steady interest in these policies, even since the beginning of the year and after the ACA enrollment ended," Hennessey said. "They just fit for a lot of people."
The Farm Bureau Health Plan offers comprehensive, renewable health coverage. It has three different plan designs, including two traditional plans with co-pays, co-insurance and deductibles. The third plan is a high-deductible health plan that offers members the opportunity to fund a Health Savings Account (HSA). All three plans provide comprehensive coverage including maternity, mental health and substance abuse, prescription drugs and no-cost preventive benefits to members.
To be eligible, applicants must be an Iowa Farm Bureau member living in the state, not eligible for Medicare or Medicaid. Members are subject to underwriting to qualify for the new Farm Bureau Health Plan.
The plan is being administered by Wellmark Administrators Inc., a licensed administrator regulated by the Iowa Insurance Department.
Farm Bureau members interested in finding out more about the Farm Bureau Health plan or applying for coverage should visit www.iowaFBhealthplan.com or visit with their local Farm Bureau agent.
Learn More
Want more news on this topic? Farm Bureau members may subscribe for a free email news service, featuring the farm and rural topics that interest them most!