Family's century of farming built on raising pigs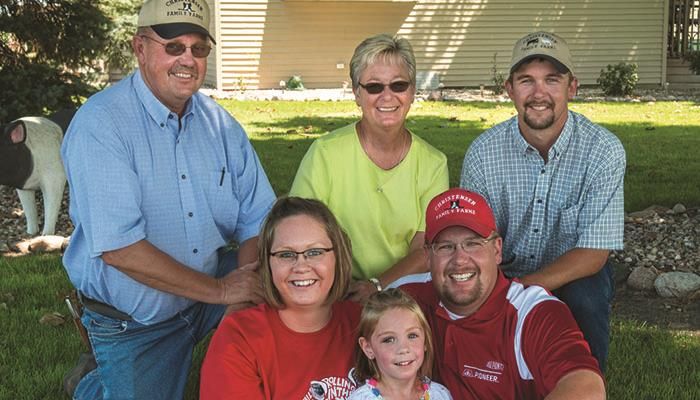 When the Christensen family traces their roots in Greene County, they think of the farm's progress in terms of pigs. It's the best way they know how.
Pigs have been a part of the Christensen family farm even before Glen Christensen can remember.
"There's been hogs on this farm probably for 100 years," Glen, a Greene County Farm Bureau member, said.
The farm got its start when Glen's grandfather, Tinus Christensen, came to the United States from Denmark when he was just 16 years old.
Tinus eventually found his way to Iowa, where he worked for a farmer. He married Ella and started the family farm near Scranton.
That's where the family's story begins. And this month, the Christensens will celebrate their Century Farm designation at the Iowa State Fair. The program is sponsored by the Iowa Farm Bureau Federation and the Iowa Department of Agriculture and Land Stewardship. The Century Farm designation, which is awarded at the fair through an application process, recognizes families who have owned their farms for 100 years or longer. The family will be one of 366 families to earn the designation at the fair. This year 101 families will be recognized with the Heritage Farm designation, which recognizes families who have had a farm in the family for 150 years or longer.
Glen has fond memories of growing up on the farm. He remembers the chores—scooping corn, milking cows, scraping manure—and the work his parents, Harold and Violette, did to keep the farm running. They raised chickens, stock cows, and milked cows. The family also raised pigs.
After attending Iowa State University, Glen returned to the farm. He and his wife, Cheryl, found their niche in raising hogs and crops.
"Back then we farrowed in pens," Glen said. "And we farrowed like 15 at a time twice a year, in January and then in June."
Market weight back then was 200 to 220 pounds, he recalled.
Moving indoors
When son Randy moved back to the farm in 2005 after attending Iowa State University, he continued the family's focus on hogs. In 2006, Randy built a confinement barn. This meant raising pigs indoors instead of outdoors, as his parents and grandparents did.
"When I was a kid, we milked and separated the cream (from the cow's milk) and fed the milk back to the pigs. So they were just butterballs, so to speak," Glen said. "Now they are so much leaner with the rations."
Today, Randy and his wife, Jenni, raise 5,200 pigs per year in a wean-to-finish system. Market weight is closer to 300 pounds, they said.
Animal care priority
Randy, however, said he had some good teachers in his parents and grandparents. His grandpa earned the Iowa Master Pork Producer award in 1962. Forty years later, his parents received the same award.
"Mom and Dad instilled it in us," Randy said. "We take care of our livestock."
Randy and Jenni also sell Pioneer seed and write crop insurance on the Century Farm. They were awarded the Gary Wergin Good Farm Neighbor award in 2009. Being good neighbors and stewards of the land is important, they said.
"The land is the key to who we are and our success," Randy said. "I think about the blood, sweat and tears that went into what it (this farm) is."
Maintaining the farm while raising their family meant Glen and Cheryl's family worked together to feed their livestock and grow their crops. Weekends meant chores and cleaning out the barns. And church on Sunday.
But there was always time to be involved in the community and local boards, including Farm Bureau and the local pork board, among several others.
Living on the farm gives Randy and Jenni a chance to show Madison, their 4-year-old daughter, the fifth generation Christensen, how they grew up. They're expecting a son, who is due to arrive in November.
Just down the road from the Christensen's century farm, another son, Matthew, and his wife, Jessi, are also continuing the family's farming legacy in Greene County.
Matthew and Jessi have 40 cow/calf pairs. Jessi works as a large animal veterinary technician at the Audubon-Manning Veterinary Clinic. Matthew operates a custom baling and side-dressing business and a welding and repair shop.
He and Randy also operate a custom spraying business, while raising crops with his family.
"This is actually where everything began for us," Matthew said. "This is where the Christensens started and are continuing, and will continue for a number of generations, we hope."
Looking to the future
As the family reflected on the past 100 years, they wondered what the next 100 years will bring as Madison and her brother grow up.
Technology and innovation, they said, will drive further progress on their farm, just as it has the past 100 years. "We've got 48-row planters now and tractors that drive themselves," Randy said. "I can remember my dad planting with a 2-row planter," Glen added.
So what will technology and agriculture look like in the next 100 years?
"I think the big thing we're going to see is livestock that can feed more people," Randy said.
"When I started, 100-bushel average was good corn at that time," Glen said. "Now we're double that. Are we going to double that again in 50 years? Will the average by 400-bushel corn? It very well could be."
It's a dream come true that both sons work in agriculture, Glen said.
"All farmers work for that—to see the next generation take over," Glen said. "That's very important. And to see it go on for 50 more years until it becomes a heritage farm, I think that's a real joy."
Want more news on this topic? Farm Bureau members may subscribe for a free email news service, featuring the farm and rural topics that interest them most!