Fall Fertilizer Update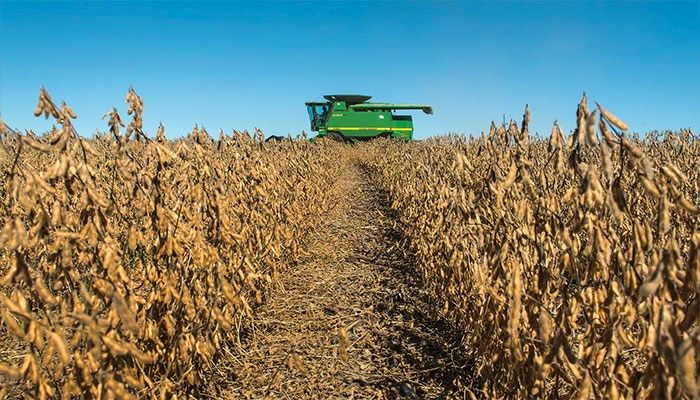 Nitrogen fertilizer pricing saw gains across the board for most nitrogen sources in September 2022, as another wave of production curtailments at European production plants passed through the market in August and continued into September. New Orleans, Louisiana (NOLA), urea barge prices jumped about $100 per short ton higher at the end of the month following the news from overseas. Meanwhile, phosphates and potash saw prices decline due to ample supplies for any present demand and a slowing of export interest from traders in the U.S. Gulf.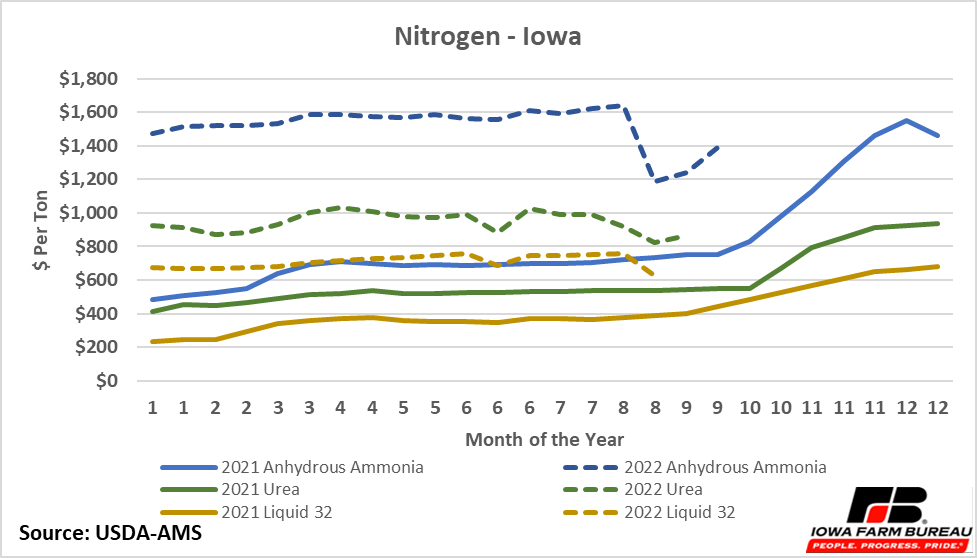 AMMONIA - Domestic: The news of climbing natural gas prices and subsequent shuttering of nitrogen production in Europe elevated U.S. ammonia prices in August, despite a continued slow period of domestic demand in the off-season following fill and prepay buying periods. Prepay offers in July had come in $75 higher at Port Neal, Iowa, from summer-fill levels in Iowa at $900 per short ton (t) free-on-board (FOB -- cost of fertilizer without transportation costs factored in) for the fourth quarter. Oklahoma plant offers were also higher in a range of $850-$875/t FOB, higher from the initial summer-fill offers as low as $800. Offers were valid for about two days before prices were raised by $20 and then offers were pulled entirely. Later in August, price increases were reported in the U.S., with Corn Belt ammonia prices ranging from $1,030-$1,080 FOB in August. Prices also climbed at eastern Oklahoma ammonia plants to $950-$975/t FOB as further uncertainty set into the global market after more European production shuttered in August due to rising natural gas prices. Ammonia offered from Port Neal, Iowa, was also raised a similar amount to $1,010/t FCA, just over $100 higher than prepay. Ammonia prices appear poised to continue increasing into the winter if the natural gas scenario in Europe does not see much improvement and is likely to pull global ammonia pricing higher alongside. 
 AMMONIA - International: The main topic of conversation in global ammonia in August was the relentless rise of gas prices in Europe and the resulting flurry of additional ammonia and fertilizer production curtailments. 30 of the 39 plants in Europe are either offline or running on imported ammonia. The other 9 plants are operating at various reduced levels. The cost of natural gas in Europe surged higher after Gazprom announced on Aug. 19 it was suspending its supply to Europe via Nord Stream for three days from Aug. 31 to Sept. 2 to carry out unscheduled maintenance, before announcing the stoppage as indefinite. Yara and Mosaic agreed a price at Tampa of $1,150 per metric ton (mt) cost-and-freight (CFR --- cost of the product plus transit fees) for September, an increase of $50 on the August price of $1,100 CFR. Further increases are expected for October, as the underlying fundamentals of reduced production in Europe are only more severe now than earlier. Black Sea ammonia was, meanwhile, nominally lower -- again, with little product actually transacting in the region due to the ongoing conflict in Ukraine. Baltic ammonia was seen lower at $925-$960/mt FOB, down from $940-$980 in July when production was shuttering and uncertainty was at an even greater peak. The short-term outlook for global ammonia is firmer in the Western Hemisphere, supported by the European curtailments, while eastern markets are stable to softer. 
?UREA - Domestic: NOLA urea barges were priced from $560-$685/t FOB at the end of August, sharply higher from the end-of-July higher trades at $585. As with the ammonia market, additional nitrogen production outages announced in Europe, alongside a slew of other developments in energy and financial markets, led urea prices to skyrocket over $100/t at NOLA last month. After the European announcements became known, prices jumped around $50/t each day that week, rising up to $640-$685 FOB for September barges. Bids for August barges ended up rising as high as $700 through brokerages before prices would eventually retreat again. 
River terminal urea prices followed NOLA higher but to a lesser degree, as domestic demand remained slow through August to $710-$725/t FOB at hub markets including Cincinnati, St. Louis and Inola, Oklahoma. July saw terminal prices end the month around $580-$615 FOB. In the short term, we expect urea prices to continue following the global market without much activity in the U.S. itself to motivate price levels domestically. September may see more life in the market as buyers return to meet immediate and pre-spring needs, and to stage product up the Mississippi River ahead of the impending winter transit closure north of St. Louis.  
UREA - International: Spiking gas prices in Europe dominated the global urea market in August. Plants in Europe have been announcing temporary closures day-by-day with Norway's Yara, Achema in Lithuania and Grupo Azoty in Poland the latest to cut production, as well as Borealis at its Grandpuits facility in France. The Brazilian market ended August at $585-$640/mt CFR, up from the previous month price of $540-$580. Activity in Brazil, though, was still quiet during its offseason while it awaited the next Indian tender's announcement. The closure of plants in Europe due to extremely high natural gas prices is expected to see urea prices continue to firm. With India expected to step in for 1 million mt in September and Brazil likely to ramp up purchases as Europe and the U.S. come back into the market, prices globally should continue to head up in September/October given lower European output and limited exports from China. 
UAN - After a chaotic month of announcements that shook the nitrogen market in Europe, nitrates activity in the U.S. remains slow and illiquid. However, sellers have been hesitant to re-offer, as a result, and with much UAN having been shipped off to European shores, UAN pricing has been quite firm over the past several weeks. NOLA UAN barge prices increased in August from $420-$440/t FOB, up $20-$40 from July in the absence of much confirmed business but illustrating shorter availabilities driving prices higher. River terminal offers were last heard from $435-$440/t FOB during the initial summer-fill period around late July/early August. Since producers pulled prices, offers were heard higher out of Cincinnati in a range of $455-$460/t FOB -- up about $15-$20. Activity has been slow in the meantime as buyers await further direction from the market or for producers to offer product at new price levels. But other regions such as Texas and the East Coast saw triple-digit price increases in August back into the $500 range. In other news, Koch Fertilizer announced it is planning a $30 million optimization project at its Dodge City, Kansas, nitrogen plant to increase UAN production by 35,000 tons per year in 2023. The project will further improve the facility's reliability as well as environmental and safety performance through equipment and process upgrades. We expect UAN prices to be firmer heading into the fall, alongside the rest of the nitrate suite of fertilizers, with supplies balancing out after a slow summer and world nitrogen values looking higher for the foreseeable future.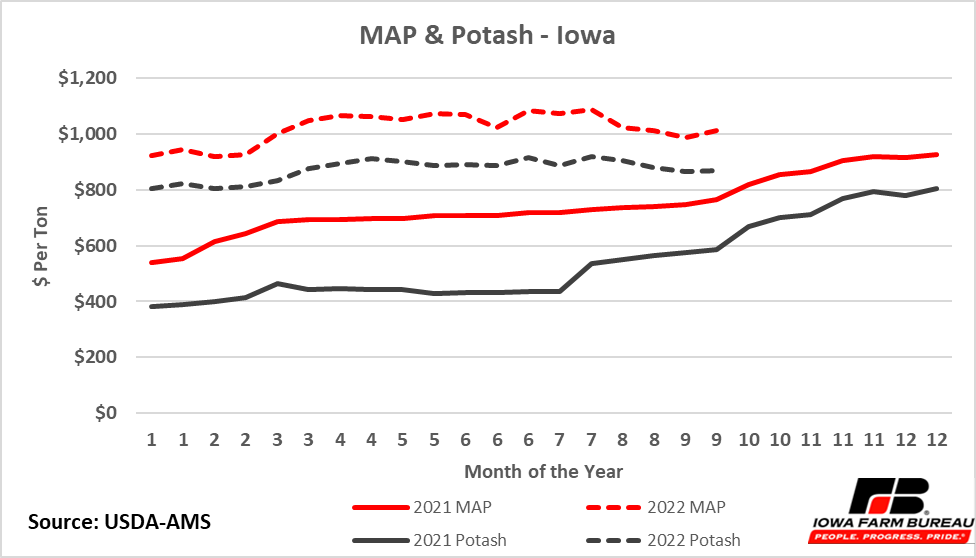 ? 
PHOSPHATES - Domestic: Trader interest in re-exporting phosphates wavered in the middle of August but picked up again later in the month, leading to increased liquidity in the U.S. Gulf and prices partly supported despite a persistently slow domestic market. NOLA DAP was priced at $740-$745/t FOB in August, down from $755-$760 in July. MAP barges meanwhile traded $760-$773/t FOB at NOLA, lower compared to the previous month's last assessment of $790-$807. River terminal phosphate pricing has remained mostly steady as inland phosphate movement remains very slow but did adjust lower with decreasing barge values at NOLA. Prices fell in a range of $780-$805 DAP, down from $810-$825 in July, while MAP prices were $30-$40 lower month-over-month at $805-$815. U.S. demand could improve in September and October as more buyers are likely to return for refill buying and potentially some post-harvest fertilizer applications in the central Corn Belt. Where corn yields suffered due to drought, less P&K nutrients will be required, and a lack of buyer enthusiasm for summer fill reflects this reality. 
Overall, phosphate demand is expected to not quite meet the same bar that was set last year, but that pricing should be stable to firmer, as surplus volumes were exported earlier in the summer, and some buyers set to return this fall.  
PHOSPHATES - International: Strong demand for DAP in India has been seen, where about 400,000 tons were booked in one week in August. Indian buyers have secured new DAP purchases in a range of $856-$890/mt CFR -- falling from July price levels of $920. And the scene appears set for prices to fall further despite strong demand in the country, with China apparently able to supply cheaper volumes. Buying interest in Latin American markets remains lackluster. In Brazil, prices have retreated to $790-$800 CFR -- down over $150/mt from July pricing. The outlook for the global phosphates market is weaker in the short term with suppliers currently plenty able to keep up with more emerging demand. 
POTASH - In late July, Nutrien released its summer-fill offers for third-quarter delivery at $765/t FOB Midwest terminals and $735 NOLA barge reference. After the first round of fill discounts from North American producers passed, import product began dragging down potash values throughout August. NOLA granular potash barges at the end of August were seen at $645-$655/t FOB, having lost about 10%, or about $60/t, from the July price of $705-$715. Prices continued to erode at NOLA, especially for imported product as re-export interest was said to motivate the liquidity earlier in August before slowing later. River terminal potash prices have similarly moved lower but to a lesser degree than barge prices to $715-$735/t FOB, lower from $740-$760 in July. Offers at $760/t FOB river terminal for North American product were also said to still be achievable but remain uncompetitive given the falling barge and terminal prices. In the short term, U.S. potash prices are expected to remain steady to soft with domestic demand still flat. Like phosphates, poor corn yields in the drought-affected areas of the Northern Plains and Western Corn Belt will likely mean less potash demand during the post-harvest application period. 
Economic analysis provided by David Miller, Consulting Chief Economist, Decision Innovation Solutions on behalf of Iowa Farm Bureau. 
Want more news on this topic? Farm Bureau members may subscribe for a free email news service, featuring the farm and rural topics that interest them most!