Ethanol passes key milestone at Crossroads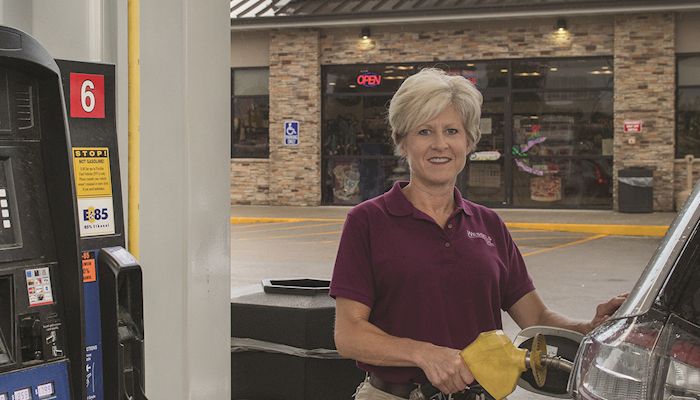 In March, the Crossroads Con­venience Store in Spencer be­­came Iowa's 100th E15 station, firming the state's position as the number one state in the U.S. for E15 refueling sites.
The Spencer store is owned by Wessels Oil Company based in Palmer, which owns and operates six convenience stores in northern Iowa. The company has offered higher blends of biofuels at its stores — including E85, E20, E30 and B5 — since 2014. The Spencer store is the retailer's first location to offer E15.
"We chose to add E15 for a few reasons," said Lisa Wessels, director of operations of Wessels Oil Company. "First, we had a need to upgrade our fueling pumps. As we upgrade our underground storage equipment and/or pumps, we always look for ways to add higher grades of ethanol into the mix."
Secondly, she said the Spencer store had enough underground storage tanks available to add E85, thus not having to dig up tanks and bury new ones, keeping the costs down.
"Next, we looked at market demand of E15 in the area. With only one other marketer in the area offering E15, we felt it was a great opportunity to grow our fuel business," she said.
The demand for higher grades of ethanol continues to grow. Wessels said the company currently sells more E15 than E20, E30 and E85 combined.
"With 2001 and newer vehicles able to burn higher grades of ethanol in their tanks, there is a growing market for E15," Wessels said.
She said consumer education is growing about the benefits of E15, so offering it to their customers made sense. E15 is a widely tested and cleaner-burning fuel. In general, it has a lower price point than regular unleaded gasoline and E10, saving consumers money at the pump.
"Higher grades of ethanol help promote demand for Iowa's corn supply, helping out the farming community," Wessels said. "It also creates jobs in Iowa."
Wessels was granted funds from the Iowa Renewable Fuels Infrastructure Program (RFIP) and the U.S. Department of Agriculture to install blender pumps and storage tanks to offer E15. RFIP offers cost-share grants to Iowa retailers wanting to upgrade fueling infrastructure to offer E15, E85 or biodiesel blends.
"We would like to expand E15 to our other locations," Wessels said. "Feasibility and demand will drive our decision. The cost of installing a tank and/or new pumps for E15 need to be reasonably priced, making the renewable fuel grant programs and tax credits very important."
The RFIP grants can cover up to 70 percent of the installation costs, up to a maximum of $50,000 per project, with a five-year commitment to sell E15, E85 or biodiesel blends.
"RFIP has leveraged millions in private investment to make it possible for 100 stores and counting to offer E15," said Monte Shaw, Iowa Renewable Fuels Association executive director. "More than 80 percent of the vehicles on the road today are approved to run on E15, and every year that market share grows. This 100th station is only the beginning for E15."
Kort is a freelance writer in Ankeny.
Want more news on this topic? Farm Bureau members may subscribe for a free email news service, featuring the farm and rural topics that interest them most!