Entrepreneurs find Iowa a friendly place for start-ups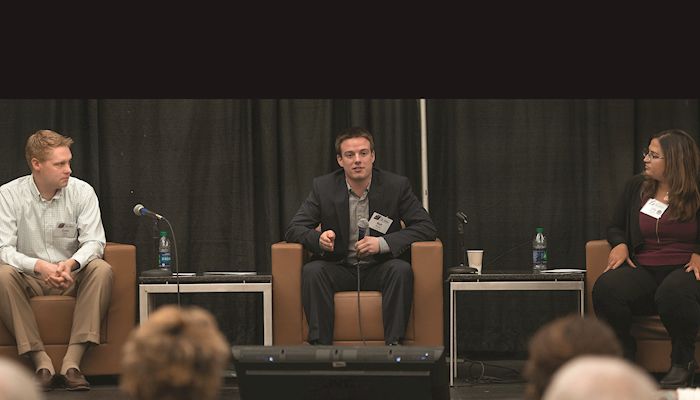 The climate for business start-ups in Iowa is as good as anywhere in the country due to programs like Renew Rural Iowa, a trio of ag entrepreneurs said last week at the Iowa Farm Bureau's 99th annual meeting in Des Moines.
"There's an ecosystem of supporting innovation and entrepreneurship in Iowa," said Colin Hurd, founder of Smart Ag, which uses technology to solve labor challenges on the farm. "One of the great things about Iowa is it's a tight-knit community. It's hard to meet someone that doesn't know someone you know. To us, that's been a great benefit, especially in agriculture."
Hurd joined Matt Rooda of SwineTech and Lilia Roepke of SaleRing on a panel discussing "Iowa's Rural Challenge: Creating Opportunities." All three businesses said mentoring support they received from Farm Bureau's Renew Rural Iowa program was important in helping turn their ideas into reality.
Supporting start-ups
Hurd said Iowa State University also provided support for his business ideas through classes on entrepreneurship and the Ag Startup Engine, which provides mentoring and financial support to bring ideas to the marketplace.
Iowa has a strong network of investors who are willing to invest seed money in business start-ups, especially in agriculture, said Rooda, whose business uses audio monitoring to prevent piglets from being crushed by sows. SwineTech has received financial support from next-door neighbors, college professors and "angel" investors, he said. But mentorship is equally important in helping entrepreneurs write a business plan and overcome the hurdles in starting a successful company, Rooda said.
"Money alone isn't what gets you going," he said. "In Iowa, there are a lot of people who will help you get going. We've had a lot of mentors."
Roepke of SaleRing agreed. After living all over the world, she and her husband found Iowa as the perfect place to launch their app that connects livestock buyers and sellers by combining the features of social media and internet commerce websites.
"For us, Iowa is home," she said. "The community has welcomed me. People want to help."
SaleRing was a semifinalist in this year's American Farm Bureau Rural Entrepreneurship Challenge and was named Best Ag Technology Start-up, earning a $10,000 prize.
SwineTech is a finalist in the contest and will pitch its business concept in a "Shark Tank" style format at the AFBF annual convention in Nashville next month. The final four teams, chosen from 471 applicants, were each awarded $15,000 and will compete for $25,000 at the 2018 AFBF convention.
Midwest ties important
Even with all of the assistance available in Iowa, all three entrepreneurs said finding and retaining talented employees is one of their biggest challenges.
Hurd said the top engineers graduating from Iowa State can make more money with larger companies than he can offer, so he has to search for employees who want to stay in Iowa and be part of an emerging company.
"We look for people who have Iowa ties," he said. "If you grow up in Iowa, Iowa is home."
Midwest ties are also an important trait for Rooda, who noted that employees recruited in from the coasts often have a hard time adjusting to the pace of life here.
Testing on the farm
Rooda and Hurd both said the ability to test their ideas on the farm has been invaluable. Rooda said he's worked with aerospace engineers who are surprised at how advanced farm technology is.
"The biggest benefit to us is (farmers). It's easy to get feedback," he said.
Smart Ag did extensive field testing of its technology that automates grain cart tractors during this fall's harvest, Hurd reported. Being able to ride in the tractor or combine to see how the technology works in real-life situations was invaluable for his tech staff, he said.
"If we developed it in Silicon Valley, we wouldn't have that access," he said.
Filling a need
The three entrepreneurs said their business ideas sprang from identifying a need they saw in their everyday lives working with farmers.
Hurd, who earlier developed a planter attachment that reduces compaction, said he identified labor shortages as a common problem for many farmers he worked with. "It became very apparent that automation was going to be the solution for this problem," he said.
Rooda said his idea came while power washing his family's hog barns, which provided a lot of time to think. Hog farmers have figured out how to provide the best health and nutrition care for their animals, but pig crushing remained a problem, he said. Like Hurd, he found technology was the solution, creating a device that stimulates the sow to stand up or move when audio monitors detect piglets in distress.
Roepke said SaleRing evolved due to her husband's frustration with available resources to view and bid on show animals.
"These websites were not easy to use. He would be so mad," she said. "We created an app that is very friendly to use. (People) swipe pictures on Instagram or Facebook all day long. We thought, 'Why can't we do this for our livestock?'"
Want more news on this topic? Farm Bureau members may subscribe for a free email news service, featuring the farm and rural topics that interest them most!