DMWW lawsuit dismissed, conservation work continues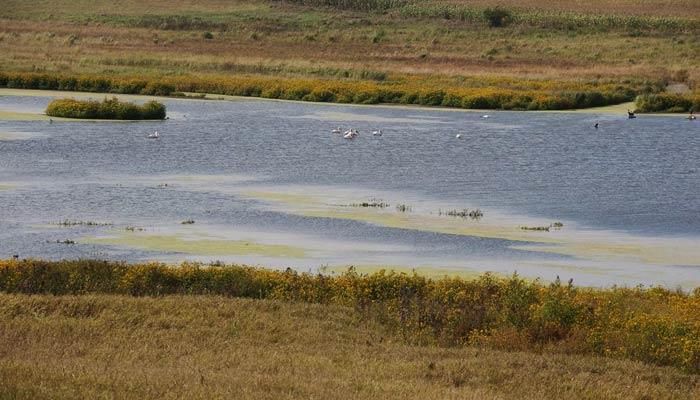 Farm Bureau leaders were pleased that a federal court dismissed a lawsuit filed by the Des Moines Water Works (DMWW) against drainage districts in Buena Vista, Calhoun and Sac counties and said last week that the court's ruling will not diminish Iowa farmers' commitment to improving water quality and saving soil.
"The dismissal of the lawsuit won't really make a big difference to what we are doing on conservation out here in the country," said Matt Raasch, a Sac County Farm Bureau member whose family has built terraces, planted grass waterways and implemented other conservation practices on their farm near Odebolt.
"This process of building terraces, planting cover crops and finding more efficient ways to fertilize our fields has really been going on for decades and certainly won't stop now."
Ben Albright, a Calhoun County Farm Bureau member agreed that conservation progress is happening in Iowa fields and was not driven by the lawsuit. "Conservation and water quality efforts have really started to snowball out here as we learn more about the practices," said Albright, who has increased his cover crop acreage by 10 times since he started the practice in 2012. "We are really seeing a lot more cover crops everywhere than we used to."
Kevin Jesse, a Buena Vista County Farm Bureau member, said area farmers are clearly focused on conservation and water quality and the dismissal of the lawsuit won't change that. "We're really going forward with these practices, and we don't see that changing" said Jesse, who has planted cover crops on his fields in the past six years.
Craig Hill, Iowa Farm Bureau Federation president, noted that the commitment to improve water quality and reduce soil erosion has long been a guiding principal for Farm Bureau members and is not impacted by the dismissal of the lawsuit.
"We've been working on conservation for decades, and that work has really accelerated in the past few years since the introduction of the proven production practices in the Iowa Nutrient Reduction Strategy in 2013."
Farm Bureau, Hill noted, continues to support Iowa farmers' efforts to improve water quality. The organization is a key sponsor of the Iowa Nutrient Research and Education Council (INREC), which works with ag retailers to promote water quality and increase the adoption of conservation practices. Farm Bureau also backs several watershed demonstration projects that are part of the Nutrient Reduction Strategy, as well as other water quality programs around Iowa.
Lawsuit dismissed
Federal Judge Leonard Strand on March 17 granted a motion by the northwest Iowa drainage districts to dismiss the DMWW lawsuit. The districts were named defendants in the federal lawsuit filed two years ago in the Northern District of Iowa.
Earlier this year, the Iowa Supreme Court answered questions about state law posed to them by the federal district court. It rejected major portions of the DMWW's arguments and upheld Iowa's longstanding precedent, which has protected drainage districts from damage claims for more than a century. The federal court dismissed all of the state claims as part of its ruling.
The dismissal of the DMWW lawsuit is welcome news for Iowa farmers because it removes a distraction in their efforts to improve water quality, said Andrew Lauver, a Calhoun County Farm Bureau member.
"It's a relief to have the lawsuit out of the way so we can concentrate on conservation and help the public understand the progress that farmers are making," Lauver said. "I think the lawsuit was sort of a distraction from the real work we are doing."
The dismissal of the DMWW lawsuit will clear the way for more conservation collaboration by farmers, rural communities, government agencies and others, Hill said.
Collaboration is key
"Collaboration is the key to water quality progress," Hill said. "Without the distraction of the lawsuit, farmers, landowners and their communities can place more focus on meaningful solutions for their own watersheds. Iowa farmers are embracing the challenge of improving water quality, but it will take all of us working together to achieve long-term results."
Recent surveys show that Iowa farmers, working with conservation agencies, local agronomists and Iowa State University (ISU), have significantly increased use of conservation and water quality practices as they embrace the challenge of water quality improvement.
"People are figuring out what works best on their farms and on each of their fields," Raasch said. "It's really a continuation of what farmers have always done."
Farmers are investing more in conservation even though commodity prices have dropped and margins have virtually disappeared, noted Gary Langbein, a Sac County Farm Bureau member.
"Cash is tight these days, but the conservation work is still going on," he said. "I'm seeing more cover crops, no-till and a lot of other practices now."
Lauver said young Iowa farmers like himself are benefitting from the progress in conservation and care of the land by previous generations. "That's a proud heritage that we all want to continue," he said.
Conservation gains momentum
Iowa farmers have made progress on water quality and soil conservation over the decades, especially in the past few years since the introduction of the Iowa Nutrient Reduction Strategy. Here are a few highlights:
• In 2016, Iowa farmers planted 623,700 acres of cover crops, up from 472,500 acres in 2015 and 350,000 acres in 2014, according to Iowa Learning Farms. Cover crops were planted on fewer than 10,000 acres in 2009.
• A survey in 2016 of Iowa Farm Bureau members showed that 84 percent said they are actively applying conservation practices on their farms, 75 percent said they were applying those conservation practices on their own, with zero cost-share dollars from state or federal agencies, and 76 percent plan to apply more conservation practices within the next five years.
• Iowa leads the nation in acres devoted to grassy strips in fields and around fields to protect our water from runoff. The number of acres increases nearly every month and in 2016, at nearly 1.1 million acres, was almost four times greater than it was in 2001, according to the U.S. Department of Agriculture's Farm Service Agency.
• Nitrate levels in the Raccoon River have trended lower by nearly 25 percent in the past 15 years, despite a significant increase in corn acres in the watershed, according to a study by the Iowa Soybean Association.
Want more news on this topic? Farm Bureau members may subscribe for a free email news service, featuring the farm and rural topics that interest them most!