Continuing to care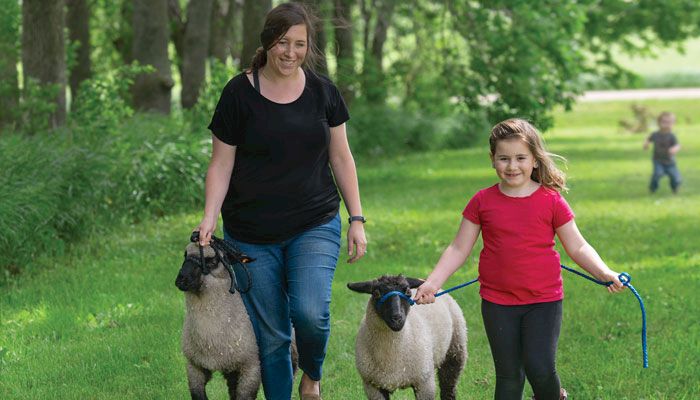 Raising animals and show­ing them at their local fair, for so many young people around Iowa, is a rite of summer, like ice cream or time away from school.
While the COVID-19 outbreak has brought changes to how 4-H and FFA projects are presented and judged, the fundamentals of high quality animal care and hands-on learning experience continue throughout the year.
Debbie Nistler, Iowa 4-H program director at Iowa State Uni­­versity Extension and Outreach, said local 4-H clubs and county fairs are working to provide youth a "culmination experience," where they can "go to the fair and demonstrate what they've learned, present the animal in its best light to the judge, receive feedback on things they can improve on and apply that feedback to the project next year."
She said even in counties where the annual fair is canceled, club members will be given the chance to show their animals, either virtually or in person.
Last week, the Iowa State Fair announced it would postpone the fair until 2021.
A Disappointment
The loss of the state fair is a disappointment to Jennifer Holliday, 17, daughter of Doug and Jodie Holliday of Greenfield. She won both Champion Market Broiler and Champion Roaster chickens at the 2019 state fair.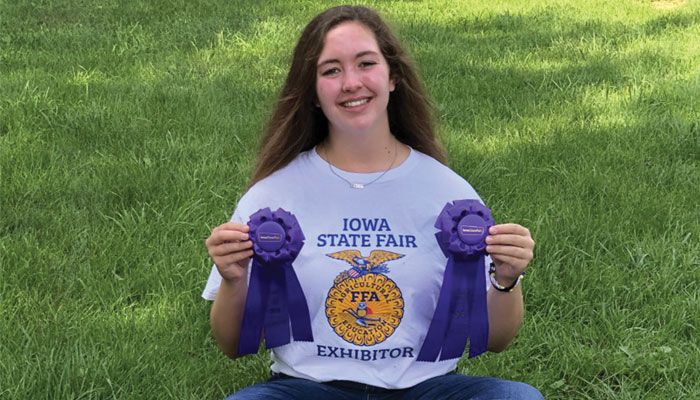 "The state fair is my favorite part of the year. It is such a memorable experience," she said. "For many people, this could be their last state fair. Without being able to experience at least part of the fair would be devastating."
In Adair County, fair organizers are offering a "show and go" judging process, where young people come in a few at a time, share their projects and then take their animals home.
"We know that your kids have been working hard, and we want to do everything we can to allow them to showcase their projects," the Adair County fair board said in a statement.
Holliday will present her broiler chickens this way next month. For her FFA project last year, she raised about 125 broilers at a time all summer. She used the project and her chickens to help save up to buy a car, raising and selling a total of 900 chickens. In addition to champion broiler and roaster, she also was honored with Reserve Champion Roaster and Champion Commercial Pen awards in 2019.
Learning a lot
For 12-year-old Brayden Wood, son of Nathan and Sarah Wood of Sigourney, four years of raising hogs through 4-H to show at the Keokuk County Fair has taught him a lot about his animals.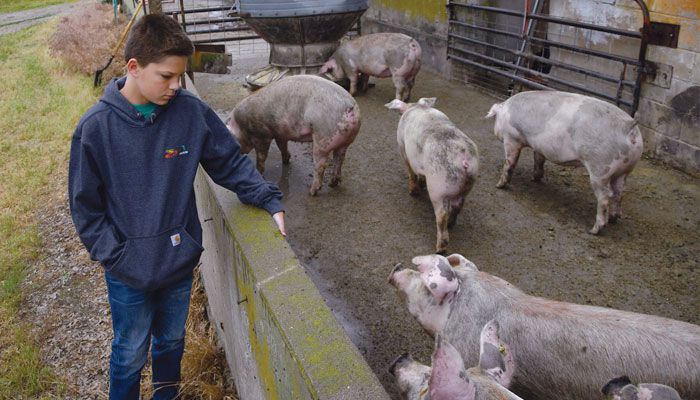 "Pigs are really smart animals," he said. "If there is something I don't want them to have, they find a way to get it."
As part of his project, Wood feeds the hogs daily, monitors their health and takes notes on the experience, all leading up to the trip to the county fair. For the fair, he picks the best and healthiest of the herd, loads and transports them (with a little help), then washes and presents the hogs for judging.
"He's extremely responsible at 12 to be taking care of these animals," Nathan Wood said.
Gaining confidence
Briley Rosburg, 6, daughter of Brian and Britney Rosburg of Estherville, has been preparing two sheep, Jack and Jill, for the Emmet County Fair all spring. Briley has been active in the 4-H Clover Kids program and will have other exhibits at the fair in addition to participating in the Open Bucket Bottle lamb class.
She said she feeds them a mix of corn and pellets every day, but her dad helps her scoop the feed. "They make me feel confident," she said. "I know they want to go to the fair with me."
The confidence not only to care for the sheep, but also to talk to grown-ups about Jack and Jill is a change for Briley, who is normally shy and reserved, according to her mom.
"There are a lot of skills she is learning from them," Britney Rosburg said. "She is following through on her responsibilities and has gained a lot of confidence. We had one sheep pass away earlier this spring too. That was hard, but she learned a lot from it."
Leaders of the Keokuk and Emmet County Fairs hadn't fin­alized their 2020 livestock show plans as of June 12.
Want more news on this topic? Farm Bureau members may subscribe for a free email news service, featuring the farm and rural topics that interest them most!