Confronting a tough situation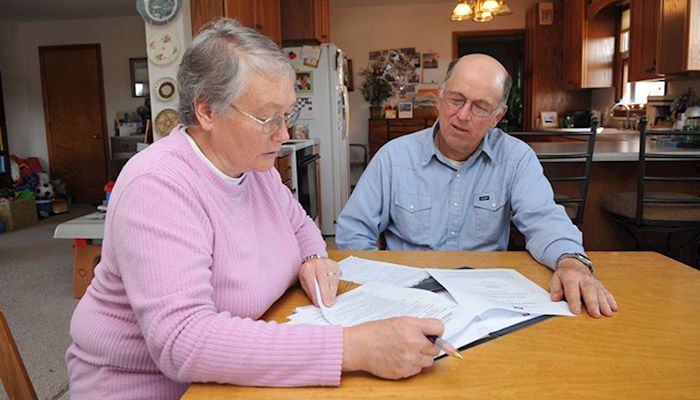 Farmers' finances, al­­ready stretched by a multi-year downturn in commodity prices, have been battered by the neg­­ative im­­pacts of the COVID-19 pandemic. Despite payments through the Coronavirus Food Assistance Program (CFAP), many farmers are expected to face rising debt levels, tight cash flow and overall financial stress in 2020 and beyond.
Confronting a tough financial situation is hard for anyone, and farmers are no different, said Melissa O'Rourke, an Iowa State University (ISU) Extension and Outreach farm and agribusiness management specialist.
"It's not unusual for producers to procrastinate and avoid facing the problem," she said. "Just hoping things will get better is not a solution — but many folks do not know where to start."
In a recent article published on ISU Extension's Ag Decision Maker website, O'Rourke outlines 10 tactics that can help farmers deal with financial stress. Here they are:
Tactic 1: Seek support for stress management
Financial stress often leads to emotional stress, so it's important to talk to someone, O'Rourke said. "Do not be embarrassed to reach out to family members, friends or professionals who can just listen," she said.
Tactic 2: Gather debt and in­­come information
Instead of avoiding record keeping tasks, it's important to keep good records on debt and expected income, O'Rourke said. "It's useful to have an online or computer-based accounting system, but do not hesitate to get back on track with a pad of paper or even the back of a pizza box," O'Rourke suggested. "Small steps are far better than doing nothing."
Tactic 3: Evaluate the assets
Go over all farm and personal assets, and make a conservative estimate of the value for each one.
Tactic 4: Outline possible plans, identify advisors
"Have a personal brainstorming session" to outline possible strategies going forward, O'Rourke said. Identify an advisor, such as a local bookkeeper, accountant, attorney or insurance professional, who can help outline reasonable strategies and offer a fresh perspective.
Tactic 5: Cash generation and belt tightening
Look for assets that could be sold to generate cash, while being aware of negative tax consequences. Explore off-farm em­ployment, especially jobs of­­fering health insurance, and find ways to reduce your family's discretionary spending.
Tactic 6: Do an in-depth farm financial analysis
ISU Extension and Outreach offers a free and confidential farm financial planning and analysis program at
www.extension.iastate.edu/farmanalysis/
. It provides an in-depth plan with options to help a farm operator work with lenders to make decisions for the future.
Tactic 7: Communicate with bankers, lenders, creditors
Be proactive about setting up meetings with lenders and creditors to discuss your financial situation, O'Rourke said. "Set times to visit in-person about the situation. Bring along the data that has been gathered — accompanied by an outline of proposals to address the problems," O'Rourke suggests.
Tactic 8: Seek professional advice on debt restructuring or bankruptcy
Depending on a wide range of factors, it may be wise to seek professional advice on the need for debt restructuring, O'Rourke said. Iowa State University's Cen­­ter for Ag Law and Taxation (CALT) (
www.calt.iastate.edu
) provides many resources and articles that can facilitate the thought process.
Tactic 9: Explore mediation services
Mediation is a process where parties meet with a neutral third-party who assists in identifying solutions to a financial problem or dispute. Farmers can find out more about agricultural mediation services at the CALT website.
Tactic 10: Contemplate retirement or liquidation
Some farmers, depending on their situation, may want to consider leaving farming or retiring.
O'Rourke notes that while difficult, retirement or leaving farming can lead to a new phase of life that could open new opportunities. "Lessons learned in farming often can be a basis for new, and fulfilling, experiences," she said.
Want more news on this topic? Farm Bureau members may subscribe for a free email news service, featuring the farm and rural topics that interest them most!