Coming together through food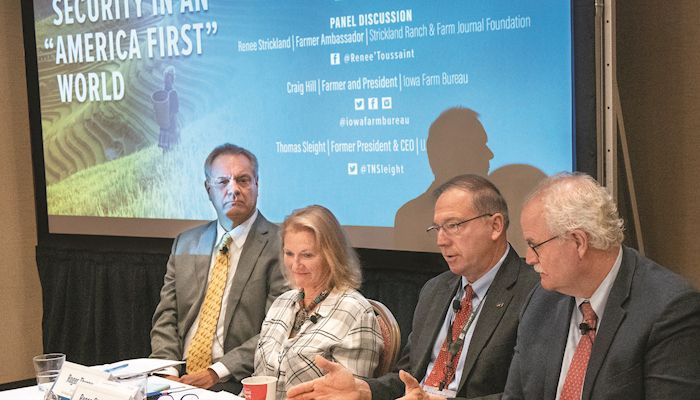 Food provides a unifying bond that stretches across borders and unites cultures that are normally divided, a panel of farmers and agriculture leaders said earlier this month at a World Food Prize panel on global food security.
Farmers "come from a frame of mind where there are no borders," said Iowa Farm Bureau President Craig Hill, noting that Iowa is often the epicenter of events where food and agriculture bridge political divides.
Visits to Iowa farms by Soviet Premier Nikita Khrushchev in 1959 and future China President Xi Jingping in 1985, years before he ascended to his country's top office, set the stage for future trade opportunities between the countries, Hill pointed out. Iowans also organized a 1960 "hog lift" that sent 36 live hogs to help Japan repopulate its herd after two devastating typhoons, establishing a sister-state relationship with the Yamanashi prefecture that continues today.
"We have a long history of working internationally," said Hill, who raises corn, soybeans and hogs in Warren County. Iowa Farm Bureau sponsors international trips and hosts exchanges that facilitate face-to-face interactions where farmers swap ideas and knowledge with their counterparts overseas, he noted.
"When you get farmers to­­gether, they speak the same language. We all have the same challenges," said Hill.
Those kind of exchanges are important to learning on both sides and helping poor nations rise up out of poverty, said Renee Strickland, a Florida cattle ran­cher who joined Hill on the World Food Prize panel.
"We all must eat," she said. "Even in times of conflict and unrest, we are able to find this common ground. It helps both sides."
Panel moderator Roger Thurow, senior fellow for global agriculture and food policy for the Chicago Council on Global Affairs, said Americans need to remember that "real hunger exists" even though it's often out of their sight.
"Hunger and malnutrition are relentless," said Thurow, a former Wall Street Journal reporter and author of three books on global hunger. "We've made some progress, but we're still at unacceptable levels of undernourished people."
The problem is especially pervasive among children, he said. One in four children under age 5 is stunted either physically or cognitively, according to the Food Aid Foundation. In developing countries, the proportion can rise to one in three.
"Stunting is really a sentence of a lifetime of underachievement," said Thurow. "A lost chance of greatness for any child is a lost chance of greatness for us all."
Gaining acceptance for genetically modified food and basing regulatory decisions on science are important steps in solving the world's hunger problem, Hill said.
"Nobody's potential should be limited by malnutrition," he said. "If you lead by science instead of emotion, you get there a lot quicker."
Teaching farmers in poor countries how to improve their production is also important so they can produce more of their own food instead of relying solely on imports, added Strickland, who exports cattle to countries around the globe.
"I can send them the best genetics in the world, but it doesn't help if they don't know how to feed them," she said.
Five of the 10 fastest growing economies in the world are in sub-Saharan Africa, Thurow noted. That represents an opportunity for future growth if the U.S. develops relationships there today, just as Iowans did with Russia, China and Japan all those years ago.
"As incomes rise and people move into the middle class, American farmers gain new trading partners," Thurow said. "If America fails to pay attention, China will."
Want more news on this topic? Farm Bureau members may subscribe for a free email news service, featuring the farm and rural topics that interest them most!