Churning out savings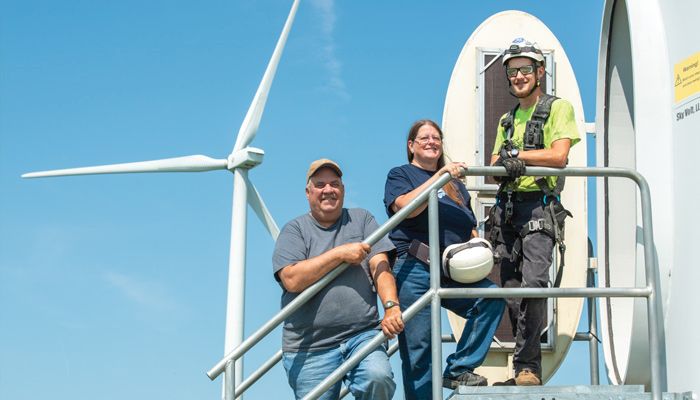 A 2008 Farm Bureau ­­Development grant has led to millions of dollars of savings for utility customers in southwest Iowa.
The $5,000 grant created a Community Enhancement, or Gold Star, project to explore a wind power generation project. Investors purchased shares in a limited liability company to erect the county's first wind turbine.
Thirteen years and 12 wind turbines later, the project is continuing to provide electric power to the area. The Adair County wind project is unique. Originally formed by 13 private investors, the group now has around 200 investors either from the area or with ties to the area. Shareholders reap 8% to 20% return on investment each year, depending on the turbine.
Adair County farmer Randy Caviness, who heads the project, credits the turbine's success to a healthy farm economy in many of the investment years combined with a progressive attitude in the Adair County area.
"People were able to see the potential," he says. "They looked at the windmills we used to have and wondered why we couldn't tap that now." Once stand-alone examples of local ingenuity, the privately owned turbines now join several hundred MidAmerican turbines in the area.
Local power, dollars
Energy users from Stuart and Anita to Clearfield benefit from the turbines.
Each turbine produces 6 million to 7 million kilowatt hours (kWh) of power per year. Power is sold directly to Farmer's Electric Cooperative, City of Greenfield, City of Fontanelle and the Central Iowa Power Cooperative (CIPCO). Excess power is put back up on the CIPCO grid.
According to CIPCO financial reports that track monthly savings for Farmer's Electric, the turbines have saved Farmer's Electric nearly $4.2 million in accumulated monthly savings from October 2010 to March 2021. In addition, the project pays substation fees to the rural power cooperative.
Caviness says the community as a whole is saving round $1 million every five months on their electric power costs. The City of Greenfield receives nearly one-third of its power from the turbines; on some days, it is the primary source.
"The savings from this are all local," says Caviness.
Incentive programs
A number of incentive programs aided the project.
The U.S. Department of Agriculture (USDA) provided two, $500,000 grants and guaranteed loans for the first two turbines. "USDA Rural Development supported the idea of community-owned renewable energy with the notion this could be a model going forward and that wind resources could be utilized in a local community supplying some of its own electric needs," says Caviness.
An additional $900,000 for each of the first seven turbines came from the 1603 Treasury Program, a stimulus designed to facilitate funding for renewable energy projects. It provided $875,000 to $910,000 for direct investment on the early projects started before Jan. 1, 2012, and production tax credits for projects after that.
Tougher to start now
Those tax credits began phasing out in 2017 and, without them, future farmer-led wind projects will be much tougher to build.
Caviness says they have no plans for more turbines under the current model.
"We've been able to use these incentives to provide a successful model for locally produced affordable renewable energy," says Caviness. "With the production tax credits, we were able to provide a good return and let the turbine pay for itself with all the income available for debt service and expenses. With no tax credit, it's hard to justify."
But the benefits of the existing turbines continue.
The 13 turbines in the Adair County Wind project not only supply power to the area, they also supply tax dollars, to the tune of around $25,000 per turbine per year in property tax.
Helping farmers
For farmers like Caviness, wind power is one more commodity on the farm production list, adding to their bottom line and making profitable use of their land.
"We are grateful to the Iowa Farm Bureau for their support in what became a success for our community," says Caviness. "What we've done is create a way for the little guy to get in on this and to bring it to the local level to benefit the community and to provide a renewable source of energy for years to come."
Queck-Matzie is a freelance writer in Greenfield.
Want more news on this topic? Farm Bureau members may subscribe for a free email news service, featuring the farm and rural topics that interest them most!