Century of learning continues at annual meeting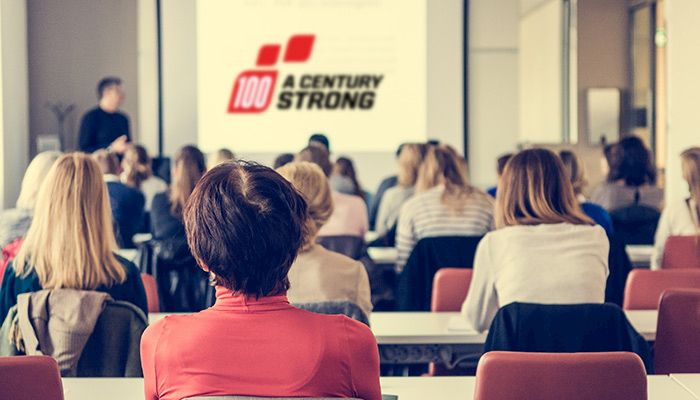 Trends and policies that are shaping agriculture's future will be the focus of educational seminars at the Iowa Farm Bureau Federation's centennial annual meeting Dec. 3-5 in Des Moines.
The three-day event at the Community Choice Credit Union Convention Center will bring together high-ranking government officials including Chief U.S. Agricultural Trade Negotiator Gregg Doud along with local and regional experts to discuss key issues such as the farm bill, trade, rural development, cyber security and consumer trends.
Rural innovation
A trio of rural entrepreneurs will be featured at the first educational session, titled "Making Things Happen in Rural Communities," at 8:30 a.m. Dec. 4.
Panelists include Megan McKay of Peace Tree Brewing, which got its start in a former car dealership in Knoxville and now has 14 full-time employees who produce, bottle and distribute Peace Tree's brews to stores, bars and restaurants across Iowa and parts of Nebraska.
Joining her will be Sharon Krause, who led a $2 million renovation of Earlham's historic Bricker Price Building into a community center, and Chris Deal of Jefferson.
Deal, an engineering designer who helps manage his family's popular apple orchard in rural Greene County, used his connections with Pillar Technology to recruit the company to establish a software development office and training program in a renovated building in downtown Jefferson. Pillar's other offices are located in Palo Alto, California; Columbus, Ohio; Ann Arbor, Michigan; and Des Moines.
"You will definitely be inspired in this session," said Sandy Ehrig, IFBF economic development administrator. "These folks are all making a huge difference in their rural communities. They will share how they are leading projects with valuable local impact."
Farm bill update
The second educational seminar at 10 a.m. Dec. 4 will provide updates on farm bill negotiations from U.S. Senate ag committee staff members and U.S. Meat Export Federation Vice President Paul Clayton.
After lunch, Kyle Loven with Computer Forensic Services of Minneapolis will discuss cyber security in a session called "Don't Be Another Fish in the Dark 'Net'" at 2:30 p.m. He will cover recent high-profile cyber crime events, including data breaches, phishing, hackers and other threats farmers face stemming from the increased connectivity and technology involved in their day-to-day operations.
Consumer trends
At 4:30 p.m., a panel including Fareway Stores CEO Reynolds Cramer and Iowa Restaurant Association CEO Jessica Dunker will discuss consumer meat purchasing trends.
"Iowa consumers, whether purchasing at the grocery store or ordering at a restaurant, have a strong demand for meat," said Barb Lykins, IFBF community resources director. "We know livestock is vital to the success of rural Iowa communities, so we are pleased to offer this session to provide insight and analysis into current and future market trends and consumer meat demands that will impact Iowa agriculture moving forward."
Trade outlook
At 10:15 a.m. Dec. 5, Doud and Clayton will headline a panel sharing the latest updates on agricultural tariffs and trade negotiations with Farm Bureau members.
Iowa farmers have seen prices of many commodities that they produce slump since key trading partners including China, Mexico and Canada imposed hefty tariffs on U.S. ag exports in response to U.S. tariffs on steel and aluminum. As a result of the tariffs, U.S. soybean shipments to China are down 97 percent from prior-year levels through the first seven weeks of the 2018/19 marketing year.
Doud serves as the chief agricultural negotiator in the Office of the United States Trade Representative. He previously served as a Senate Agriculture Committee staff member and spent eight years as the chief economist for the National Cattlemen's Beef Association.
Clayton will discuss USMEF's outlook for export growth with the group's efforts to diversify meat export markets.
For more information, a de­­tailed agenda or to register to attend the 2018 IFBF Annual Meeting, go to www.iowafarmbureau.com.
Want more news on this topic? Farm Bureau members may subscribe for a free email news service, featuring the farm and rural topics that interest them most!