Cattle Outlook: Will the Spring Rally Hold?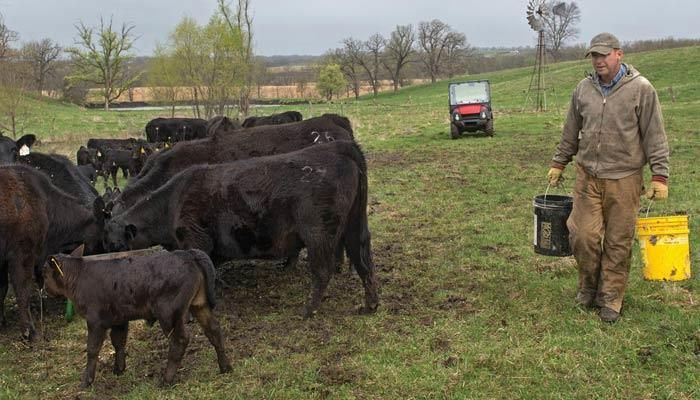 Fed cattle prices have climbed nearly $20 per hundredweight since the start of the year. Heavy supplies of cattle lead to projected year over year increases in beef production and a third consecutive year of price declines in 2017, with only a sprinkle of short-term price rallies. However, it seems the fundamentals may have shifted and given rise to higher demand. Does this rally have legs or is it going to run out of steam?
Memorial Day is on the way. It brings seasonal demand for grilling and interest from retailers to have ample supplies on hand for the big holiday weekend. This recent upward pressure on the fed market is demand driven. Cutout values have risen this spring. The cutout represents prices paid for boxed beef cuts and is the estimated value of a beef carcass. USDA's National Daily Boxed Beef Cutout on May 5, 2017, showed nearly a $13 increase from the week before and $26 per hundredweight over 2016. Rib primal values (think Ribeye Steaks) have contributed the most to this increased price rally, up $30 from the last week and $62 per hundredweight from 2016. All primal cuts have shown some increases but one that is noteworthy is short plates, which is largely consumed by our export markets. Short plate primal cuts were valued at $172 per hundredweight last week, a $13 increase over the previous week or 8 percent. Short plates have had large increases before but this is the first time since 2015 short plates have climbed above $170 per hundredweight. Figure 1 shows the Choice cutout value, rib, and short plate primal values since 2016.
USDA Foreign Agriculture Service (FAS) export data is available through March 2017. March figures showed exports are booming. On a carcass weight basis, total exports in March were up 25 percent over 2016 reaching 234 million pounds. Beef and veal saw increased sales to virtually all major trading partners, with the exception of Hong Kong. Some of the strongest markets were Vietnam, whose imports of U.S. beef tripled in March compared to the previous years, and Japan, up 43 percent. Canada, China, Mexico, and South Korea all saw double-digit increases in exports. If the cutout is any indication of how these markets have fared in April, expect USDA FAS trade data to reflect what looks like strong export demand in short plate primal cut values.
Fed cattle markets have benefitted from this strong demand and packers have been buying cattle rather aggressively. USDA's April 21st, 2017 Cattle on Feed report showed large marketings have continued. Cattle dressed weights are also down. Over the last four weeks, slaughter steer weights have been down more than 20 pounds below a year ago and have averaged about 14 pounds lighter on a weekly basis since the first of the year. Figure 2 shows dressed weights compared to last year.
It is likely that Memorial Day buying has caught some retailers short on supply which has caused a sharp increase in packers bidding for cattle in recent week. Fed Cattle prices have rallied well above seasonal trend norms implying tightness in short-term supplies. The weights and marketings imply packers are pulling cattle ahead, and yet the number of cattle on feed is relatively close to a year ago. The end result is beef production surprisingly close to a year ago.
The long term trend is that beef supplies in 2017 will increase and that more cattle will move through the system. But, that is not to say there may not be some tight spots in the cattle flow. Feedlots have made excellent returns over the last several months. However, as feeder cattle prices move higher in response to buying this will effectively shrink gains made in the middle of the supply chain.
Placements in March were the largest on record, up 24 percent compared to last month, and 11 percent ahead of last year. Animals at lighter weights, under 600 pounds, also increased compared to last month, up 11 percent, but about even with last year. This lightweight category is one to watch because cow-calf producers with ample feedstuff have many options for when to move those animals to market. Pasture and range plays a key part in these decisions and the first look at grass conditions was released today at 3 pm in the Crop Progress report. If pasture and range conditions hold on through the summer, we could see stronger lighter weight prices through summer. Cow-Calf producers with ample feedstuffs have the ability to time the market as they see fit, and ultimately squeezing the other side of the cattle feeding margin.
Contact:
Katelyn McCullock
Economist
(202) 406-3623
Want more news on this topic? Farm Bureau members may subscribe for a free email news service, featuring the farm and rural topics that interest them most!