Carroll County full-service marketing firm earns Iowa Farm Bureau's Renew Rural Iowa Entrepreneur Award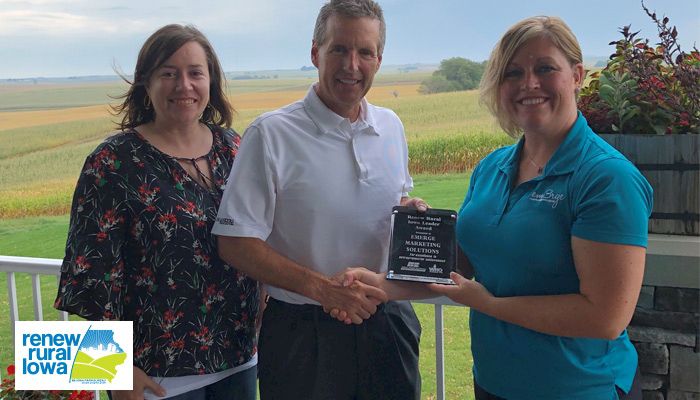 Emerge Marketing Solutions Celebrated for Commitment to Vitality of Rural Iowa Communities
Emerge Marketing Solutions, a business most would envision in a large major metropolitan area, instead calls the rural town of Manning home, telling the great stories of Iowa communities and working to revitalize rural Iowa. In just three years since its founding, Emerge Marketing Solutions has developed a client list of 60 communities and not-for-profit organizations with countless success stories and has now earned Iowa Farm Bureau's Renew Rural Iowa (RRI) Entrepreneur Award.
"My whole life I wanted to be an entrepreneur and start a business that impacts the community I live in," says Shelly Greving, owner and operator of Emerge Marketing Solutions. "After spending some time living in different communities in Iowa, I decided that it wasn't just one community I was destined to serve, it's the entire state, and we can bring light to the opportunities that exist in rural Iowa."
The mission of Emerge is the epitome of RRI, seeking opportunities to promote vitality and foster the economic growth of rural Iowa communities. Greving's primary clients include communities, non-profit organizations, rural-based businesses, and agricultural clients. Emerge and its staff of 16 offer clients a full package of marketing tools from the creative to copy for clients' print, social media and website design. Rural hospitals, libraries, tourism departments, chambers of commerce and small Iowa communities are some of the entities aided by Emerge Marketing Solutions.
Rural Carroll County has been an ideal fit for Greving's booming business, but there have been challenges along the way, particularly connecting to the 24/7 global marketplace. "A few years ago it was really hard with no data, no speed and no fiber, and I took that for granted," Greving recalls. "I went and worked from the market in Manning almost daily and went to public libraries and other places with reliable Internet coverage, but cybersecurity was a major risk. Thankfully, now we have Internet that's as fast as I'd ever want or need; it's very dependable and solid."
Despite the upgraded rural connectivity and growth of fiber, Greving still struggles with poor cell phone coverage, highlighting one of the many extra hurdles rural-based businesses face. Even with some added challenges for the home-based business, there is no place the Grevings would rather be to contribute to the community. Shelly works tirelessly to promote the rural communities and local businesses and her husband, John, serves as the town's veterinarian.
Kevin Boyle, a Carroll County Farm Bureau board member and executive vice president of Templeton Savings Bank, is grateful for the Grevings' service to the community. "It's not only the business, but the whole family has made a huge impact here in Manning," Boyle says. "We're very fortunate that Emerge came to our community to start their business. Shelly's husband, John, is our local veterinarian, so their impact in this community and the number of people they touch is huge."
Sara Slater with the Audubon County Economic Development and Tourism Group nominated Shelly and Emerge for the RRI award because of their shared goal and mission. "Our goal is to help our existing businesses continue to grow and attract new businesses that can contribute jobs, housing, and education, because they all go together," says Slater. "Shelly is very passionate about her work and represents what we believe in -- the sense of community, the fantastic communities in rural Iowa, hard work, and the never-quit-attitude."
RRI is an Iowa Farm Bureau Federation (IFBF) initiative supporting new and existing businesses through education, mentoring, and financial resources. Since its inception, RRI has helped create more than $125M in economic impact for rural communities.
"Through Iowa Farm Bureau's RRI program, we've had the opportunity to work with Shelly often and have enjoyed a front row seat to watch her success," says Sandy Ehrig, Iowa Farm Bureau's economic development administrator. "Many personal relationships and networking connections are formed between entrepreneurs through our RRI programs and seminars, and it was great to work with Shelly during a recent 'Journey to Your Vision' seminar where she was able to network and gain valuable insight to help grow her successful company."
For more information about RRI and the next RRI Business Success Seminar, "The Journey to Your Vision," on November 12 in Fairfield, and the RRI Pathways, a searchable technology that connects entrepreneurs with resources, go to http://programs.iowafarmbureau.com/RRI/.
Want more news on this topic? Farm Bureau members may subscribe for a free email news service, featuring the farm and rural topics that interest them most!