Carolina culture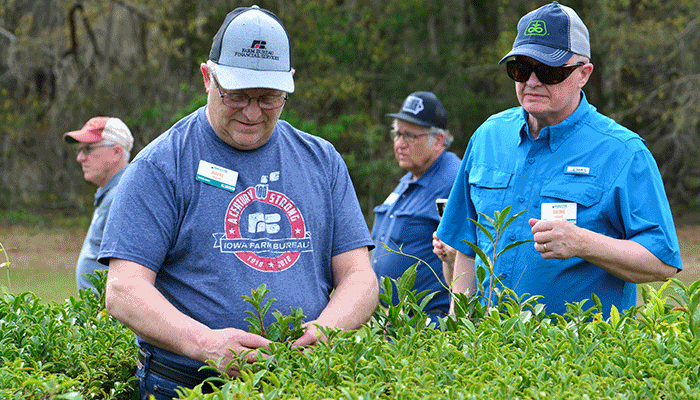 One thing farmers across the United States and the world can agree on is that when it comes to having success in agriculture, Mother Nature is in charge.
There's no better example than in South Carolina, where agriculture is the number one industry but a hurricane or flooding can wipe out crops and fields. Yet 75 days of beneficial rainfall during the growing season can produce bountiful crops of tomatoes, strawberries, corn, cotton and tea.
Iowa Farm Bureau's county presidents got a firsthand look at the Palmetto state's ag operations during the 2023 County Presidents' Incentive Trip March 26-31. While there are some notable differences — like a feral hog infestation not seen in Iowa and the absence of drought concerns — the ag challenges faced in South Carolina mirror those in Iowa.
"It seems no matter where we go, we're fighting the same issues and have the same challenges within the ag community," said Rose Danaher, president of the Iowa County Farm Bureau. "While there are night and day climate differences from where we come, they're still able to grow some of the same crops, finding a way to be productive here just like we are."
Beth Baudler Christensen, past president of the Adair County Farm Bureau, agreed. 
"The natural resources may be a little different here than what we're used to at home, but they're still utilized ultimately the same way," Christensen said. "We can learn from one another even though we are in different parts of the country."
Lowcountry tours
On tours of The Lowcountry —the Charleston area so named for its low-lying topography that sits below, at or just above sea level — county presidents explored the Charleston Tea Garden, America's only large-scale tea farm. They headed north to Palmetto Malt Co., the state's first and only malting facility, then traveled to Boone Hall Plantation and Gardens. The working farm dates back to 1681 and features an oak-canopied lane to the main house along with 738 acres of cropland, gardens and wetlands along the banks of Wampacheone Creek.
At the tea plantation, Iowa Farm Bureau District 1 Director Randy Brincks of Winneshiek County said it was interesting to note the soil differences between states — South Carolina's is sandier, allowing for the abundance of rain to filter away quickly and naturally.
"And they soil sample twice per year to get the right amount of nutrients to the plant," he said. "The (tea) plant continues to grow for years and years."
Poweshiek County Farm Bureau President Eric Fynaardt noted the specific oxidation times it takes to make green, oolong or black tea and fertility's effect on taste.
"If you change the fertility, you'll change the taste," he said. And as for the soils, "We look for soils that will hold nutrients, whereas they're looking for sandy soil so that they can quickly drain. (Ultimately) with commodities, we're doing whatever we can do to maximize yields."
Kevin Pope, Cerro Gordo Farm Bureau president, said he found it fascinating that the plantation was the only one of its kind growing tea plants in the United States. He pointed to the hot and humid conditions needed to sustain the plants, as well as the plentiful rainfall, as likely benefits.
"It seems like tea is really a weather-specific crop," he said. "Not much weather it can tolerate other than the moisture, which it likes and really needs to grow."
At Palmetto Malt Co., members toured grain fields, sampled the end products and saw how the malting process works. 
Fourth-generation farmer Jared Weathers grew up growing peanuts, corn and cotton, but began looking for new markets in 2017. Two years later, his inaugural batch of small grain was planted, and half a year later, the malted product was ready for distribution to breweries across South Carolina.
"It's been a good specialty crop for us," Weathers said. 
His underlying message for Iowa farmers was to not be afraid to try something new.
"For us, it's how much effort goes into a beer or a spirit that people drink," he said. "They have no idea the processing, that somebody grew that, malted it, brewed it, put it in a glass and there had to be no mistakes along the way."
For Brandon and Margo Friedlein of Clayton County, it was vegetable production in the southeast that caught their attention. 
The Friedleins grow row crops and vegetables in northeast Iowa and noted that while South Carolina's rain and sandy soils are helpful for many crops, other crops would suffer under the same conditions.
"We grow pumpkins as well on the side, and we have always complained that our soil doesn't have enough sand in it," explained Brandon, the Clayton County Farm Bureau president. "I didn't realize down here that they can't grow it because there's too much sand. It looks like their soil types and what they're composed of are totally different from what we have at home."
Margo said learning that Charleston-area farmers have similar challenges to Iowa growers was noteworthy. 
"We have similar problems …animals destroying crops," she said. "Ours aren't pigs, ours are normally raccoons." 
And there's a significant deer population. "Sounds like we're not the only ones having those issues," added Brandon.
Networking opportunities
The county presidents said that besides the ag tours, a benefit of the trip was the networking opportunities. Sharing ideas and solutions is constructive.
"The biggest thing for me is to network with other Iowa farmers," said Danaher. "In order to advocate for agriculture effectively, we have to learn from each other. We all depend on each other when it comes to fighting for good policy."
Brandon Friedlein was part of the Iowa Farm Bureau's Ag Leaders group last year and said he was excited to have a similar networking experience this year on the presidents' trip. 
"It's interesting to see what they do in their counties to be successful," he said.
Christensen said the same could be said for networking with their counterparts in South Carolina. The sharing of ideas and challenges, like how to build a custom harvester for tea leaves and bring in hundreds of thousands of pounds of product for processing with just a few employees, is significant.
"They basically took all the different machines we have for other crops and created their own harvester for themselves," she said. "That was incredible. And I can't believe they can harvest that much tea with 3 to 4 people."
Want more news on this topic? Farm Bureau members may subscribe for a free email news service, featuring the farm and rural topics that interest them most!