Caring for Iowans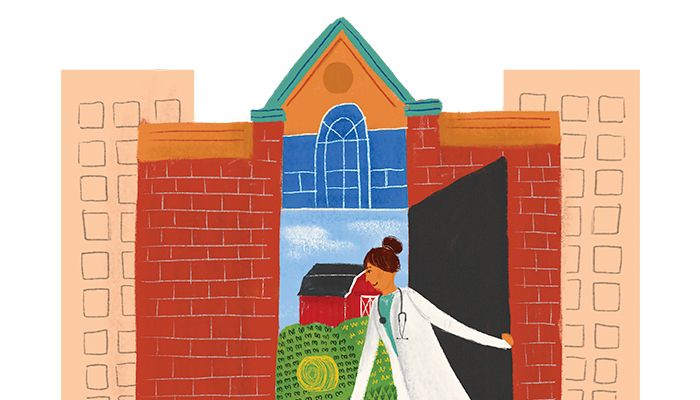 The Iowa Farm Bureau has been involved in health care for decades because farmers and rural Iowans struggled to find affordable coverage and health benefits.
Today, Farm Bureau remains committed now more than ever to helping our members gain access to quality and cost-effective health care through insurance, supplemental health care benefits and community services.
In 2018, the Iowa Legislature approved a measure, signed by Gov. Kim Reynolds, to allow the Iowa Farm Bureau and Wellmark to partner and develop an affordable health care option, particularly for Iowans who don't qualify for Affordable Care Act (ACA) subsidies and have been forced out of the market by exorbitant premiums.
The Iowa Farm Bureau also provides a suite of supplemental health care services, such as vision, heart, hearing, prescription drug and preventive-care services at reduced costs for members.
Farm Bureau members can also qualify for exclusive member rates on IRS tax-saving plans administered by BASE. The plans allow Farm Bureau members to save thousands on health care if you pay for health insurance premiums or out-of-pocket healthcare costs for your family or employees.
"BASE is proud to be a partner of choice with the Iowa Farm Bureau," says Terry Herrington, president of BASE, located in Adel. "Our partnership allows us to serve members across the state of Iowa, in the very state our business was founded. We are glad so many members have taken the opportunity to utilize the member discount made available through this valuable Farm Bureau member benefit program, and hope to continue to serve more members."
Due to the shortage of health care workers in rural Iowa, the Iowa Farm Bureau encourages health care providers to practice in rural communities by providing medical scholarships to doctors and nurses who make a commitment to live in a rural area.
"From day one of medical school, the only reason I went into medicine was to go to a rural area, where I understand the population and I want to work with them," said Dr. Jennifer Davis-Haden, a Des Moines University (DMU) graduate, who grew up on a livestock farm in northwest Iowa and now practices in Centerville. Haden says the medical scholarship she got from the Iowa Farm Bureau Foundation's Rural Family Medicine program, in partnership with the Iowa Academy of Family Physicians Foundation, helped her meet that goal.

By providing access to affordable health care options, Iowa Farm Bureau is helping rural communities remain strong and vibrant for years to come.
Want more news on this topic? Farm Bureau members may subscribe for a free email news service, featuring the farm and rural topics that interest them most!