Career fair shows continuing strong demand for ag grads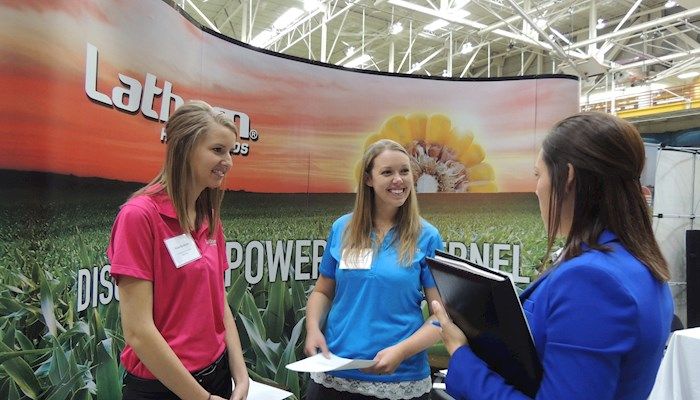 If last week's ag career fair at Iowa State University (ISU) was any indication of the state of the agriculture, there's a pretty good outlook for students entering the industry.
A record 277 companies and organizations attended the career fair looking for interns and future employees. ISU's College of Ag­­riculture and Life Sciences hosted the event, which is the largest of its kind in the nation, according to Mike Gaul, director of career services for the College of Agriculture and Life Sciences.
"Considering all the doom and gloom you read about agriculture these days, it's mind-boggling (the number of employers here)," Gaul said. He coordinates the event, which is hosted in the spring and in the fall.
The event attracted 40 new companies this year.
"It speaks volumes to the quality of students we have here at Iowa State in the College of Ag and Life Sciences, and more importantly, it speaks volumes to the diversity that exists within agricultural careers and the demand for young people in this industry," Gaul said.
"The equipment and technology side is down a little bit, which is what you expect to be down given the low commodity prices," he said.
But there was a bump in the number of larger independent farms as well as ag lenders and financial institutions seeking in­­terns and employees, he said.
The event is open to the public and this year attracted students from Northwest Missouri State University and even Virginia Tech, Gaul said.
Even freshman students like Jacob Ratzke were eager to attend the career fair.
"I just want to get my name out there and see what comes out of it," said Ratzke, an ISU agronomy student.
He was looking for an internship in agronomy to help build his knowledge base.
Anna Baldwin, a junior in agronomy, knows firsthand what an experience at the career fair can mean for students. Last year she found her summer internship with Key Cooperative through the career fair.
"It's proven successful," she said.
This time, Baldwin was looking for an internship that would boost her seed sales experiences. She studied about 35 companies, bought a suit and polished her resume before stepping foot inside Lied Recreation Athletic Center on the ISU campus.
"It was a busy week," she said.
Francesca Mittag, a junior in ag communications, attended the career fair after switching her major from nursing last year.
"I grew up on a livestock farm and have an interest in agriculture," she said.
She switched her major after the career fair last year and gained an internship with Iowa Select Farms.
"I am really interested in communications and doing marketing and advertising, and I feel like that is where I'm most fitted for in my future," she said.
She too researched the companies to determine which ones would provide that experience.
Impressive students
Company representatives said attending the event is a no-brainer, especially when they are looking for qualified students.
"Iowa State has some of the best and brightest agricultural young people to pick from," said Jon Haman, beef division manager for Amana Farms. The company was looking for six students to fill internship positions on its cattle and crop farm in Amana. The company has 26,000 acres and grows white corn, yellow corn, hay and soybeans. It also has a 2,400-head cow-calf herd.
In just one hour of the career fair, Laura Cunningham had talked to more than 25 students who were interested in the marketing and agronomy sales internships Latham Hi-Tech Seeds had to offer.
"I've been impressed with the candidates so far and appreciate all of their prep work ahead of time," said Cunningham, marketing coordinator for the family-owned seed company based in Alexander. "It's really nice to have an event like this where all of our ag-based companies can come," she said.
Dani Ling, marketing manager for Three Rivers FS in Dyersville, said the event exposes the company to a lot of potential employees.
"We're seeing energetic students who are eager to get out and get the experience and the knowledge," Ling said. The company was at the career fair to recruit full-time agronomists as well as agronomy and dairy nutrition interns.
"They are qualified candidates, and you know the education is good," she said. "And the work ethic coming out of Iowa State is always good."
Want more news on this topic? Farm Bureau members may subscribe for a free email news service, featuring the farm and rural topics that interest them most!