Capturing, reusing water gaining renewed interest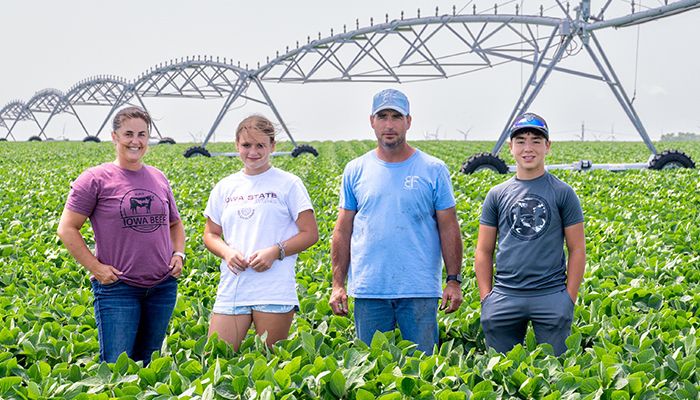 Interest has been reignited in the practice of collecting a farm field's drainage water and using it for supplemental crop irrigation during dry conditions, while in the process enhancing water quality by limiting water runoff and reducing nitrate concentration.
Widespread drought across parts of the Corn Belt in recent years has generated enthusiasm for finding ways to hold on to water during wet periods, such as during spring rains, for use during drier periods throughout a growing season.
"There hasn't been much interest before because it's an emerging practice," said Matthew Hel­mers, director of the Iowa Nutrient Research Center and professor at the Department of Ag and Life Sciences at Iowa State University (ISU). "It now piques people's interest because we've had some dry years.
"What could I do to provide a little bit more crop production benefit?"
Research is underway at ISU in partnership with the Iowa Nutrient Research Center, Iowa Soybean Association and Iowa Department of Agriculture and Land Stewardship to study the costs and benefits of drainage water recycling (DWR) management systems. 
DWRs are basically "a rain barrel on steroids," said Helmers. They capture drainage water, store it and reuse it for supplemental irrigation. 
While each system can look slightly different, most involve a pond or storage basin where drainage water can be held for future use.
ISU is monitoring three facilities across Iowa for crop yield and water quality impacts. So far, early results are promising.
"One of the sites, we've seen a 30-40 bushel yield benefit in corn over about six years that we've used supplemental irrigation," Helmers said. "The water quality work just started last year … but we certainly are seeing some reduction in nitrate concentration, about a 30% to 50% reduction at the one site we're looking at over the last year."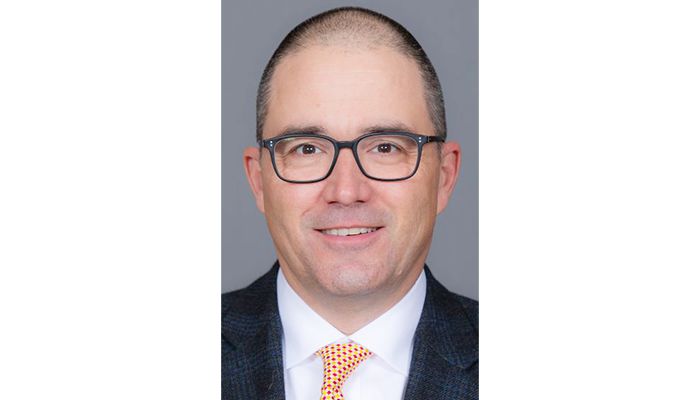 Pictured above: Matthew Helmers
Excited near Dayton
For AJ and Kellie Blair — Farm Bureau members and fourth generation farmers who grow corn, soybeans and hay; custom-feed pigs; operate a beef feedlot; and raise cow-calf pairs — the anticipation of a completed rain recapture system on their Dayton farm in Webster County has been tempered only by the length of time it has taken for construction and implementation.
In the works for more than five years, excavation of a 3-acre retention pond was completed last fall, with water now pumping into the area via a tile main.
"Originally, we thought the water would be gravity fed into the pond … After looking at how much dirt had to be removed, that wasn't feasible," explained Kellie. 
The pond is currently full, and installation of an operational pivot irrigation system was recently completed and is being tested.
They are hopeful that once fully operational, the pivot irrigation system will be advantageous during dry conditions.
Water quality benefits
While the Blairs developed their own water storage area, some Iowa farmers are using existing gravity-fed farm ponds for their drainage water recycling operation, while also installing various irrigation systems.
Chris Hay, conservation design scientist at the Iowa Soybean Association, has been involved in drainage water system research dating back to his days at South Dakota State University and said renewed interest in the operations is exciting. 
There are two new Iowa sites currently in design and one other in planning, so three potential projects could be forthcoming, depending on funding.
"We are looking at getting additional opportunities through NRCS EQIP (Environmental Quality Incentive Program) or other cost-share programs to help," Hay said. "As we can develop funding sources and create the right incentives, more opportunities will be available going forward. I think we can create the right incentives for these systems."
Hay, like Helmers, says the systems are win-wins in addressing both water resiliency and water quality. He said drainage recovery systems have the potential to aid efforts to reduce nutrient losses under the Iowa Nutrient Reduction Strategy, while also boosting crop production.
For example, at one of the sites, there's a 30% to 40% nitrate reduction, "which puts it on pace with a lot of other practices like cover crops, bioreactors and saturated buffers," Hay said.
"And then if we look at the trend of increasing spring rainfall when we don't need it, and more often and more extended drought, this creates that resiliency for the farmer," Hay explained. "We're not just increasing yields, but we're getting more consistent yields, making the system more resilient that way. We can address both of these issues."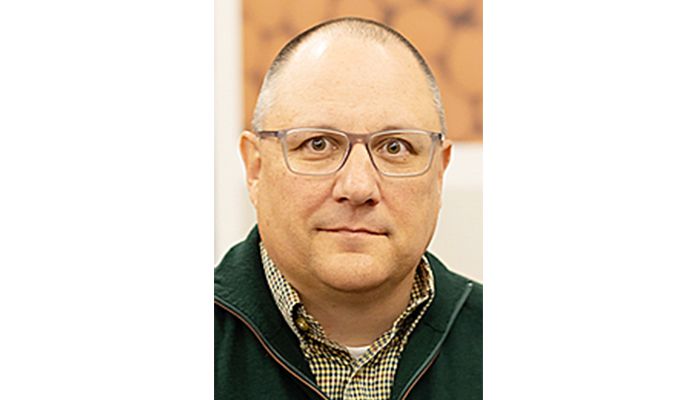 Pictured above: Chris Hay
Analyzing the data
Reviewing data from several years of surveying drainage water recycling systems will be key to future adoption on a more widespread level, both Hay and Helmers said.
"We're involved in monitoring the facilities," said Helmers. "What's happening to the water, how much is applied back on the field … yield data and nutrient data. It has the potential to improve crop production while reducing downstream nutrient export.
"The water that we are capturing and putting back on the field might otherwise have been lost downstream."
Whether it's economical at every location remains to be seen, he added.
"We know something about the crop yield benefits, but the cost is going to vary from site to site," Helmers said. 
The groups have enlisted the assistance of ISG Consulting for a more geospatial analysis reviewing field borders, topography, location to streams or distance to utilities for potential sites. 
"Where are the sites best suited for this practice on a watershed scale?" Hay said. "Now we can look beyond individual sites … and hopefully generate some interest to where we can pursue some funding for a watershed project and actually try to implement some more of these."
Spencer Pech, ISG civil engineer, said drainage systems work and provide proven cost savings and benefits to landowners.
"So far ISG has completed GIS mapping to identify sites that would be strong candidates for DWR as well as public outreach to gauge interest and facilitate the pursuit of funding," Pech said.
"These projects are a win-win. Not only do we have the potential for water quality and water quantity/flooding benefits, but there are also tangible economic benefits for producers that implement these practices." 
Want more news on this topic? Farm Bureau members may subscribe for a free email news service, featuring the farm and rural topics that interest them most!