Buying local meat 101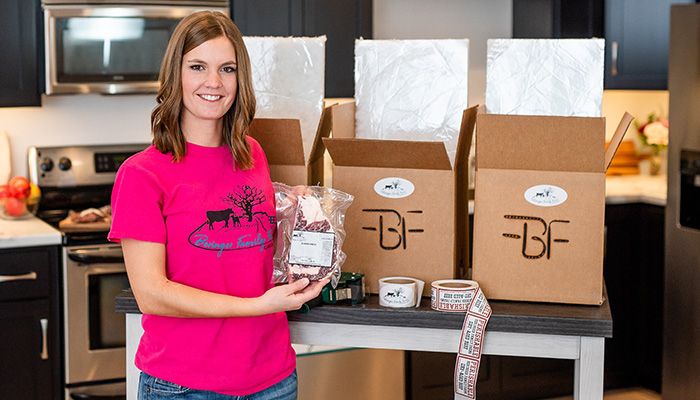 One of my customers recently told me, "The best part of buying meat from you is knowing exactly who is raising it and how it is being raised. I also enjoy supporting you as a young farmer."
It's true—I put a lot of work and care into sustainably raising healthy cattle, and I love sharing that story with the people around me. But my customers also know buying meat directly from a local farmer helps support their local economy. Plus, it saves them money.
Now every farmer may do it differently, but when I sell beef to someone, they have the option of purchasing a ¼ of a cow (around 200 pounds of meat), ½ (around 400 pounds of meat), or even a whole (800 around pounds of meat).
Even though customers may pay more in the beginning by purchasing the meat in bulk, they realize more savings in the long run. I am sure you have seen the delicious steaks sitting in the cases at the grocery store. Along with those steaks is a hefty price tag compared to ground beef.
When you purchase meat directly from a farmer, you get to tell the butcher exactly how you want your meat cut. For example, you can get roasts, steaks, ground beef, or a little bit of everything. So instead of paying those hefty steak or roast prices at the grocery store, my customers pay one flat price per pound. If you do math, you save hundreds of dollars. Plus, buying meat in bulk cuts down your trips to the grocery store.
You may be wondering how you are supposed to purchase meat from a local farmer if you don't know any. There are several resources available to you that can put you in the right direction.
You could contact your local:
4-H county extension
FFA chapter
Butcher shop
The Iowa Beef Industry Council also has a resource called Iowa Local Beef Directory. This resource allows you to put in your location, and it gives you contact information for local farmers selling beef in your area.
If you're someone who doesn't have a lot of extra freezer space but still wants to support local farmers and butcher shops, I would recommend looking up ChopLocal. ChopLocal is a recent finalist in American Farm Bureau's Ag Innovation Challenge that sells individual cuts of meat from various local farmers and butcher shops across Iowa and parts of Nebraska.
I grew up raising and selling market steers and heifers each year as part of my 4-H and FFA projects. I can tell you from my own experience, when you buy meat from a local farmer you are helping that farm family with their business. Being able to sell meat at a young age taught me the responsibility of raising a calf as well as learning how to run a business. Each customer's business allows me to continue doing what I love…farming!
Plus, locally raised meat makes a great gift! Over the years, I've had several customers buy meat in bulk and disperse it to their family members as Christmas gifts. It's a practical present that's sure to please everyone on your list and one that gives back to your local community as well.
Author Jenna Smith is the Digital Marketing Intern for Iowa Farm Bureau this year. She is a senior at Iowa State University studying agricultural communications and animal science. Jenna grew up on a diversified livestock and row crop farm in Newton, Iowa. She started raising beef at a young age for 4-H and FFA projects. To this day, Jenna and her family still raise and sell beef directly from their farm.

If you would like to reach out to Jenna email smithblackherefords@gmail.com

This article was originally published 12/12/2022 11:28 AM
Want more news on this topic? Farm Bureau members may subscribe for a free email news service, featuring the farm and rural topics that interest them most!