Boone County baby toy manufacturer presented Iowa Farm Bureau's Renew Rural Iowa Entrepreneur Award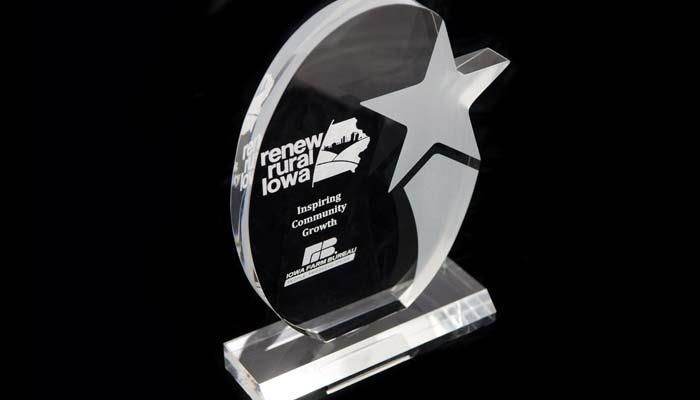 Family-Owned Toymaker Celebrated for Rapid Success, Commitment to Rural Community   
Without prior experience in their skilled trade industry, Stacey and Jesse Bannor's successful entrepreneurial toy venture is certainly unique.  Eight years ago, Stacey operated an in-home daycare and Jesse worked in a corporate setting.  But after a simple request from Stacey to have Jesse fix toys for the kids, their lives changed forever and Bannor Toys, an heirloom, organic baby toy maker with customers around the world, was formed. 
The first research and development lab for Bannor Toys was the young family's living room, but today the couple runs the successful business from a refinished manufacturing building on Main Street in Madrid and are the recipients of Iowa Farm Bureau's Renew Rural Iowa (RRI) Entrepreneur Award. 
"One day I asked my husband to fix some broken toys for my daycare children," Stacey recalls.  "And he told me, 'No, I can do better than that,' and he took the last couple hundred dollars in our savings account and bought a scroll saw and some wood, and he cut out a little truck.  I thought they were really cute and thought maybe we could sell them." 
Although the first toy turned out great, some of the first few prototypes weren't quite market ready and were affectionately referred to as "cat toys" by Stacey, because they just didn't have the look they sought.  Trial and error during the toymaking process was expected from a couple with no woodworking background, but as the Bannors refined their process and gained knowledge along the way, the hobby turned into a business.
After selling $632 worth of toys on Etsy during a Christmas season, Stacey encouraged Jesse to quit his office job to focus on Bannor Toys full time.  For most full-time employees with job security in the corporate world, $632 in monthly sales would be considered a side gig and not a viable career alternative, but the Bannors had entrepreneurial spirit, a vision, and believed in themselves.
While most niche start-up businesses are based in urban settings, the Bannors went a different route, moving from the Des Moines Metro to Madrid.  Stacey and Jesse both grew up in small towns and desired the sense of community a rural town provides, so the couple went back to their small-town roots.  The Bannors are thrilled with their move to Madrid, and local community leaders are grateful for their contributions to the community, earning the Bannors Iowa Farm Bureau's RRI Entrepreneur Award. 
"It's such a wonderful thing to have a business like Bannor Toys here in Madrid," says Boone County Farm Bureau President Jeff Westrum.  "Rural-based businesses are essential to help our rural communities prosper, and it's so great to see rural communities grow."
According to Stacey, what sets Bannor Toys apart from other toymakers is the quality, safety, and ease of use. "We use North American hard woods, so we don't use any of the softer, less safe woods that some other companies use," Stacey explains.  "We use all rock-hard Maple, American Cherry, and American Walnut woods, which are naturally harder and denser, and we finish them organically with beeswax and flaxseed oil.  The toys are perfectly safe to go in the mouth since there are no toxins and the wood is naturally antibacterial."
The Bannors have shipped toys to customers around the world, and their creations can be found at large national chain stores like Nordstroms, specialty boutiques, and several spots online.  The Bannors say parents love the toys for the simplicity and quality.  "The sounds they make aren't annoying," Stacey jokes.  "There is a soft, soothing rattle, but no other noises; they don't come with instructions or require batteries, so they are a great, simple toy.  They get played with how toys are supposed to be played with, using a child's creativity and imagination."   
Travis Risvold, president of the Madrid Area Chamber of Commerce, is impressed not only by the successful business model, but also the Bannors' commitment to the community.  "We are really excited that the Bannors chose to move to Madrid's uptown, and so happy that they've renovated and developed the old building and given it such amazing curb appeal," says Risvold.  "They did such a great job fixing up the old manufacturing facility, and we just think the world of what the Bannors contribute to our community."
RRI is an Iowa Farm Bureau Federation (IFBF) initiative supporting new and existing businesses through education, mentoring, and financial resources.  Since its inception, RRI has helped create $125M in economic impact for rural communities. 
For more information about RRI and the next RRI Business Success Seminar, "The Journey to Your Vision," on June 7 in West Des Moines, and the RRI Pathways, a searchable technology that connects entrepreneurs with resources, go to http://programs.iowafarmbureau.com/RRI/.                                  
Want more news on this topic? Farm Bureau members may subscribe for a free email news service, featuring the farm and rural topics that interest them most!