Book offers glimpse of an Iowa beef farm from a kid's-eye view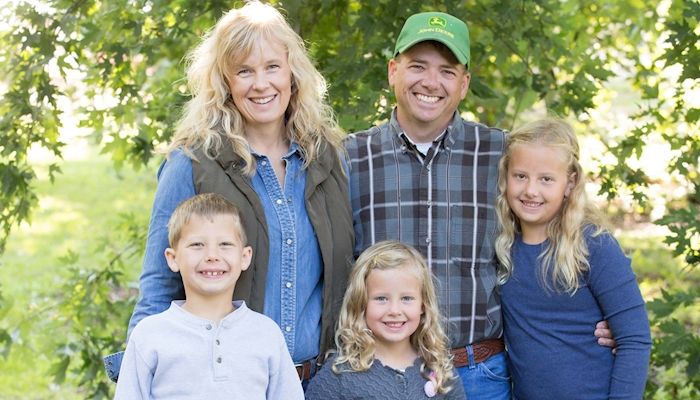 Ten-year-old Cecelia Rowe has a very important role on her family's cattle farm near Dallas Center.
Not only is she raising calves for her very first year in 4-H, she works alongside her parents, Laura and Tanner, her brother, Ben, and her sister, Adeline, to care for cattle in the family's cattle feedlot.
It's an important job, and one that not many other 10-year-olds have a chance to experience.
But students can follow along with Cecelia (pictured far right in the above photo) as she tells the story of her family's farm. "My Family's Beef Farm," written by Katie Olthoff, introduces children and adults to a working cattle farm in Iowa. It shows the importance of raising cattle for food production not just during May Beef Month, but all year round.
Nancy Degner, former executive director of the Iowa Beef Industry Council, suggested a book be made to showcase Iowa's cattle industry after seeing the book Olthoff wrote about her family's Iowa turkey farm.
Degner identified the Rowe family as the characters in the story. She then worked with the Iowa Ag Literacy Foundation to put the plans for the book in action.
The Iowa Ag Literacy Found­ation and the Iowa Beef Industry Council hired Olthoff, a former teacher, to write the book.
"My goal was to provide a resource for teachers that they could use to talk about ag in the classroom and modern agriculture, especially modern livestock farms. Experience with my own children has been that the farm books show tractors and big crop farms, but there aren't a lot that show today's livestock farms," Olthoff said.
Will Fett, executive director of the Iowa Ag Literacy Foundation, said the book allows students who don't live on a farm to experience life on a cattle farm. "We wanted to tell agriculture's story and get more kids interested in agriculture. So if they (students) can relate to that with a student their own age who lives on a farm and can tell that story and can see pictures of the farm and animals, they can engage without really being there," Fett said.
Showcasing farm life
Chris Freland, executive director of the Iowa Beef Industry Council, said the Rowe family was chosen because students would be able to relate to Cecelia, a student their age.
Cecelia's mom, Laura, said the family was happy to be a part of the project. "We thought it was a great opportunity to showcase what farm life is about," Laura said. Laura works for Pioneer in Johnston. Tanner, Cecelia's dad, is a full-time farmer.
The Rowe family settled in Iowa in the 1860s, the book notes. Cecelia and her family raise cattle in a feedlot operation. Her aunt and uncle, Corinne and Justin, and her grandparents, Glenn and Bev, raise cow-calf pairs.
"The Rowe family is just one example of the hard-working farm families that we have here in Iowa and in the Midwest," Freland noted.
Though the book was written for a third-grade audience, prompts at the bottom of each page are helpful for teachers who guide the students through the story, Fett noted. This also gives older students a chance to delve into the story more.
In addition to providing the book to third-grade teachers in the state, math and science lesson plans are also included to help teachers guide their students through the story.
Not only does the book help students learn about what farmers do on a cattle farm, it also helps showcase the cycle of growing and using corn to feed cattle, then using manure from the cattle to help grow the corn. That cycle helps explain the importance of the other industries in the state, Freland said.
There's also an underlying message in the story about the role of females in agriculture, Laura said. The story features not only her daughter, but a female veterinarian who works with the family to ensure their cattle are healthy.
Distributed across Iowa
More than 1,000 copies of the book have been distributed in the state, and a digital version of the book and lesson plans are available online. Freland said farmers have given copies of the book to their local libraries.
Other copies have been given to international groups visiting the state. "This is a great resource for our international groups who want to know more about the farm families that raise the beef they buy," he said.
To obtain copies of the book, call the Iowa Ag Literacy Foundation at 515-331-4182.
Want more news on this topic? Farm Bureau members may subscribe for a free email news service, featuring the farm and rural topics that interest them most!