Beth Baudler of Adair County earns Iowa Farm Bureau Young Farmer Leadership Award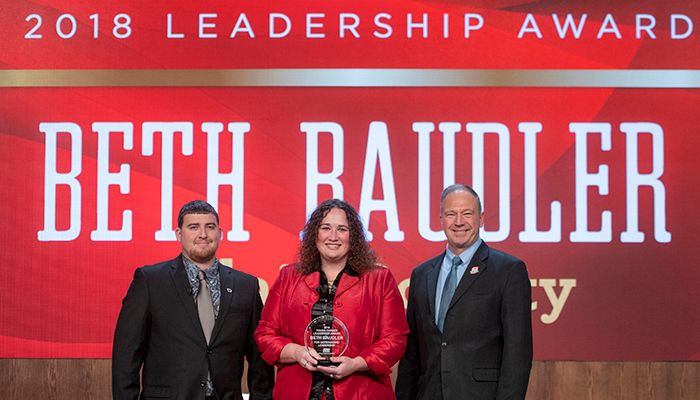 Beth Baudler's passion for agriculture and commitment to sharing that passion has earned her Iowa Farm Bureau Federation's (IFBF) prestigious Young Farmer Leadership Award, presented during the IFBF 100th annual meeting in Des Moines on Dec. 3-5.
In addition to managing her own cow-calf herd and sheep flock in Adair County, Baudler also helps on her family farm where they grow hay, oats, corn and soybeans. She has an off-farm job as a cattle specialist, working with other farmers to formulate feed rations and select appropriate supplements for their livestock. She also instructs the Animal Breeding and Genetics course at Southwestern Community College in Creston and is responsible for giving the students real-life experiences with swine breeding and genetics.
Baudler serves as secretary of the Adair County Farm Bureau board. She is a 2016 IFBF Ag Leaders graduate, a year-long program that focuses on developing individual leadership skills and understanding of agricultural issues impacting today's farmers. Working with her county Farm Bureau, Baudler spearheaded "Ag Adventure," an interactive 10-station experience held at her county fair and a local Fourth of July celebration. She was able to secure buy-in from local businesses and recruit more than 90 volunteers to assist with the events. Through this experience, more than 600 people learned about various agricultural topics from livestock and crops to farm safety and conservation. Because of the success of this initiative, Baudler was able to secure grants and volunteers to bring ag education to six Adair County preschools. Plans are underway to expand this effort into kindergarten and third grade classes for the 2018-19 school year.
Baudler provides leadership to other projects that focus on connecting with non-farming audiences. She is an advisor for Speak Out for Agriculture (SOFA), mentoring teens who have planned to engage more than 100 inner-city youth in Chicago as well as Sioux Falls, SD in agricultural activities. She also is the administrator of the "Who's Your Iowa Farmer?" Facebook page, which shares positive farming messages that are viewed more than 20,000 times per week.
Baudler volunteers in various roles for the Iowa State Fair and Adair County Fair, serves as a board member of Empowering Adair County Foundation and often looks for opportunities to talk with others about agriculture, whether on the radio or at an ag breakfast event.
"Beth is extremely deserving of this award," says IFBF Regional Manager Beth Irlbeck. "When she is not working on her own farm or at her off-farm job, she is out there sharing what farming in Iowa looks like today. She's an asset to the Adair County Farm Bureau and the community as a whole."
The Young Farmer Leadership Award is in honor of past IFBF President Bob Joslin, who was well known for his support and encouragement of young farmers. It is designated for farmers under the age of 35 who demonstrate outstanding leadership in Farm Bureau, agriculture and their community.
As the Young Farmer Leadership Award recipient, Baudler receives a $1,500 Home and Workshop certificate from award-sponsor John Deere, a 90-day no-payment and no-interest John Deere Financial Certificate up to $5,000, a $750 gift card to FAST STOP or local FS Cooperative from GROWMARK. Baudler also will have expenses paid to the 2019 American Farm Bureau Federation (AFBF) Annual Convention in New Orleans and 2019 GROWMARK annual meeting in Chicago.