Beef Passport program spurs diners to explore local eateries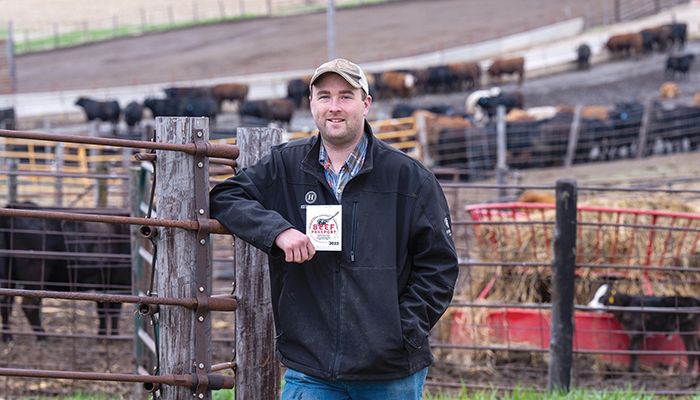 A Beef Passport program offering incentives to consumers for eating beef at local restaurants has been a huge success, according to Woodbury County Cattlemen's Association (WCCA) President Mark Nelson. The group launched the program last year, partially to help local restaurants that were struggling to stay open during COVID and partially to promote more beef consumption in their communities.

"We distributed about 1,200 passport booklets last year," said Nelson, who is also a Woodbury County Farm Bureau member. "The feedback we heard was that people really had fun visiting the different restaurants and trying new things."

Participation is free for both customers and the restaurant.

How it works
Each restaurant gets a pack of passport booklets at the beginning of the program to hand out to customers. Restaurants are also given a stamp to mark off in the booklet when a person has eaten there.
If a customer collects at least five stamps before the promotion deadline and sends the booklet to the WCCA, they are entered into a drawing for one of 15 prizes.
"I know the Beef Passport has brought people into the Crankshaft," said Crankshaft Bar and Grill owner Matt Jackson. "Both years, there have been people coming in who would not typically stop here."
The Crankshaft is in Moville, not far from the farm where Mark Nelson, along with his dad, Eric, and brother, John, raise their beef herd. The hot rod and classic car themed restaurant is a prime example of the type of business the program was designed to help, as well as how to execute it successfully.


COVID recovery
Jackson bought the Crankshaft a few months before COVID lockdowns shuttered the restaurant in 2020. When able to open again, he was hunting for ways to lure people back into his business. The Beef Passport program has helped in that effort.
"I think it's a good reminder for people to get out and support local businesses in Woodbury County," he said. "The Cattlemen are supporting our small communities."
Both the 2021 and 2022 Beef Passport programs have featured 10 restaurants in 10 different towns.
Nelson said having the locations spread out was important because it highlighted the unique character of towns and cities across the county. In addition, the restaurants are all locally owned and are active on social media.
"We are really focused on spreading the wealth. We want to help support our small towns," Nelson said.


Beef first
And of course, restaurants had to prominently feature beef dishes on their menu.
The Crankshaft offers a variety of beef dishes, from burgers and patty melts to hamburger pizza and country fried steak. The specials are listed on its Facebook page each morning, and promotions for the passport are featured throughout the restaurant.
Launching and managing the Beef Passport program has been driven by Mark and his wife, Melissa.
Melissa is owner of Hungry Canyon, a farm and rural culture gift website and graphic design studio. She handled the design and printing of the passport books, giving the program a professional and appealing look.
The Woodbury County Cattlemen covered the cost of printing the passports, and members helped distribute the booklets to restaurants across the county.
Getting the word out
Much of the promotion takes place online via Facebook and other social media outlets. And it's working.
Johnson Propane, which is based in Woodbury County and supplies commercial and residential propane to many farms in the area, was so impressed with the program that they decided to help out this year.
The company bought a series of ads on a popular Sioux City country music radio station to promote the Beef Passport locations, which greatly increased the visibility of the program this year.
This year's promotion started March 1 and wraps up June 20. Because of the move to spring this year (the 2021 program was held in the fall), the WCCA extended the window of time that customers had to get their passports stamped.
"We realized that with Lent and Easter happening during the promotion, we needed to give folks a little extra time," Nelson said.


Nelson farms
In addition to their beef herd, the Nelsons row crop corn and soybeans, grow alfalfa and sell seed for Hoegemeyer Hybrids.
Melissa Nelson has been recognized by the Iowa Farm Bureau Federation as an innovative young farmer for Hungry Canyon. She created a passport promotion package that is available for sale to other county organizations.
"We've been getting a lot of calls from around the state about the Beef Passport," Mark Nelson said.
One additional county cattlemen's association has already implemented its own version of the program, and he expects more to come.
To learn more about the Woodbury County program, or to find out how to implement it elsewhere, reach out to the WCCA on Facebook, or contact Melissa at
hungrycanyondesign.com
.
Want more news on this topic? Farm Bureau members may subscribe for a free email news service, featuring the farm and rural topics that interest them most!