Be good to your heart, and eat beef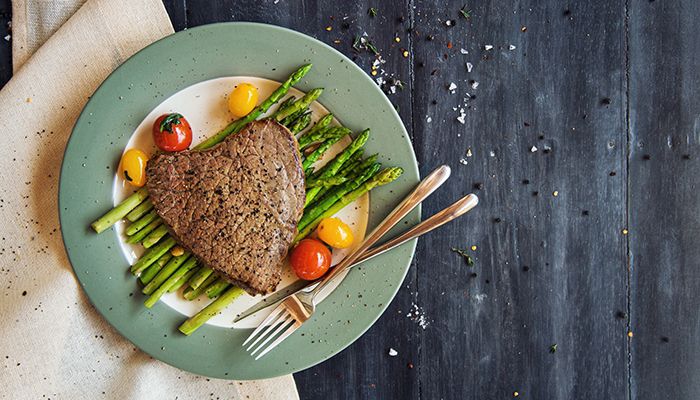 Nowadays, we love to identify ourselves with labels – on our clothes, on Instagram and in our grocery carts. Maybe we're "minimalists" who try to live clutter-free or "fur parents" whose lives revolve around our dogs.
There's also an online tribe of people who like to call themselves "flexitarians." They sometimes eat meat, but most of their meals are vegetarian. Plus, flexitarian makes for a cool hashtag in our age of social media, where it's all about #followme.
Unfortunately, like a lot of pop-culture trends, the plant-based diet tends to veer toward the extreme, often at the expense of good nutrition.
Despite all the buzz around plant-based diets, Americans today are actually eating more meat today, not less.
More than 9 in 10 Iowa grocery shoppers say their households eat meat more than once a week, according to the Iowa Farm Bureau Food and Farm Index®.
It is true that most of us aren't eating enough fruits and vegetables. Yet that doesn't mean we should give up meat if we want to eat healthier.
New research shows that lean red meat can fit into the veggie-rich Mediterranean Diet, a widely respected and popular eating plan that's recommended for heart health.
In addition, the American Heart Association recommends lean, protein-rich meats as part of a heart-healthy diet.
"Protein is so important to help people feel full longer," says Rochelle Gilman, a registered dietitian with the Iowa Beef Industry Council. "It allows them to help control their appetite and reach their weight loss goals."
Farmers are continuously working to provide high-quality, protein-rich meats with the outstanding taste, safety and nutrition that consumers demand.
So if you're not a big fan of snacking on almonds or highly processed protein bars, then feel free to get your mid-afternoon protein boost from beef snack sticks or jerky, Gilman says.
"Beef is so satisfying. And if you can eat foods that you enjoy and feel satisfied, that helps you stick with a healthy lifestyle," Gilman says.
You can find heart-healthy beef recipes online www.beefitswhatsfordinner.com. Also, be sure to check out a nutrition expert's advice on how dairy foods can fit into a plant-based diet.
By Teresa Bjork. Teresa is Iowa Farm Bureau's Senior Features Writer.
Want more news on this topic? Farm Bureau members may subscribe for a free email news service, featuring the farm and rural topics that interest them most!