Award-winning Peace Tree Brewing Company of Marion County named Iowa Farm Bureau's latest 'Renew Rural Iowa Award' winner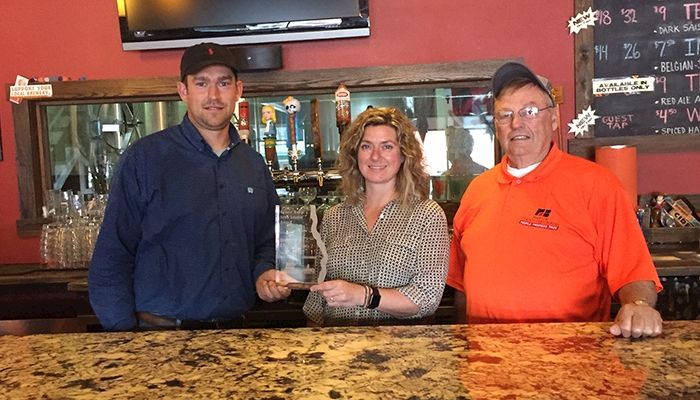 Specialty Brewer Celebrated for Role in Revitalization of Downtown Knoxville
The craft brewery industry has undergone major expansions in the past decade, particularly in Iowa, where the number of craft breweries has nearly tripled in the past six years from 24 to 70. Peace Tree Brewing Company in Knoxville is riding that wave to success. The company was founded in 2009 by Megan McKay (pictured above with Marion County Farm Bureau board members Chasen Stevenson and Larry Rowley), and the craft brewer has quickly established itself as a top-tier craft brewery, earning numerous awards. They have just added another, Iowa Farm Bureau's Renew Rural Iowa (RRIA) entrepreneur award.
With eight full-time and eight part-time employees, Peace Tree Brewing produces a million bottles of specialty beer and 2,800 kegs of beer annually. McKay noted that Peace Tree brews are currently distributed across Iowa and parts of Nebraska, with plans to grow production output 25 percent over the next three years. Despite craft brewers making up just 11 percent of the total beer market, it is a rapidly-growing industry with a lot of enthusiasm from beer enthusiasts and novices alike. In Iowa alone, the craft brewery industry has a $100 million economic impact and employs 1,500.
After the company's founding in 2009, McKay envisioned the brewery would help restore vitality to downtown Knoxville, and that has indeed been the case.
"Peace Tree Brewing Company is right here on Main Street in Knoxville," McKay explains. "We founded it with an idea of redeveloping downtown, putting some old buildings back to use and making a place where people would want to come and visit and have tourism."
Carla Eysink, director of the Marion County Development Commission (MCDC), is excited about the new energy the brewery brings to the community.
"It has been very exciting to see them grow and develop," Eysink says. "It's always exciting when you are working with entrepreneurs that have a good product and a good idea, but also have great business sense, and I think that's what helps with their success. Here in our county, we have a great tradition of growing entrepreneurs into very large companies."
In addition to expanding production over the next three years, Peace Tree Brewing Company will set up a presence in the Des Moines metro with a new tap room and retail space, making their award-winning specialty beers available to even more consumers and expanding their offerings of craft beers. Currently the brewer crafts a red ale, two IPAs, a quarterly seasonal brew, and their most popular brew is a Belgium-inspired ale.
"Our primary flagship beer right now is Blonde Fatale; it's a Belgium-style strong ale that is a nice light-flavored beer with some banana and clove characteristics," McKay says. "It's really popular with folks who aren't really into craft beer, but it's also a very serious beer that people who are more advanced in their beer knowledge will enjoy."
Blonde Fatale won a gold medal at the World Beer Cup in 2014, a competition McKay compares to the 'Super Bowl of beer.' The lineup of Peace Tree brews are certainly enticing the palates of craft beer fans across the state, but the bottle itself is also drawing attention. Each short and stubby bottle of Peace Tree beer is decorated with label art, something McKay specifically chose so the packaging and labeling reflected the quality and interesting characteristics of the beer itself.
Marion County Farm Bureau President Chasen Stevenson (pictured left of McKay) is impressed with Peace Tree's role in revitalizing the downtown area. "Over the last few years with Peace Tree Brewing downtown, the area has really blossomed," Stevenson says. "A couple restaurants have opened and our movie theater has reopened, so it has really brought some life back to downtown."
Stevenson also notes a sense of hometown pride when he sees a product from Knoxville in other areas. "It's kind of neat to walk into a Hy-Vee or a bar in Des Moines and see Peace Tree on the tap when you know it's from Knoxville, and they have a stake in our community."
RRIA is an Iowa Farm Bureau Federation (IFBF) initiative supporting new and existing businesses through education, mentoring, and financial resources. For more information about the next RRIA Business Success Seminar, "The Journey to Your Vision," go to www.renewruraliowa.com.
Listen to WHO Radio's report on Peace Tree.
Want more news on this topic? Farm Bureau members may subscribe for a free email news service, featuring the farm and rural topics that interest them most!