Assessing their options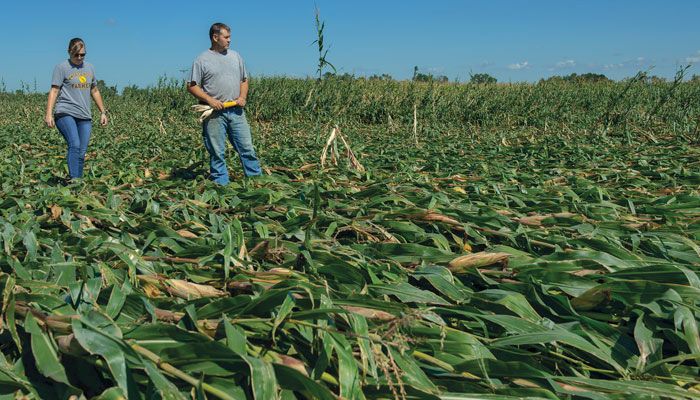 A week after hurricane-strength winds battered millions of acres of Iowa crops, farmers were assessing their options for salvaging corn and soybean fields in various states of damage.
Johnson County Farm Bureau member Jeret Jiras says he expects a total loss on 280 acres of corn flattened by the derecho that produced sustained wind speeds of more than 120 miles per hour.
Chad Petersen said the storm weakened slightly as it approached his farm in Clinton County but still left behind considerable damage as strong winds pummeled crops for about 40 minutes.
"We feel pretty fortunate. There's some flat corn, and there's some that doesn't look so bad," he said. "We're all going to have an issue when we get out in the field to harvest. There's some fields that green-snapped. You can tell it's already turning brown."
Agronomists say damaged fields will likely need to be harvested earlier than normal. Farmers should be scouting their fields regularly and putting together a harvest plan in order to minimize further losses, said Mark Licht, Iowa State University cropping systems specialist.
Depending on crop insurance coverage, it may make the most sense to prioritize fields that have the most potential and leave the most damaged fields for later.
"Harvesting the crop of highest value is going to be key. The longer we leave it out there, stalk quality lessens and we're going to have more losses," he said. "The corn that is laying out there is still going to be in relatively the same situation."
Combine attachments including corn reels and row feelers will help pick up more downed corn, Licht said. Farmers should also watch their combine settings to adjust for variable ear and stalk sizes.
"Harvest is going to be slowed. Be patient and don't cut corners," he said.
Many soybeans bounced back from the wind but those that didn't will have pods hanging closer to the ground, which will require moving the cutter bar lower and slowing reel speeds, Licht said.
Contacting agents
It's important to remember that farmers cannot tear up or abandon the crop without first giving their crop insurance agent notice and having it inspected by an adjuster.
After viewing some fields by air and walking downed crops with farmers last week, Iowa Secretary of Agriculture Mike Naig sent a letter to the USDA Risk Management Agency em­­phasizing the need for a "no harvest" crop insurance option for farmers who suffered severe crop damage.
"Millions of acres of corn around the state were impacted by last week's storm. The severity of the damage varies by field but some acres are a total loss and it will not be feasible for farmers to harvest them," said Naig. "I'll continue to work with farmers, USDA and crop insurance providers to identify solutions as we approach a very challenging harvest season."
Quarter of the corn acres
Satellite imagery shows the storm significantly impacted about one-quarter of Iowa's corn acres, according to the Iowa Department of Agriculture and Land Stewardship (IDALS). The storm path trekked across 57 counties from border to border with the most severe impact occurring on 3.57 million acres of corn and 2.5 million acres of soybeans in 36 counties, IDALS said.
Damage to corn generally fits into three categories: pinched or broken stalks that are already dying, badly lodged corn that will have limited resources to fill the ear, and corn that's only slightly root-lodged, noted Charlie Hurburgh, ISU grain quality specialist.



(Photo above, Nate Hofmann, a Linn County Farm Bureau member, looks over the wreckage of his grain bins slammed by the derecho.)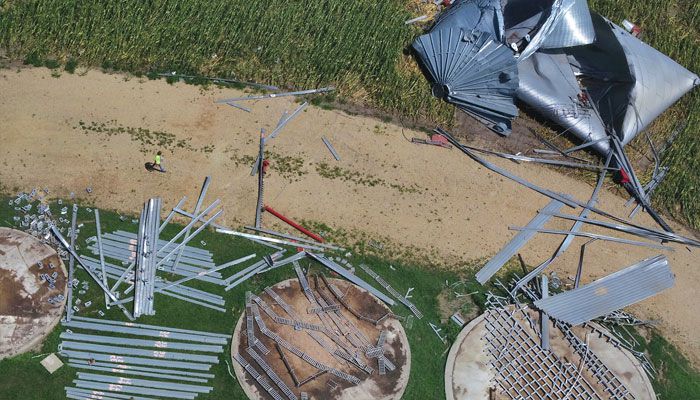 (Photo above, a drone view of Hoffman's grain bins.)
Storage concerns
Damaged corn will have lower test weight and shorter storage life, he said. It also carries a much higher risk of developing various toxins. "Recognize that any of this is not going to store very well and is not a candidate for long term storage," said Hurburgh. "It could easily become a food or feed safety risk if that material lays around very long."
Farmers may have to harvest corn at higher than normal moisture to minimize toxins produced by ear molds, Hurburgh noted. "Where we don't have mold now, keep scouting for it. We probably will have mold at harvest," he said. "Don't store it wet. Dry it quickly and cool it down as soon as possible. This is not the year for air drying or low temperature drying."
Farmers also may have to adjust where they deliver their grain this fall. IDALS estimates that more than 57 million bushels of commercial grain storage was seriously damaged or destroyed, which will cost more than $300 million to replace or repair. Tens of millions of bushels of on-farm storage were also lost during the storm.
Seeking assistance
Naig and Iowa Gov. Kim Reynolds met with President Donald Trump in Cedar Rapids last week to discuss the effect the derecho had on Iowa's farmers, landowners and businesses.
Late last week, Reynolds formally requested a Secretarial Disaster Designation from U.S. Secretary of Agriculture Sonny Perdue for 57 Iowa counties impacted by the derecho. This designation, which is in addition to the president's disaster designation, would allow affected farmers to access USDA disaster programs.
"Iowa farmers serve as a critical anchor for the entire world's food supply and it's critical they have our support. I spoke with Sec. Perdue earlier this week and regularly engage with the Trump Administration to ensure their voices are heard as we continue to secure federal assistance," Reynolds said.
Want more news on this topic? Farm Bureau members may subscribe for a free email news service, featuring the farm and rural topics that interest them most!