Appetite for Iowa: The Iowa Chop, Always a chef favorite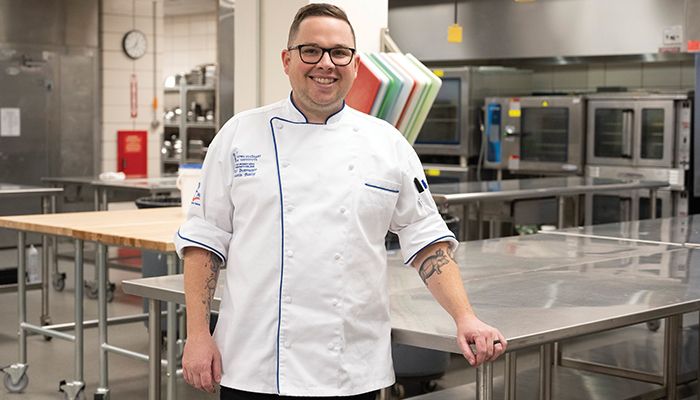 Iowa doesn't recognize an official state food. Yet if we did, I would lobby to make our state food the Iowa Chop.

Here in the nation's top pork producing state, we're so fortunate that we can easily find the best-of-the-best Iowa Chop at our local grocery stores, butcher shops and favorite restaurants.

Yet the name "Iowa Chop" isn't as common outside of the state. Instead, it is often called a Porterhouse chop – a nod to the Porterhouse steak, a beef cut also known for its high quality eating experience.

Iowa pork farmers coined the name "Iowa Chop" in 1976, according to ag historians.

The Iowa Porkettes, a former statewide organization for farm women, launched a successful marketing campaign in the 1970s that made the Iowa Chop a mainstay at meat counters and restaurant menus — a legacy that continues 50 years later.

"We are very proud of the Iowa Chop," says Steven Lonergan, a meat scientist and professor of animal science at Iowa State University (ISU). "Of course, we produce a lot of pork (in Iowa), so it's an important part of our identity."

Specifically, the Iowa Chop is a bone-in center cut from the pork loin, or back and ribs, Lonergan explains. The meat from the loin is extremely tender and flavorful.

An Iowa Chop must be at least 1-1/4 inches thick. A thicker pork chop retains more moisture while cooking, increasing its tenderness and flavor, Lonergan says.

What makes the Iowa Chop unique is that it's made of two to three different muscles from the loin, depending on how it is cut, says Chef Austin Bailey, an instructor at Des Moines Area Community College's Culinary Institute in Ankeny.

"(The Iowa Chop) has a bunch of different textures and some different flavors," Bailey says. "There's just different eating experiences throughout the whole meal."

It's the quality and consistency of the Iowa Chop that makes it almost fool-proof to cook, Bailey says.

You can sear an Iowa Chop in a cast-iron pan or on the grill, then pop it in the oven until it reaches an internal temperature of 145 degrees, as measured by a food thermometer. The pork will turn out perfect every time, Bailey says.

You don't need to marinate an Iowa Chop to make it more tender, Bailey says. And you don't need to add complicated seasonings (unless you want to).

Bailey says he just seasons his Iowa Chops with salt, pepper and maybe a little garlic powder.

"I love pork. I love pigs. I have one tattooed on my arm," Bailey says. "What I love about pork is it's so versatile. It's like the jack of all trades."

Iowa farmers are listening and adapting to meet consumer demand for pork that is nutritious, safe and quick to cook for busy lifestyles.

Genetic selection has a lot to do with today's pork quality, Lonergan says.

Farmers today are focused on raising pork that is more flavorful and has more intramuscular fat, at the request of chefs and consumers, Lonergan says.


Happy pigs, healthy pork
In addition, Iowa farmers understand that keeping pigs as comfortable and as stress free as possible impacts overall pork quality, Lonergan says.

Modern hog barns are equipped with technology that keeps the pigs comfortable by maintaining good air quality and controlling the temperature in Iowa's extreme weather.

"Happy pigs will make for good food. You can definitetly taste the difference in a well-raised hog," Bailey says.

Bailey recently participated in Midwest Pork Summit, hosted by pork farmers, and toured Minnesota hog barns with a group of other chefs.

Bailey says he was impressed by how livestock farmers are so focused on sustainability.

Farmers use the manure from hog barns to fertilize their corn and soybeans crops, which are in turn fed back to the pigs.
"The technology that goes into it, it's reusable all the way. … There's no waste going out. They've got it down to a science, that's for sure," Bailey says.




Want more news on this topic? Farm Bureau members may subscribe for a free email news service, featuring the farm and rural topics that interest them most!