An engine for Iowa's economy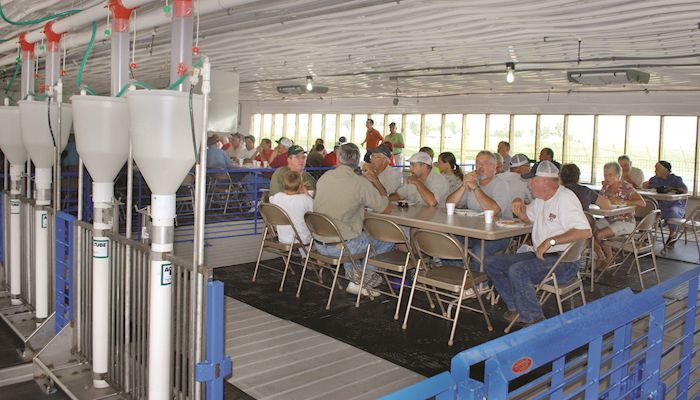 The importance of agriculture to Iowa's total economy grew significantly between 2012 and 2017, according to a new study commissioned by the Coalition to Support Iowa's Farmers (CSIF). Farming and ag-related industries accounted for more than 31% of the state's total economic output in 2017 and for one in five jobs.
The CSIF study, which analyzed data from the newly re­­leased U.S. Department of Ag­­riculture's 2017 Census of Agriculture and other sources, found that agriculture contributed 10% more to the state's overall economy than in 2012, when the previous Census of Agriculture was released. It also showed that nearly 400,000 jobs in Iowa are in agriculture and ag-related industry.
"This study shows that agriculture, and especially livestock production, is a strong foundation for Iowa's entire economy," said Craig Hill, president of the Iowa Farm Bureau Federation. "Livestock production creates jobs, provides a strong local market for our crops, pumps economic vitality into our rural communities and allows younger farmers to get a solid foothold in agriculture."
The work by CSIF to advocate and assist Iowa's farm families in raising livestock responsibly and successfully is a vital part of agriculture's success, Hill said.
The new CSIF study underscores how productive and innovative that Iowa farmers have been since 2012, said Spencer Parkinson of Decision Innovation Solutions, the Iowa-based analytics organization which conducted the study. "Despite major weather events such as drought and flooding over the past several years, farmers have increased total output to $121.1 billion, benefitting not just agriculture, but all Iowans," he said.
Even as it helps propels Iowa's economic growth, agriculture maintains its family-owned roots, the CSIF study showed. More than 90 percent of Iowa's more than 86,000 farms are family owned and operated and the average size of an Iowa farm was 355 acres, it showed.
Livestock production and businesses that support animal agriculture were the biggest engines in agriculture's total contribution to Iowa's economy. The livestock sector contributed $15.8 billion Iowa's economy in 2017 and created 186,000 jobs, the CSIF study showed. That job total was up from 123,000 jobs in 2012.
"It's a testament to the tenacity of livestock farmers, in particular, who have persevered through ongoing low commodity prices, tariffs and Mother Nature to actually see an increase in jobs related to livestock in the state," said Brian Waddingham, CSIF executive director. "There's no question that the livestock industry is a critical piece to Iowa's overall economy. It's also key to keeping farm families living and working on the land."
Waddingham also noted that livestock farms are a vital part of Iowa's rural communities. "We see this every time we host an open house with livestock farmers. It's common to see hundreds of community members attend to celebrate what a new barn means to their community: jobs, kids in school and a boon to local businesses," he said.
The CSIF study also noted that crop farming and processing accounted for 112,000 jobs and $11.1 billion in value-added contributions to Iowa in 2017.
The Coalition to Support Iowa's Farmers was created by farmers to help farmers raise livestock successfully and responsibly. It's a partnership involving the Iowa Beef Industry Council, Iowa Cattlemen's Association, Iowa Corn Growers Association, Iowa Farm Bureau Federation, Iowa Pork Producers Association, Iowa Poultry Association, Iowa Soybean Association, Iowa Turkey Federation and Midwest Dairy.
Want more news on this topic? Farm Bureau members may subscribe for a free email news service, featuring the farm and rural topics that interest them most!