An emerging pork market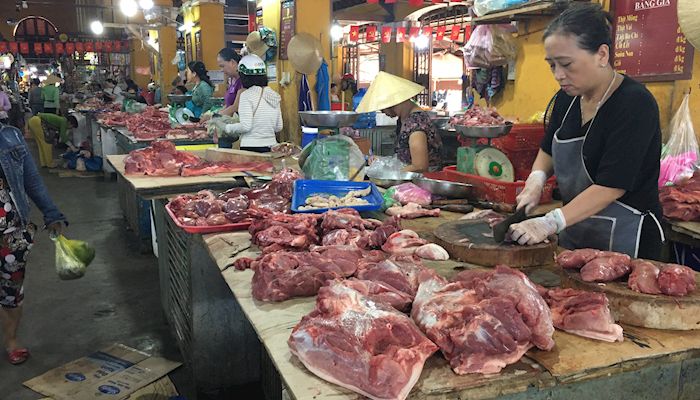 Something you quickly realize when you visit Vietnam, as I was fortunate to do recently, is that pork is the king of proteins there. From Vietnam's bustling cities of Hanoi and Ho Chi Minh City, to the quieter countryside, my wife and I spotted pork on nearly every menu, with a wide variety of pork dishes offered.
In Hoi An, we ate sizzling pork skewers grilled up on a charcoal grill on the street. In Hanoi, we perched on tiny plastic stools at a street side restaurant to slurp down tasty bowls of pork and noodles. In Ho Chi Minh City, the sprawling metropolis that was formerly called Saigon, we ate pork slow stewed in clay pots to enhance the meat's smoky flavor.
This preference for pork, along with rising income levels and problems in domestic production, make Vietnam an emerging growth market for U.S. pork exports, according to Dermot Hayes, an Iowa State University (ISU) economist who specializes in international pork markets.
"Vietnam is about 10 years behind China, but on per capita basis, it has just as much potential as China," Hayes said. "It's got a lot of potential because of the growth in the income and the fact that pork is the meat of choice there."
Exports gaining ground
U.S. pork exports to Vietnam are rising, jumping nearly 200% to $35 million in 2018, according to a recent report by the U.S. Department of Agriculture's Foreign Agriculture Service (FAS).
The country's consumers, the FAS report said, are moving away from the traditional wet meat markets and are buying more pork in supermarkets and convenience stores. "With increasing disposable income and concerns about food safety, Vietnamese consumers are willing to pay more for imported food products, which they believe meet higher quality and safety standards," the report said.
The gains in pork exports to Vietnam are part of an "incredible" overall increase in U.S. ag exports there, said USDA Agriculture Undersecretary of Agriculture for Trade and Foreign Agricultural Affairs Ted McKinney, who led a trade mission to Vietnam in October. He noted that Vietnam now ranks seventh on the list of ag imports from the United States at $4.2 billion, with cotton imports leading the way. That's up from 95th place when the United States reestablished diplomatic relations with Vietnam in 1995.
U.S. pork sales are gaining even though the United States is at a tariff disadvantage to competitors, noted ISU's Hayes.
Over the next 10 years Vietnam is phasing out duties for countries in the Comprehensive and Progressive Agreement for Trans-Pacific Partnership, formerly called the Trans-Pacific Partnership. The United States is not part of the agreement, so the U.S. pork exports face a higher export tariff.
Still, Hayes said, "the demand for pork is so strong, the tariffs don't seem to be slowing our export opportunities."
Pork production woes
While consumers in Vietnam are demanding more pork, the country's pork production is suffering.
Vietnam's biggest pork production problem is an outbreak of African swine fever (ASF), which is sweeping through Asia. The country has culled some
5 million hogs and is working to reduce "backyard" pig production to slow the spread of the deadly swine disease.
Even without ASF, the technology of pork production in Vietnam is way behind the United States, Hayes said.
"Despite the strong domestic demand for pork, it's really not a good climate to raise pigs," he said. "They have to import most of their feed and the temperatures are way too hot for the sows. It's like Iowa in August every day of the year."
Want more news on this topic? Farm Bureau members may subscribe for a free email news service, featuring the farm and rural topics that interest them most!