An education in elegance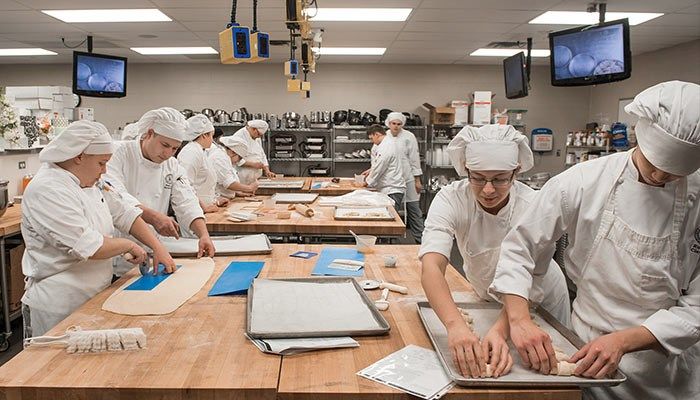 One expects a AAA Four-Diamond Hotel to be elegant and classy — with the best service and amenities.
However, one doesn't necessarily expect it to be surrounded by corn fields and located next to an equestrian center, and it's doubtful one expects it to be a teaching hotel.
But the
Hotel at Kirkwood Center
in Cedar Rapids is all those things.
Like a teaching hospital, the Hotel provides a hands-on experience for students of Kirkwood Community College's hospitality arts department and one of the best guest accommodation experiences in the country.
"It's good for all of us," says Lee Belfield, the hotel's general manager. "The students learn by example and experience, and management and professional employees can't let up on our attention to detail because the students are modeling us. So guests get the best quality hotel experience with the added knowledge they are helping contribute to the educational process."
Kirkwood is one of only six teaching hotels in the nation, and the only one with a two-year program. With some programs claiming nearly 1,000 students, Kirkwood is small in scale, with 236 this year.
"We have some room to grow," says David Horsfield, hospitality arts department chair. "But our small size adds to the experience." Students major in hotel management, culinary arts, baking and pastry arts, and restaurant management.
Classified as a boutique hotel, there are 71 guest rooms ranging from traditional to the President's Suite. The Class Act Restaurant is, well, a class act. The hotel lobby bar boasts one of the finest inventories around. Conference facilities feature custom-built white boards and high-definition video conferencing. Banquet facilities host around 50 weddings and other gatherings each year and can accommodate up to 500.
Culinary arts students spend their first year in classrooms and labs, learning skills before their product or service is shared with the public. The second year is filled with clinicals, where students train alongside paid employees, gradually taking on more independence and responsibility as their level of mastery allows.
Hotel management students spend 560 hours "on the job" before their education is complete, with students in that highly practical program starting their clinical experience in the housekeeping department during the second week of their initial semester.
"The idea is for them to blend seamlessly with the professional staff," says Horsfield.
"It goes beyond learning the business end of things," says second-year restaurant management student Anthony Werner. "I'm learning serving and supervisory skills."
Instructors oversee the education, and co-workers, considered adjunct faculty, patiently share their expertise.
"I give them high praise," says second-year culinary arts student Justin Parrish. "It takes a lot of patience to always have someone learning underfoot."
The facility has 185 paid employees, many program alumni, giving the hotel an unusually high guest-to-staff ratio.
Parrish identifies himself as a non-traditional student. He spent 10 years in the medical field before making a career change at the urging of family and friends. He was pleasantly surprised to find this caliber option in his own backyard — and at a reasonable price. The program is teaching him the basics, with a reputable addition to his resume.
"I can go anywhere from here," he says. "I have the basic cooking skills that can be adapted to any kitchen. And I've successfully cooked for the paying public, a step that was a bit intimidating at first."
Location and price also at­­tracted McKenna Kremer as she considers joining the family hospitality business. Through the hotel management program she is gaining communication skills and a new appreciation for the nuts and bolts of the business.
"I've worked in housekeeping and learned what guests expect from their room. I can handle different guest registration computer systems. I've learned good phone skills and how to handle difficult customers," says Kremer.
She has even learned the challenges of dealing with government Secret Service as the hotel hosts presidential candidates. Former Secretary of State Hillary Clinton has stayed four times.
Kremer also experienced turning rooms over in two hours before a wedding party moved in following the Hawkeye football team's visit. "It takes planning and teamwork. Those are experiences you just don't get anywhere else," she says.
"That's the goal," says Belfield. "We want to train our students on the best of the best so they can take that education anywhere. We want to teach them where the industry is going, not where it is."
That philosophy is evident throughout the hotel. A $75,000 dishwashing room offers the best and latest in equipment. Guest room temperature is controlled on a state-of-the-art automated energy-saving system.
The aesthetics are impeccable from the white leather chairs and ethanol-burning fireplace in the lobby to the fine linens, draperies and custom wall coverings in the guest rooms. More than 300 works of art by Kirkwood students, alumni, faculty and artists with ties to the Cedar Rapids community adorn the premises.
"We use the acronym HUT — hip, urban, trendy — to define our style and approach," says Belfield, who gives college administration and directors high praise for making the $14 million investment.
"We were talking at a meeting how to provide practical job experience for our students, and I mentioned, maybe we should build a hotel," explains Belfield, a local restaurateur with 40 years in the hotel business in addition to his duties as a Kirkwood professor. "They ran with it, and that has made us what we are today." The hotel opened in 2010 and took on the Preferred Hotels & Resorts brand in 2011.
All totaled, the program and instructional facilities cost the college $32 million and added to an already progressive community college curriculum that includes a winery, turf and landscape management program, a top-notch equestrian center and a truck-driving range — most of which can be seen from the hotel rooms.
"It really is a great atmosphere," says Werner. "I'll leave here ready for anything, whether it's working for someone else or opening my own restaurant. I have the education and the confidence to do it."
"You have the opportunity to learn about all parts of the business under one umbrella," adds Kremer, "and we learn how to communicate and adapt." Students leave Kirkwood knowing what to expect on the job, including the reality of life in a 24/7 business. Ninety percent of them will find jobs within a 100-mile radius.
"They keep a pretty intense schedule with classes and clinicals," says Horsfield. "But that's part of our goal. We want to give them that sense of balance, that familiarity with the grass roots of the industry. That's the best way we can prepare them for industry leadership positions."
"We also have a mortgage to pay," says Belfield. Kirkwood built the facility with revenue bonds, and the annual bill is a constant reminder that even in a teaching situation the quality expectations never waiver. Customer service comes first.
There are four highly visible plaques in the hotel lobby. Each marks a AAA Four-Diamond rating. Belfield and Horsfield fully expect a fifth with the next inspector visit. "We might just have to put up another pillar," says Horsfield.
Scholarship Program
Guests at the Hotel at Kirkwood Center can contribute to students' education through the Hospitality Arts Scholarship program. When they elect to add $5 or more to their bill, the amount is matched by the Kirkwood Community College Foundation to help students achieve their goals. More information can be found at
www.kirkwood.edu/foundation
.
Queck-Matzie is a freelance writer from Fontanelle.
Want more news on this topic? Farm Bureau members may subscribe for a free email news service, featuring the farm and rural topics that interest them most!