Acres of Opportunity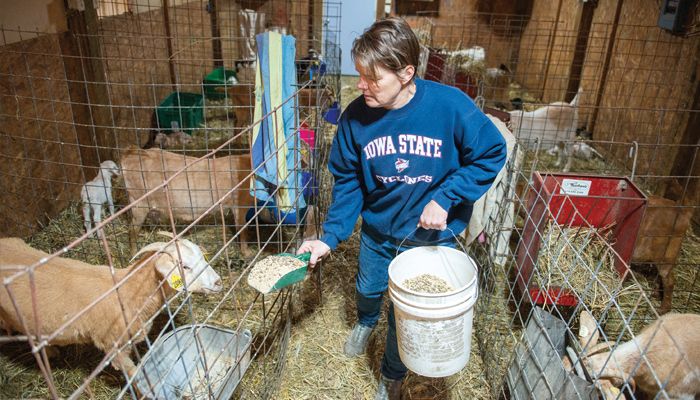 Partnerships are a key factor in launching a successful ag start-up business, ChopLocal founder and CEO Jared Achen said at the Iowa Farm Bureau's inaugural Acres of Opportunity Conference held March 12 in Cedar Rapids.
"I've had businesses be successful because of partnerships, and on the other side, I've had businesses fail because of partnerships," said Achen. 
ChopLocal, an e-commerce website that connects high quality meat products from farmers to consumers across the country, is the latest of six businesses that Achen has been involved in over the last 10 years. 
"They've all been a little bit different," he said, noting that the path to a successful start-up will look different for every business. 
The Acres of Opportunity conference brought together a range of farmers and business experts to provide advice to beginning farmers and others interested in diversifying their crop and livestock operations. 
The conference drew close to 300 attendees from 67 counties across the state, said Amanda Van Steenwyk, IFBF farm business development manager.
"We're excited to see where this program continues to go," she said. "The biggest message I heard today is when farmers come together with a common goal, things happen and opportunities are endless." 
Speakers included farmers raising alternative crops like pumpkins, flowers, vegetables, strawberries and hops as well as niche livestock, including goats and pigs. Also, business experts were on hand to talk about legal considerations, financial management and building a successful business model.
Building your network
"A lot of people talk about doing something. You being at this conference is a big step," said Iowa Farm Bureau President Brent Johnson, who described his own journey launching a precision agriculture consulting business. 
"One of the things I learned early on was the power of networking — meeting folks I could learn from who were doing the same thing or doing things differently."
Story County Farm Bureau members Eric and Deb Finch said networking was a big help when they started raising meat goats almost 20 years ago. 
"When we first got started, a lot of our contacts were in the southern U.S.," Deb said. "There was nobody up in this direction that raised goats." 
The Finches stumbled into the business almost by accident after buying a nanny goat to nurse orphan lambs on their farm. 
The nanny goat came with two kids, which they planned to sell at a local sale barn. Instead, an employee at their family's farm helped connect the Finches with customers from local ethnic groups who wanted to purchase goat meat.
"It honestly mushroomed from there," Deb recalled. "Word of mouth spread in the Hispanic community. We had people start showing up at our farm asking if we had goats. We started to see a need for that ethnic meat, and went out and bought a herd."
They are currently raising around 100 goats, although their herd size has fluctuated over the years to as many as 200 head. The couple says raising meat goats has been profitable and provides flexibility needed to work around their off-farm jobs. 
Being adaptable
Adaptability has been an important factor over the years in improving their farm and meeting changing customer demands, Eric noted. 
"I don't know how many times we've redesigned the barn lots. It seems like we were always changing things. We found out what worked and what didn't work," he said. "Even on the marketing side, we had to be fluid and have the size of animal that each group wanted."
It's not unusual for business plans to change, Achen said. That's why it's essential to continually review and update your plan on a regular basis, he said. 
"Your business plan is going to change over time because new information has entered your business," he said. "If you don't have this laid out, there's a good chance your company is not going to be profitable because you don't have that manual there. When it's not profitable, it's either going to go out of business or — if it's a side business for you — it might become a hobby, and nobody wants an expensive hobby like that." 
Want more news on this topic? Farm Bureau members may subscribe for a free email news service, featuring the farm and rural topics that interest them most!