AKKOR Letter to Iowa Farmers June 2016 -- Everything Starts with Your Plot of Land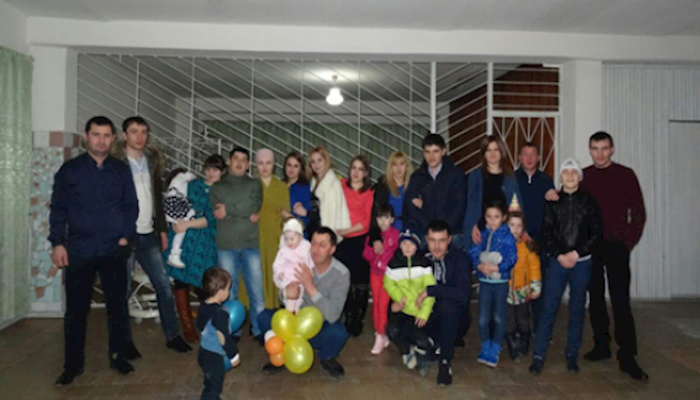 The June 2016 edition of the monthly exchange letters between IFBF and AKKOR (the Russian Private Farmers Organization). IFBF and AKKOR have been sharing exchange letters and articles between Iowa farmers and Russian farmers since 2012 in an attempt to increase our understanding of each other and as a part of our "citizen diplomacy" efforts.
This is an unusual letter, dear Iowa farmers. We want to share with you a story of an amazing family that has done well for themselves but who also affected many people's lives in the most positive way.
Where we come from there is a saying: if you want to find out what kind of a person you are talking with look and see how he brought up his children (Sagid Rakhayev)
In the suburbs of a southern city of Nalchik that lies at the foot of a beautiful mountain range, lives a big Rakhayev family. Mother Aminat and father Sagid have raised a big and hard-working family. They met more than forty years ago when Aminat graduated from a community college with a degree in accounting, and Sagid already worked in construction. Aminat got a job at the office of social security. Today they both laugh telling us how they first met. But it was not a laughing matter for Sagid all those years ago.
He made a bold move and gave a bouquet of white flowers to a young girl whom he never spoke with before. But Sagid spoke with his sister who was Aminat's friend. The sister knew that Aminat loved white flowers. He extended his hand with the flowers. She stepped back. But there were people around. It all took place at a bus stop. Not to cause a pleasant young man any more embarrassment, Aminat accepted the bouquet.
They started dating and in 1976 got married. A year later the first daughter, – Leila, - their joy came into the world.
It was only the beginning. Now the Rakhayevs have 11 children: six sisters and five brothers.
The parents raised them well instilling the values of hard work and responsible attitude to everything they do. That could not have been any other way around because since early childhood the children were given certain responsibilities. The boys were trained in masculine traits: look after the farm animals, make repairs, know how to handle plumbing, fix electrical problems… They all have learned how to do that but also when they grew up they chose the vocations that they really enjoy.
Their oldest son, Aslan, works in law enforcement, married and has two sons. Another son, Askhad, lives in St. Petersburg and is an economist and a lawyer, - a father to two daughters and works in a construction company. Another son, Salikh, is a firefighter and has a daughter. The youngest son, Ruslan, is a student at the Engineering School in St. Petersburg. All sons are engaged in sports, - wrestling and karate. Sports trophies are proudly displayed at the Rakhayev's house.
The girls of the family are also well educated and enjoy professional careers a restaurant chef, an instructor of a community college, one is a lawyer but enjoys seeing women well made up, so she shifted to being a hairdresser, one works in a mobile phone company.
Aminat reminiscences and says that it was not easy to raise such a big family, But since we brought those children into the world, we were responsible to give them all they needed to become valuable members of the society. For the past twenty years Aminat has worked at a nearby resort as food preparation department. Because it is an all-year-round resort and because Nalchik is very close to the war-torn Chechnya, they receive groups of displaced or orphaned children from Chechnya.
Aminat is always there for them with a nice word, a smile, or a biscuit. She has seen a lot in her life but to this day she cannot forget this one Chechen boy. "He was so small", remembers Aminat. He called me "MAMA" the first time he saw me and looked at me with his huge dark eyes as if waiting for me to stroke his hair… He did not speak our language. I did not know his but somehow we were able to understand each other.
He became my shadow. He was the age of our youngest daughter, so one day I asked their teacher to let me take the little boy to our house for the weekend. She agreed.
I brought him home. Gave him a bath. He was so thin I could see his ribs sticking out…The kids had a great time even though they spoke different languages. The kids played together like there was no tomorrow. My daughter had red laced booties. Malik (that was the boy's name) could not take his eyes off her booties. So, we gave them to him. Gradually our attachment to Malik became so strong that I asked my husband what we should do. He told me to bring him home: 11 or 12 will not make any difference, he said.
Malik never saw any attractions or been to an amusement park. I took him to one. Thhis is when a child jumped out of him, - he was so happy. But suddenly he heard the sound of an airplane and… dived under my skirt…I know in my heart that children should not know WHAT war is and what devastation it brings to the people, even so small as Malik.
Did we adopt Malik? - continued Aminat. – No. It did not work out… His father was killed in that war but his mother, even though she was paralyzed because of the shrapnel in her spine, she still was his mother… In addition we learned that Malik had two other brothers who were eventually reunited with the family. So, we said our "good byes".
Says Sagid: "Why are we sharing this story with you and how is it related to farming? The answer is simple: without our little family farm we wouldn't have survived. I grow everything you can name: tomatoes, cucumbers, onions, garlic, dill. Cilantro, potatoes… A few years ago we had cattle, sheep, and poultry. We formed a little "coop" with the neighbors and took turns in taking the farm animals to the pastures. These days we hire somebody to take our animals up to the mountains for the summer to feed. They will be back home when fall comes.
My boys still cut hay for the winter. Families with multiple children cannot survive without subsidiary plots. This is important not only as an answer to feeding the family but also helps with bringing up our children: instead of running around, they have responsibilities on the farm and acquire working ethics that serves them well in life.
The next generation is waiting at the door. Life never ends".
With this, dear Iowa farmers, we finish this retrospective look into the life of one common family in Russia. We wish you and your families peace and prosperity.
Your AKKOR friends and Vera Tilova-Botasheva
Want more news on this topic? Farm Bureau members may subscribe for a free email news service, featuring the farm and rural topics that interest them most!