A place at the table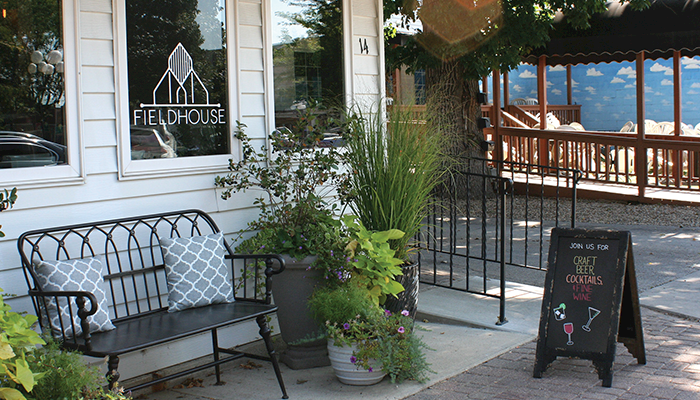 One Vision in Clear Lake has a vision — a world with a place for everyone.
One Vision helps nearly 600 people with disabilities in 30 northern Iowa communities gain independence through community em­­ployment, involvement and living arrangements. The agency was founded in 1966 and was known for many years as Opportunity Village.
Now, the local food movement is creating even more opportunities for those served by One Vision, and for the public eager to taste the best Iowa has to offer.
"It's all about people finding their place," says Michael Mahaffey, chief development officer for One Vision.
As an agency, One Vision prides itself on putting people first. But those people can only be served with a reliable revenue stream, and One Vision found itself dependent on Medicaid for 87 percent of its support.
"We were definitely in a place were it made sense to diversify our revenue stream," says Mahaffey.
A garden and greenhouse at the Clear Lake campus had been utilized for nearly 30 years as a way for One Vision clients to be productive while supplying produce for the agency's residential facilities. As One Vision looked for ways to enter the new era, ideas began to take form for expanding the operation through farmers market sales or a roadside stand.
In 2016, One Vision was approached by North Iowa Fresh, an association of local growers selling on the wholesale market to restaurants and grocers.
"They were in need of an aggregation location where they could store produce in a temperature-controlled environment and products could be washed and prepped for sale," says Mahaffey. "We had an underutilized kitchen, cooler and loading dock, and workers willing and able to put stickers on melons, bag green beans or box tomatoes."
As the 2016 growing season progressed under the arrangement, Mahaffey and others at One Vision started to see even more opportunity to provide meaningful work for those in their agency.
One Vision had a workforce capable of kitchen prep work, bussing tables, cleaning, running dishwashers and making deliveries. They and North Iowa Fresh had produce. Downtown Clear Lake had an empty restaurant building. Fieldhouse was born.
The atmosphere is uptown chic served with a dose of Iowa simplicity. A wall of windows in the second floor dining room overlooks the Clear Lake City Park and the lake.
Chef Ryan Wagner's menu works available seasonal ingredients to their full potential. Diners can nosh on a La Quercia charcuterie board with house pickles and mustard or turnip chips and housemade salsa verde; then move on to salads of all types of local greens and produce, like the farro, apple, red onion, tomato, cucumber, roasted corn, bell peppers, micro radish and lemon salad. Dinners range from a pan-seared scallop with guanciale vinaigrette with lemon and parsley to the Triple L Livestock beef burger with 10-year aged white cheddar, house pickles, Twister River mesclum mix, tomato & maple rum jackfruit aioli on homemade brioche. Lunches offer a bit lighter fare, like the Tuna Salad Sandwich with apples, corn, zucchini, cucumber, red onions and Swiss chard on grilled house Bulgur wheat bread.
Wagner is a Clear Lake native, who toyed with a career in web design before deciding that sitting at a computer wasn't for him and entered Kirk­­wood Com­­munity Col­­lege's culinary program in Cedar Rapids. He managed bars and re­­staurants in Iowa City and northern Iowa before landing in Clear Lake again.
Once approached with the opportunity, Chef Ryan waited throughout the winter for the chance to have his own kitchen and develop his own farm-to-table menu. He relishes the challenges of creating a seasonal menu from the endless array of local foods and the daily contact with his employees. "It's just great to get a hug every morning and know you're missed if you're not there," he says. "They all have such a great attitudes."
He's quick to add just because some of Fieldhouse employees have "special needs" doesn't mean they receive special privileges. "They know my expectations of them are the same as they would be of anyone else. If they do something wrong, I'm going to tell them."
Mahaffey says pride in their work and pride in the restaurant add untold meaning to the employee's lives — those who receive One Vision services and the eatery's regular employees. So does the paycheck.
"It's more money than some people have ever made," he says. "They're very proud of that. The satisfaction of having meaningful work and being a contributing member of a community applies to everyone."
The restaurant serves 200 to 300 meals per week — lunch, dinner and a "fun Sunday brunch" — and has garnered rave reviews. Seasonal visitors rank it equal to some of the best urban establishments.
Fieldhouse not only provides a revenue stream for One Vision, but for local growers, who in some cases have adapted their products to meet Fieldhouse's needs.
Fieldhouse and One Vision Green Production have also spawn­­ed other business ventures. The bakery produces breads and desserts for Fieldhouse as well as catering clients and farmers market sales, and is recruiting business from other restaurants. An agency-operated laundry keeps the restaurant linens crisp and is poised to take on other clients.
"Expanding these ventures provides even more opportunity," says Mahaffey. "We're able to create an environment where all people are valued and treated with dignity. Period."
Employing the unique population served by One Vision does involve extra care. Training often involves one-on-one job coaching. It also requires an eye for talent and a knack for putting people in the right position. That approach expands to all One Vision employees.
Baker Barb Rahmani began her One Vision career as a job coach in the work center before taking on the bakery management.
"This is a company that takes time to know you and your strengths," says Rahmani, whose strawberry-rhubarb pie has been dubbed "Best in Iowa" by RAGBRAI riders.
Jim Jackson was an auto mechanic, managing and maintaining the agency's fleet of vehicles, before he was tapped to manage the green production program. He now oversees the garden, orchard, greenhouses and the retail site where mums, pumpkins, gourds and perennials steer customers toward thoughts of fall. Like Fieldhouse and the agency's general store, proceeds help fund agency services and reduce reliance on Medicaid dollars.
Jackson hopes to expand One Vision's growing capabilities with another greenhouse and possibly a high tunnel structure. A partnership with Iowa State University is experimenting with vertical strawberry production, and the agency is exploring a Community Supported Agriculture (CSA) program.
Jackson has the workforce ready and willing to fill pots, weed, plant, make deliveries and run the irrigation system. He finds working with the people as satisfying as working with the plants. Like Chef Ryan, he expects quality performance and professionalism from his employees.
"We're making an impact. We're able to unlock individual ability. We have a successful business model, and we're able to see the human side."
Turning a non-profit human resources approach into a business mindset has been a challenge, according to Mahaffey, who says the end result is well worth the effort.
Today, One Vision's primary product is pride — pride in a job well done and a paycheck in the bank, pride in Iowa's endless capacity to grow flavorful and nutritious food, and pride in finding one's place in the world.
Queck-Matzie is a freelance writer from Greenfield.
Want more news on this topic? Farm Bureau members may subscribe for a free email news service, featuring the farm and rural topics that interest them most!