A fresh look at college dining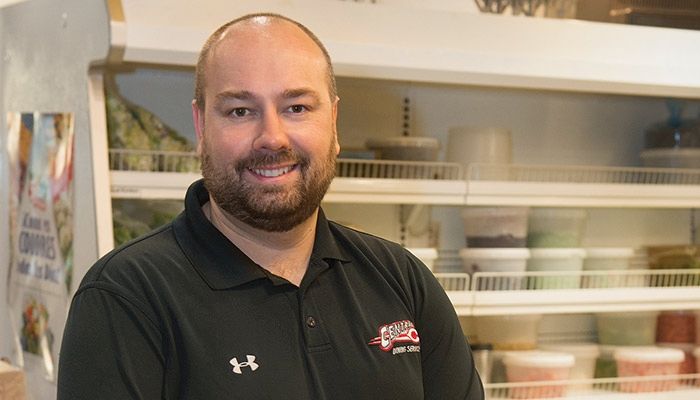 Remember when college cafeterias offered one entrée—and, if you were really lucky—a big bowl of lettuce with some dressing choices?

We've come a long way from the mystery meat of the past when it comes to feeding today's college students. And part of the thanks goes to Richard Phillips, director of dining services at Central College.

A native of Wales, Phillips came to Central College in 1999 on an exchange program through Trinity College in Carmarthen. The first week he got here he met his future wife, Kellie. "From that point on, my life was pretty much planned out," he says with a laugh.

In 2006, the couple took over Monarch's in the Royal Amsterdam Hotel on the Molengracht in Pella. By 2010, the economy had slowed down. Kellie stayed on at the restaurant; Richard moved over to Central College, where he started as a cook. In 2014, he was named director of dining services.

With a goal of "complete customer satisfaction," Phillips immediately started getting feedback from the college community on what they wanted to eat.

"Kids get sick of the same recipes," Phillips says. "When I started here, I sent emails out to students asking what they wanted. After all, they had to eat it." Phillips says he was a bit overwhelmed when he received 180 emails in return. "A lot of them wanted us to 'double up' on something, serve it more often," he says.

Phillips has been steadfast about Central's commitment to "eat local." Partnering with local farmers as well as those across the state, Central's vegetables often come from Prairie Root Farms in Otley, about 5 miles away.

Louise Zaffiro is a co-owner of Prairie Roots Farms in Otley, one of Central's vendors.

"Last year the weather was good for us in many things, and Richard took almost everything I wanted to sell," Zaffiro says. In addition, Zaffiro sells at two area farmers markets and also sells shares in a Community Supported Agriculture (CSA) program.

Milk, cheese, and frozen yogurt arrive from Homestead. Beef is sourced from Tama. Chickens come from Sully, about 15 miles away, with the chickens being processed in the morning and in Central's freezer by 3 p.m. the same day.

A favorite of Central students is the All-Iowa Day held each spring at Central, where 99 percent of the foods that day are grown within a 40-mile radius of Pella. Some of that food is grown on campus, in the one-quarter acre organic garden. There are also several hives of honeybees on campus.

"We are striving to have 40 percent of all our meals be locally produced," Phillips says.

Phillips says food should be fun, too. Special events regularly take place, like Halloween with special effects food—"snake eyes" in potatoes with spaghetti, barbecued ribs displayed in an open shirt—Mardi Gras Day with jambalaya, gumbo, and Cajun catfish; and the annual Bacon Fest, which served up 475 pounds of bacon-based recipes last year.

Last month, dining services celebrated St. David's Day—the Welsh patron saint—with leek soup, Welsh cakes, bara brith (a tea cake) and Welsh rarebit.

The No. 1 thing students complain about, Phillips says, is monotony in meals. "We are really taking away that complaint," he says. "Since students spend a lot of time here, we want them to be pleased."

In addition to the Central Market, the college's dining hall, Phillips also oversees two other venues on campus: Fred's in the Maytag Student Center for between-class or late-night snacks; and The Café at Geisler Library, a venue for sandwiches, salads, scones and coffee.

And the student's aren't just eating the food—they're helping produce it. When dining services received 65 dozen ears of sweet corn last summer for six consecutive days, students helped shuck, blanch, and freeze it. More than 1,000 pounds of corn was frozen. It's being used in this semester's meals.

Preserving produce has also been one of Central dining's goals. Dining staff have made marinara sauce, homemade salsa and their own dill pickles. "

The Central garden is now five to six times larger than it was last year," Phillips says. "Sustainable farming is becoming a huge part of Central's diet here."

Phillips says at the end of the day, it's about educating students.

"We want them to see why it's good to source (food) locally," he says. "We want them to see that we're looking out for their well-being."

Van Kooten is a freelance writer in Pella.
Want more news on this topic? Farm Bureau members may subscribe for a free email news service, featuring the farm and rural topics that interest them most!