A focus on service to others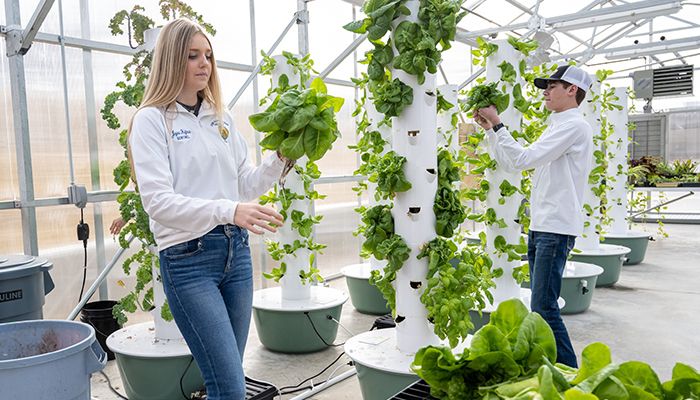 Coon Rapids-Bayard FFA students are finding new ways to feed their community and promote farming, fulfilling key FFA mission areas of service to others and emphasizing the value of agriculture.
The chapter's projects run the gamut from helping with the Coon Rapids Mainstreet program to veterans' organizations and, most recently, a farmers market the city will launch this spring.
"There is a lot of excitement for FFA here, especially from freshman and some of the younger grades," said Coon Rapids-Bayard FFA President  and senior Payton Schultes. "I think that comes from us pushing them hard and wanting them to be involved. They like it."
Combined, the communities of Coon Rapids and Bayard, in Carroll and Guthrie counties respectively, have a population of fewer than 2,000 residents. There's always something to be done around town.
"We try to help out in the community anytime we can," noted Coon Rapid-Bayard FFA Advisor Courtney Schroeder, who also serves as the district's ag teacher.
"There are a lot of groups that will ask us for volunteer hours and elbow grease," Schroeder said. "We really put a lot of focus in our chapter on the 'living to serve' part of the FFA motto. And we're always looking for those kinds of opportunities."
Emphasis on ag
One of the chapter's newest service efforts is serving up fresh vegetables from its greenhouse in the school's lunchroom.
Students work in a greenhouse that was installed near the high school last September. A set of 10 grow towers was added in October.
The grow towers allow the students to grow sizable amounts of leafy greens in their limited space, primarily raising lettuce and kale.
One morning last week, they harvested lettuce to top cheeseburgers served in the school cafeteria the next day.
The greenhouse was paid for by the district, and the grow towers were made possible by a $10,000 donation from Carroll County Farm Bureau.
"The (Carroll County Farm Bureau) board saw that the grow towers really fit everything we stand for," said Carroll County Farm Bureau board member Shellene Feld. "They are feeding their classmates, and there is a lot of value in this sort of hands-on learning."
Growing up FFA
Payton Schultes, Chance Schultes and Jayna Hoffman are all members of Coon Rapids-Bayard FFA and also live on their families' farm.
This isn't true for many students in the district.
"We are a rural district, so a lot of our students have roots in agriculture, but not a lot of them are living on a working farm," Schroeder said.
She said that's one of the best benefits of the greenhouse — it provides students who don't have the opportunity to work on a farm or in agriculture to get their hands dirty and produce a harvest from seed, soil, sunlight and nutrients.
Chance Schultes has been es­pecially involved with the greenhouse effort and said the experience has been great.
"Something I didn't know before walking into the greenhouse is how much it actually takes to make everything grow right," he said. "You have to know the plants are ready to be harvested, when you should schedule the next planting and harvesting. You have to keep that process going."
Friendship and life skills
Being part of FFA also provides the social connections and friendships young people need.
Jayna Hoffman, a freshman at Coon Rapids-Bayard High School, joined FFA last summer. In her short time in the chapter, she said she has grown a lot in her confidence and public speaking.
"I think I've been inspired by the people around me," she said.
Chance agrees. "Back when I was a freshman, I was kind of quiet and didn't really talk to a lot of people," he said.  "What I've learned in FFA the last few years is that I can go out of my comfort zone, talk to people and be a leader to our middle schoolers."
The next step for the greenhouse project will be joining the list of vendors at the Coon Rapids farmers market this summer. Chapter members plan to continue growing vegetables in the greenhouse after the school year ends and sell produce at the market throughout the summer.
Celebrating FFA
This week, FFA chapters across the state and country are celebrating annual FFA Week with special events and volunteer opportunities.
At Coon Rapids-Bayard, events  include themed dress-up days at the high school all week, a truck and car show, Ag Olympics for grades 6-12 that challenge students' ag knowledge, and a dodgeball tournament.
The activities are part of a bigger celebration as Iowa FFA continues to emphasize expanding access to ag education in high schools across the state.
Currently, Iowa has 257 FFA chapters serving 285 school districts. In total, this involvement allows for ag education to reach 33,000 high schoolers each year.
Many local chapters maintain a Facebook page, an easy resource for finding special events during FFA week or ways to support FFA.
More information on the state-wide organization is available online at
IowaFFA.com
.
Want more news on this topic? Farm Bureau members may subscribe for a free email news service, featuring the farm and rural topics that interest them most!