A first-hand look at the diversity of Iowa ag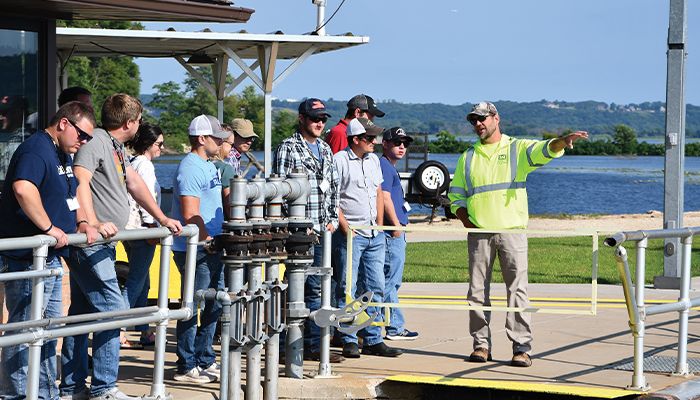 From bison meat and whiskey to dried distillers grains and ice cream, the recent Iowa Farm Bureau Ag Insights Tour revealed diverse and expansive uses for the products grown and raised by Iowa farmers.  
Last month, the tour took 34 participants from counties across the state to several farms and businesses in eastern Iowa.
The first stop was Sunset Hills Bison Ranch near Malcom. The owners raise bison for meat and offer a variety of agritourism opportunities on their farm.
"I think it's always good to learn about different agriculture in Iowa," said Scott County Farm Bureau member Samantha Grunwald. "This trip has been a real eye opener for sure."
She and husband, Reid, run a cow-calf operation near Davenport and grow row crops and alfalfa. 
"I thought the bison farm was really interesting," Reid Grunwald added. "They have found a lot of uses for their meat. Not just bison sticks, or steaks, but they're even using it for dog food."
Turning corn into bourbon 
The second stop of the tour transitioned from crops as animal feed to corn for mash, an essential step in the bourbon whiskey-making process at Cedar Ridge Winery and Distillery in Swisher. 
"I've really enjoyed the diversity and topics that we've covered so far," said Jefferson County Farm Bureau member Matthew Lanman, who was on the trip with his wife, Hilary Lanman. "My big thing, when talking about agriculture, is to show that there is more to Iowa than corn and beans. So being able to see this distillery, the activities from growing their own grapes to using Iowa corn to make bourbon, these are great examples of using agriculture in different ways."
Lanman is also breaking with traditional row crops on his 80 acres, focusing instead on raising pumpkins and tree nuts.
"I don't grow corn and beans, and I don't have the money for expensive equipment. But there are several opportunities that you still have on a small acreage."
Sweet treats
The final stop on the first day was Dan and Debbie's Creamery in Ely. All the products sold at the creamery, including milk, ice cream and cheese, are made from milk produced by Dan and Debbie Takes' dairy herd.
"I guess I have an entrepreneurial spirit, so this tour has given me all kinds of ideas," said Sac County Farm Bureau member Tim Cohoon, who attended the trip with his wife, Nicole. 
He noted that the history of Dan and Debbie's Creamery was inspirational, hearing how the family transitioned from a multigenerational beef cattle herd to milk production, creating the opportunity to use their own product more.
"I think my takeaway is that it's important for an operation to diversify," said Nicole Cohoon. "There are a lot of things that we can't control on the farm, like some of our expenses. These trips are neat because it gives us a chance to meet others in agriculture and see what they do."
Moving grain to market
Day two started off early at Lock and Dam #11 in Dubuque, part of the Mississippi River's lock and dam system that allows barges carrying Iowa corn and soybeans to navigate one of the world's longest waterways on their journey to markets across the globe.
Lock and Dam #11 was opened in 1937. Despite its age, thousands of barges traverse through the 86-year-old lock every year. It can take up to two hours to move a long barge through the lock and dam as water levels are raised or lowered 10 to 11 feet. 
Howard County Farm Bureau member Thomas Pecinovsky said he enjoyed seeing how the lock and dam worked. During the tour, the members walked along the  sides of the lock and learned about the engineering behind it. 
"We sell our corn locally to the mill," Pecinovsky said. "Then it's hauled to the ethanol plant or to the river. This is a pretty interesting feat of engineering, for sure."
The final stop on the trip was at Big River Ethanol in Dyersville, which uses corn to produce about 110 million gallons of ethanol each year.
Members were guided through every aspect of the production process, including grain delivery, processing, distilling and transporting the finished product out of the plant.
"It was really interesting to see how they create a market for our corn and the byproducts for our livestock," said Howard County Farm Bureau's Nessa Stika, who was on the tour with her husband, Luke. 
"We send most of our corn that's not held back for feed to Homeland Energy Solutions (ethanol plant in Lawler)," Luke Stika said. "But I had never seen how an ethanol plant works, so it was really interesting."
Want more news on this topic? Farm Bureau members may subscribe for a free email news service, featuring the farm and rural topics that interest them most!