A diverse agriculture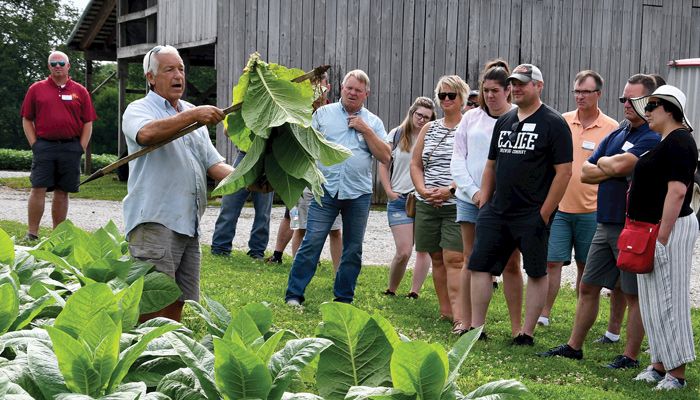 From an $80 million stallion to locally grown peaches selling for $6 per bag at an on-farm market, Iowa Farm Bureau Federation (IFBF) county leaders touched, tasted and smelled the gamut of Kentucky agriculture July 6-10 on the 2021 IFBF Presidents' Incentive Trip.
"It's really interesting to get out and see something different that you don't get exposed to growing up and farming in Iowa," said Chris Ten Napel, Sioux County Farm Bureau president. "Everything from horses to peaches, that's just stuff you don't see at home. Sometimes we're pretty sheltered in Iowa with corn, beans, cattle and hogs."
The trip featured a visit to the famed Claiborne Farm, whose stallions have sired 22 Kentucky Derby winners including Triple Crown winners Secretariat and Seattle Slew. The top stallion currently boarding at Claiborne is War Front, a 19-year-old worth an estimated $80 million with a $150,000 price tag for stud fees.
"They probably care for their horses better than they do people around here. It's pretty impressive," said Ten Napel. "Everything from the feed to the well being of the animal is centered around the horse and how well it's taken care of."
Learning about tobacco
The Iowa farmers also learned about tobacco, a Kentucky legacy crop that has experienced a sharp decline in production following the 1998 master tobacco settlement between cigarette manufacturers and 46 states, including Kentucky. In 1999, tobacco was grown on more than 221,000 acres and accounted for 25% of Kentucky's farm cash receipts. By 2019, the state's tobacco harvest fell to 58,000 acres.
Farmers like Paul Hornback have adapted by increasing their corn and soybean acres, among other crops. Hornback, who farms 3,000 acres near Louisville, said his farm yields average a respectable 200 bushels an acre for corn and 70 bushels an acre for soybeans.
Still, it's no comparison to tobacco, which he said grosses $5,000 to $6,000 per acre. However, the crop is very labor intensive, and much of the work is still done by hand, Hornback said. He estimates it takes about 400 hours of labor from planting to harvest to produce an acre of tobacco.
"It's still very lucrative if you want to deal with the labor," said Hornback. One of his daughters is a beginning farmer who grows burley tobacco for the added income opportunities.
Opportunities in orchards
Another of Hornback's daughters, Amanda Gadjzik and her husband, Matt, took a different direction for their farming careers by starting an orchard from scratch.
Noting an absence of locally grown fruit near their farm halfway between Louisville and Lexington, the Gadjziks planted more than 3,000 apple and peach trees in 2010. They also raise pumpkins and operate an on-farm market and kitchen, drawing thousands of visitors every fall. They also grow corn, soybeans, burley tobacco, hay and cattle.
The entrepreneurship of the young Kentucky farmers impressed Boone County Farm Bureau President Jeff Westrum.
"There was nobody around (raising fruit), so they learned how to do it. They jumped in and started something new," Westrum said. "They were making it work. It looked fabulous."
Bill and Randie Gallrein also noted the agritourism opportunities near Kentucky's large cities when they decided to transition out of dairy farming and expand into fresh vegetables and flowers. Visitors to the farm can browse greenhouses filled with annual and perennial plants, visit a petting zoo or pick their own strawberries.
Gallrein Farms' sweet corn packing operation was humming on the day they hosted the Iowa Farm Bureau group, with workers bundling ears of fresh sweet corn into bags being sold by the dozen or by the bushel.
The operation intrigued Shelby County Farm Bureau President Sam Kenkel, who is launching his own value-added operation with direct-to-consumer meat sales from his cattle farm.
"That was one of my favorite stops. We sat and talked to them forever," said Kenkel. "Looking at these value-added products, it doesn't take too long to figure out you can make a lot more money selling sweet corn than you can field corn. There's a lot of different ways to skin a cat. Sometimes it just takes a little bit of ingenuity."
Networking with farmers
In addition to learning about Kentucky's agriculture, Farm Bureau members said they valued opportunities to meet and network with other farmers from across Iowa.
"I walked into that trip knowing about 20 people, and I walked out of that trip knowing 40 to 50 people across the state," said Kenkel. "It was really fun."
Having a wide network helps keep things in perspective that farmers face many of the same challenges no matter where they farm or what crops they raise, Westrum added.
"It's amazing how all the challenges are still the same — frost, hail, all the weather and Mother Nature hardships," he said. "It's a different scenario sometimes, but it all comes back to the same bunch of challenges."
Want more news on this topic? Farm Bureau members may subscribe for a free email news service, featuring the farm and rural topics that interest them most!