99th Iowa Farm Bureau annual meeting honors Iowans 'Born to Lead with the Will to Succeed' celebrating legacy and innovation of Iowa agriculture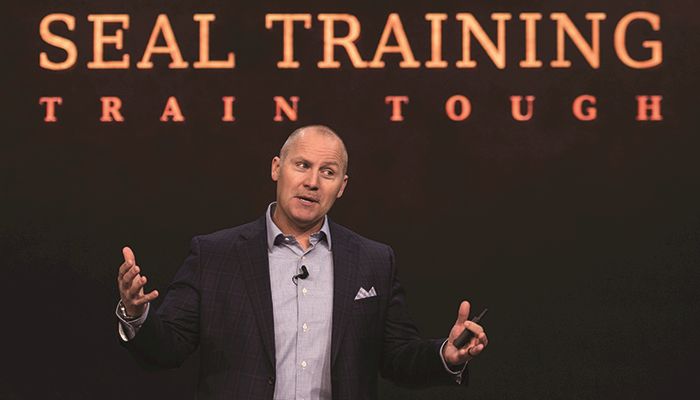 Keynote Speaker Navy SEAL Commander Rorke Denver impressed capacity crowds with life lessons from the front lines
Members of the state's largest grassroots farm organization gathered in Des Moines December 5-6 to kick off a celebration that recognizes Iowa Farm Bureau Federation's (IFBF) 100 years of success. The 99th annual gathering of IFBF members also launched 2018 as the 'Year of Iowa Farm Bureau.' The designation, recently signed by Governor Kim Reynolds, celebrates a century of innovation and leadership of IFBF family farmers.
Craig Hill, IFBF president, addressed the members and shared the storied history of Farm Bureau. "IFBF members may not realize it, but Iowa Farm Bureau was the first organization that gave farmers a 'voice.' Before Iowa Farm Bureau, it was politicians or those appointed by politicians, who decided farm policy," said Hill. President Hill also acknowledged the challenges that face farmers today, including efforts to improve water quality, but Hill says progress is happening. "It's why 87 percent of Iowa Farm Bureau members surveyed say they are using conservation practices on their farm and 71 percent have plans to apply new conservation practices in the next five years. Iowa farmers know water quality is important, so even though we've seen three years of a downturned market for ag products, 73 percent of members surveyed are spending their OWN money to apply conservation practices," said Hill.
IFBF farmers packed the room for "It Takes a Village to Protect a Watershed" education session to hear how several IFBF farmers found success by ramping up conservation practices. Mike Ehlers, a Buena Vista County farmer, agreed that education is the key to changing farmers' ideas about conservation practices. And, he said, repetition is the tool that inspires change and confidence.
"It really takes multiple times of showing other farmers things, before they are willing to consider making a change," Ehlers said.
Jeff Pape of Dubuque County said farmers' competitive nature is an asset when it comes to adding new practices. "People's minds will change when they start seeing their neighbors have positive results," he said. "That's really when you get a lot of people who start to be willing to try new things."
Another big draw at the 99th IFBF annual meeting was keynote speaker, Rorke Denver. Denver, a former U.S. Navy SEAL Commander who served in some of the most dangerous places on Earth, shared inspirational stories and life lessons learned in the field of battle. One lesson he shared was from serving in Afghanistan. Denver and his fellow SEALS were tasked with securing a hillside for approaching U.S. troops. Denver told how he scanned the hills for Taliban, but grew frustrated when he continued to miss existing threats, which his sniper scout quickly found.
"I was having trouble with the fact that my lead sniper had seen everything on this hillside and I hadn't," Denver noted.
But his sniper said the problem was perspective. He pointed out that Denver's mistake was trying to see the entire hillside rather than breaking it down into parts.
"If you look at less, you'll see more," Denver recalled the sniper saying. Since then, Denver has learned to focus his efforts on working through and crossing off manageable tasks, rather than trying to tackle mountainous challenges. He said people tasked with doing 'more with less' can benefit by taking on the same focused approach. Farmers in the audience nodded in agreement.
"As leaders, we have so much on our plate that we have to digest and manage and deal with at a given time. You'll never get it done if you try and do it all. When you try to take it all on, you'll get nothing accomplished. If you do one specific thing and drill in, you'll do great things. Look at less, you'll see more," Denver said.
For a look at presentations, award ceremonies or addresses from the 99th annual Iowa Farm Bureau meeting, visit www.iowafarmbureau.com.
Want more news on this topic? Farm Bureau members may subscribe for a free email news service, featuring the farm and rural topics that interest them most!