2022 New Crop Iowa Commodity Challenge Marketing Simulation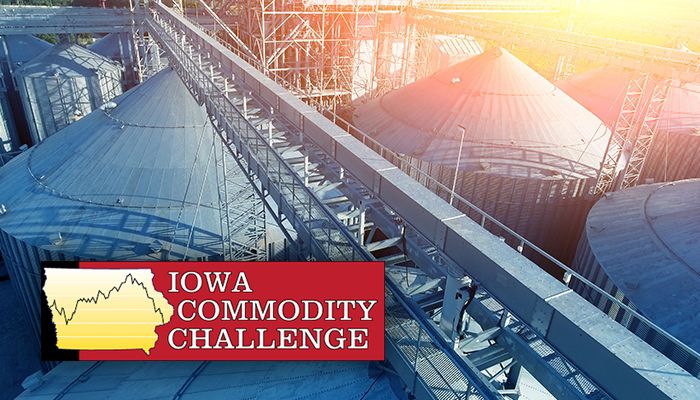 Would you like to experiment selling 2022 corn and soybeans before harvest?  Do you think you have a strategy that can beat the harvest price?  Get safe experience marketing corn and soybeans with real markets before harvest. Practice using forward cash contracts, futures and options.  Register now for the 2022 New Crop Iowa Commodity Challenge that continues until next fall. 
In addition to "learning by doing" with your own experimentation, new this year are example marketers that will play along to illustrate strategies.
Date Seller is an example marketer that strictly sells new crop corn and soybeans at key dates.
GoalOrDate Seller is an example marketer that has price goals but also deadline dates to get crops sold.
Register to see how their strategies work out in pre-harvest marketing of the 2022 crop!
Registration
 Please use this quick registration link: https://tinyurl.com/IA2022NC 


 Please click the "Join Commodity Challenge" button, register including creating your own password, then you will be automatically added to the 2022 New Crop Iowa Commodity Challenge.


 You are now registered and ready to play 2022 New Crop Iowa Commodity Challenge.  The simulation will always be listed on the front page under Active Games.
The simulation 
The simulation farm has 750 acres of corn and 750 acres of soybeans.  The farm has an Actual Production History (APH) of 180 bushels per acre (bpa) for corn and 50 bpa for soybeans.  The farm is covered by 80% Revenue Protection crop insurance for corn and soybeans.
  
The plan is to market the insurance guaranteed bushels before harvest:  

Corn APH of 180 bpa X 750 acres = 135,000 bu.; 80% is 105,000 bu. available to market.  
Soybean APH of 50 bpa X 750 acres = 37,500 bu.; 80% is 30,000 bu. available to market. 



Participants are asked to focus their marketing tool selection to new crop delivery forward contracts and December corn and November soybean futures and options. Cash transactions are based on the market in Alleman, Iowa (just north of Des Moines). 
The simulation 2022 crops must be marketed by October 19, 2022.  Players can join any time before September 21, 2022.


The marketing choices you make in the game are up to you.  The game allows you to experiment with marketing tools with real, current futures and cash prices.  


Reentering the Commodity Challenge game 
If you have questions, please contact me, Ed Kordick, IFBF Farmer Education Program Manager at ekordick@ifbf.org.
Want more news on this topic? Farm Bureau members may subscribe for a free email news service, featuring the farm and rural topics that interest them most!