Youth leadership team promotes pork, educates consumers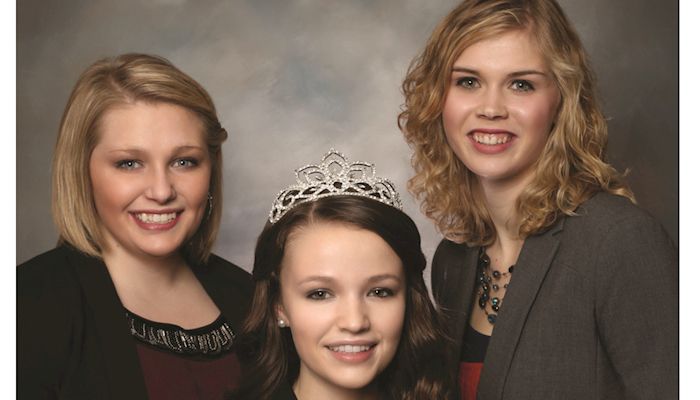 With nearly one-third of the nation's hogs raised in Iowa, the three-person Iowa Pork Youth Leadership Team has an important job to promote and educate consumers about pork.
The team, which was named at the 2016 Iowa Pork Congress, consists of the Pork Queen and two ambassadors. The 2016 queen is Holly Cook from Winthrop in Buchanan County. She is a freshman at Iowa State University majoring in agricultural business. The two 2016 ambassadors are Ashley Smeby and Olivia Bisbee. Smeby is from Klemme in Hancock County and is a junior at Iowa State University majoring in agronomy with a minor in animal science. Bisbee is from Stacyville in Mitchell County. She is a junior at Iowa State University pursuing majors in agricultural business and finance.
The Iowa Pork Youth Leadership Team is tasked with educating consumers about how pigs are raised on farms today. They do this is a variety of ways, says Kelsey Byrnes, consumer outreach director for the Iowa Pork Producers Association.
"The Iowa Pork Youth Leadership team travels to several events throughout the state and across the country to help promote pork and educate consumers," Byrnes said. "They attend events, they hand out pork samples, recipes, coupons and interact with consumers and answer any questions."
Having a youth leadership team is also a great way to develop young leaders in the pork industry, she said.
"They are the faces of the pork industry in Iowa, so it's great to have them out and about at numerous events to answer questions, promote pork and educate. It's also beneficial for them to gain leadership skills, network and gain time management skills throughout their reign," Byrnes said.
The team attended the Iowa State Fair for Animal Learning Day, the National BBQ Battle in Washington, D.C., World Pork Expo, RAGBRAI, Iowa Speedway promotions and several tailgates ­— just to name a few.
Dispelling myths
Some of Smeby's favorite activities with the team this year included the National BBQ Battle in Washington, D.C., where she grilled pork samples on Pennsylvania Avenue.
"I also really enjoyed meeting producers at the World Pork Expo, and talking to families at the Animal Learning Center at the Iowa State Fair," Smeby said.
Her tenure has been challenging, she said, but rewarding in many ways. She had opportunities to dispel many myths, and clear up misconceptions about how pigs are raised and where food comes from.
Though her term on the leadership team ends at this year's Iowa Pork Congress, she said she will continue to promote pork and agriculture.
She's started a blog, and uses it as a way to connect common things, such as cooking and do-it-yourself projects with agriculture.
Smeby will begin a career as a district sales manager for Monsanto. She spent the last two summers working in the company's internship program.
Smeby grew up on a farm by Klemme where her family raises pigs, grows corn and soybeans, and operates a custom manure operation.
At Iowa State Uni­versity, she's involved in Sigma Alpha, Block and Bridle, the Iowa Corn Collegiate Advisory Team and the ISU College of Agriculture and Life Sciences Student Coun­­cil.
"I have also really enjoyed studying abroad and have traveled to Australia, Spain and the United Kingdom, all through programs with the College of Ag and Life Sciences."
Industry voice
For Bisbee, being an ambassador is important because it gives her the opp­ortunity to have a voice for the industry she loves.
Bisbee grew up on a fifth-generation family farm near Stacyville, where they raise pigs, cattle, corn and soybeans.
"This industry is so diverse and I come from a background in the swine industry that isn't like everyone else," she said. "I have learned that each operation has its own unique story to tell, and I'm in this leadership role to share that unique story with consumers and other producers."
She learned that small swine operations have a voice and can make a difference.
"Over the course of this year, I discovered that I know a lot more than I thought and that I can have an impact on the industry," she said. "Since I come from such a small operation, I have been exposed to all the different facets in the pork industry and can relate more to the consumers and producers because of my background."
Once her term is finished, she plans to keep up on the current issues facing the industry.
"I also hope to have the opportunity to volunteer for Iowa Pork Producers whenever they need help. Also, more importantly, I plan to remain active in the pork industry by continuing to have my own operation after I graduate from college," she said.
To learn more about Cook's experience as the Iowa Pork Queen, go to page 12.
Kort is a freelance writer in Ankeny.
Want more news on this topic? Farm Bureau members may subscribe for a free email news service, featuring the farm and rural topics that interest them most!