Will low hog prices continue in 2019?
2017 Versus 2018
2018 saw decreased hog prices received for most months compared to 2017. This was partially due to trade disputes that have remained. Figure 1 shows especially poor months of July, August and September when prices were $9, $17 and $6 less respectively than in 2017. Chris Hurt from Farmdoc Daily says "For the year, current estimates of losses are $6 per head compare to $12 per head in 2017." Although this is an improved situation, producers continued to see losses. NASS data reported for 2018 stops in October.
Figure 1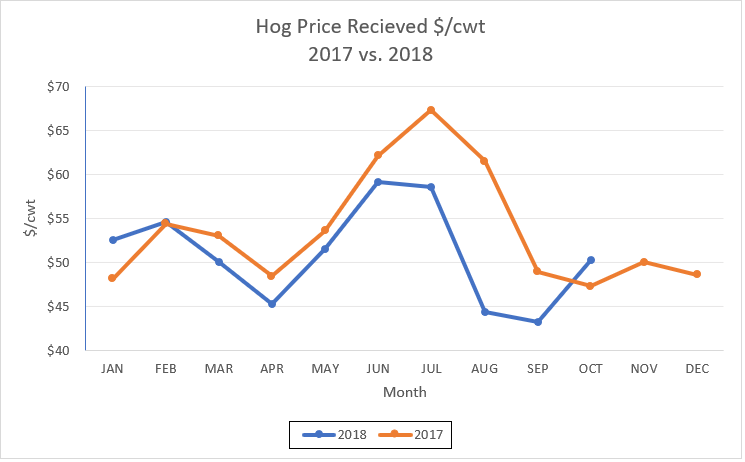 Source: USDA/NASS
2018 Price Versus Cost
2018 saw an average of $50.94/cwt price received which is $0.53/cwt below cost of production, $51.47/cwt. The $51.47/cwt cost of production was calculated using Iowa State Extension Hog Farrow-Finish Enterprise Budget 2018 which assumes a $3.40/bu corn price, $0.16/pound soybean meal price and $0.06/pound DDG price.
Figure 2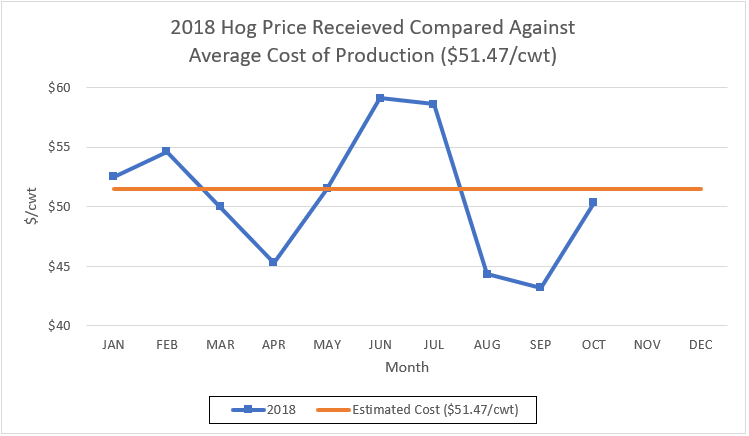 Source: USDA/NASS and ISU Extension and Outreach
2010-2018 Prices
In 2018, April, May, August and September were all the lowest monthly price for 2010-2018. Every observation for 2018 fell below the average for each month 2010-2018.
Figure 3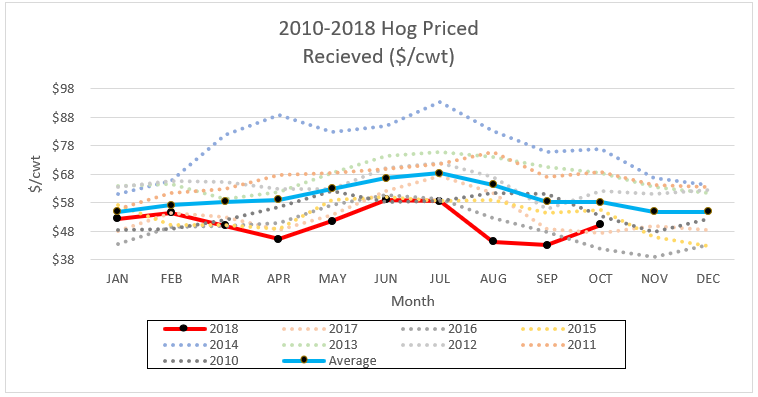 Source: USDA/NASS
2010-2018 Prices
From 2010 to 2018 there are two distinct periods, 2010-2014 and 2015-2018. 2010-2014 saw a $13 higher average compared to 2015-2018. This has been amplified by current issues that are facing the swine industry.
Figure 4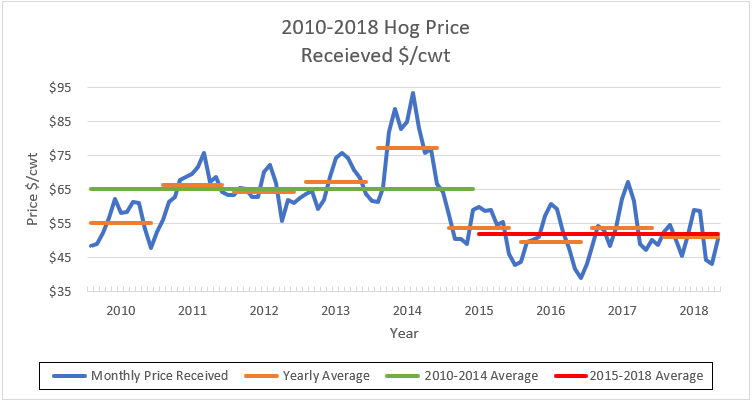 Source: USDA/NASS
Looking into 2019
Chris Hurt says "Prices are expected to average in the low-to-mid $40s in the first quarter. Second and third quarter averages are expected in the low-to-mid $50s and then back down to the mid-$40s in the final quarter of 2019." He uses a similar $51 cost of production comparable to the ISU Extension estimate of $51.47. In this scenario he is predicting that there will be profits in the second and third quarters of 2019, but this will be set back by losses in first and fourth quarters.
References:
Hurt, C. " Pork Industry: Some Recovery from Decade Low Prices." farmdoc daily (9):4, Department of Agricultural and Consumer Economics, University of Illinois at Urbana-Champaign, January 7, 2019.
Ellis, Shane, and Lee Schultz. Livestock Enterprise Budgets for Iowa — 2018. 2018, pp. 1–22, Livestock Enterprise Budgets for Iowa — 2018.
Chris Mandt is a Research Analyst with Decision Innovation Solutions (DIS). DIS is an Iowa-Based economic research firm which provides regular farm economics research and analysis to the Iowa Farm Bureau staff and members.
Want more news on this topic? Farm Bureau members may subscribe for a free email news service, featuring the farm and rural topics that interest them most!