When Pigs Fly: Hog Lift Legacy Connects Iowa, Japan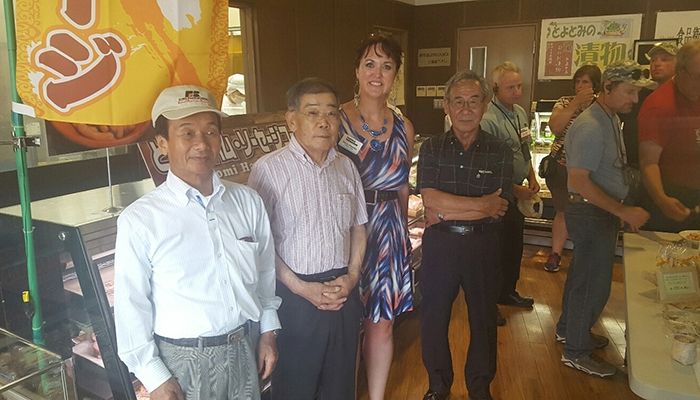 "When pigs fly" is one of those sayings reserved for something so ridiculous, so impossible it will never happen. It makes sense—until you travel to Japan like I have recently. I've seen how the legacy of one Iowan's kindness to the people of Japan more than 50 years ago reflects what can happen when pigs fly.
It all started in 1959. The good times were rolling in America, where the country liked Ike, teenagers were falling in love to hits like "16 Candles," little girls were playing with a new doll called Barbie and families gathered around the television to watch the popular new show "Bonanza."
Turmoil abounded, however, half a world away. Unlike the modern Japan I've seen in early July during the Iowa Farm Bureau's Presidents' Incentive Trip, Japan after World War II was crushed militarily and economically. During the late summer of 1959, Japan suffered another blow when two huge typhoons hit within less than a month, devastating much of Japan's Yamanashi Prefecture, an agricultural region northwest of Tokyo.
Master Sergeant Richard Thomas from Iowa heard about the destruction and wanted to help. He told other Iowans about the disaster and asked what could be done. When people heard about Yamanashi's plight, farmers from around Iowa donated hogs and shipped them by truck to Des Moines.
Many people came to see 36 breeding hogs herded on board a big U.S. Air Force plane. Iowans also sent thousands of bushels of corn by ship so the 26 Landrace, Hampshire and Minnesota No. 2 gilts (most weighing around 130 pounds) and eight boars would have food in their new home.
Thirty-five hogs survived the three-day flight, an event that is known today as the "Iowa Hog Lift." Those hogs helped the farmers of Yamanashi rebuild Japanese agriculture in the wake of the typhoons. Within three years of the Iowa Hog Lift, more than 500 hogs had been produced from the original 35 hogs. Within nine years, there were 500,000 hogs in Japan whose lineage could be traced to the Iowa Hog Lift.
Cultivating a friendship that transcends borders

While the hogs helped restore Yamanashi's livestock industry, even more important was the hope for the future the pigs represented. As I've discovered during my trip, the people of Yamanashi never forgot the generosity of Iowans.
This paved the way for the first United States/Japan sister-state relationship. Iowa Governor Norman Erbe and Governor Hisashi Amano of Yamanashi signed the formal sister state agreement in 1960. You'd think that maybe after 50+ years, the Iowa-Yamanashi sister-state relationship would become a little stagnant. It's not. It's a relationship that reinvents itself every year.
There have been hundreds of exchanges between Iowa and Yamanashi since 1960 related to education, agriculture and more. In addition, both sister states have continued to help each other in times of need. During Iowa's great flood of 1993, Yamanashi sent thousands of dollars in relief money. In 2014, when greenhouses in Yamanashi were battered by an extreme snowstorm, Iowans sent more than $30,000 to help support farmers' rebuilding efforts.
Our group had the chance to meet one of these farmers on July 11. I could see in his face the resilience of a man who knows the harsh realities of Mother Nature and appreciates Iowans' help to rebuild the greenhouse where he grows table grapes.
I also got a sense of just how powerful Iowa's sister-state relationship is when our group met at the U.S. Embassy in Tokyo on July 8 with Caroline Kennedy, the United States' ambassador to Japan. "I hope you understand the tremendous value your presence has here in Japan, and the value the Japanese place on personal relationships," she emphasized.
This was evident as we toured Tokyo and Yamanashi. I was stunned that Iowa farmers are treated like rock stars here, from the warm greetings and gifts we received during our visits to fruit packing facilities, grocery stores and more, to the enthusiastic waves from the Japanese as they lined up near our bus to bid us farewell. More than once I heard, "I hope you come visit us again."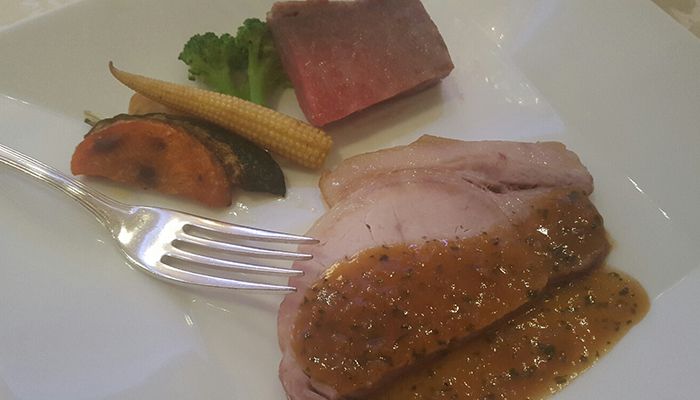 It's clear the goodwill that started Iowa's first sister-state relationship did not end with the 1959 Hog Lift. I got a taste of it in the juicy Fujizakura pork (a product from descendants of the Hog Lift) we savored during a gala dinner at the Highland Resort Hotel in Yamanashi. I could see it each time our Japanese hosts smiled. I could also hear it in their voices. "Our sister-state relationship started with agriculture," Yutaka Arai, vice president of Yamanashi, told us during a meal. "The kindness of Iowa saved Yamanashi."
That's what can happen when pigs fly. It also highlights the power of one. Consider how the actions of one Iowan, Richard Thomas, helped launch a sister-state relationship that continues to flourish today, enriching the lives of people from Iowa to Japan.
The power of one is also evident in the grassroots leadership of the Iowa Farm Bureau. As I became better acquainted with my fellow county presidents during our time in Japan, I was inspired by the leadership each one contributes to make Iowa a better place to live.
I challenge you to become the one who not only sees a need, but takes action to make a positive difference in your community. Also, remember the remarkable story of the 1959 Hog Lift and Iowa's sister-state relationship with Yamanashi, which show it's possible to leave a lasting legacy when pigs fly.
By Darcy Maulsby. Darcy is the Calhoun County Farm Bureau president and an independent marketing/communications specialist.
Photo Captions
Title Photo: Darcy Maulsby pictured with Japanese pork producers the Farm Bureau group met during their agricultural tours of Yamanashi, Japan on July 11.
Body Photo: The juicy, flavorful pork served to the Farm Bureau group at the Highland Resort in Yamanashi is a direct legacy of the 1959 Hog Lift.
Pictured Below: The Farm Bureau group learns about the many ways the 1959 Hog Lift improved pork production in Yamanashi.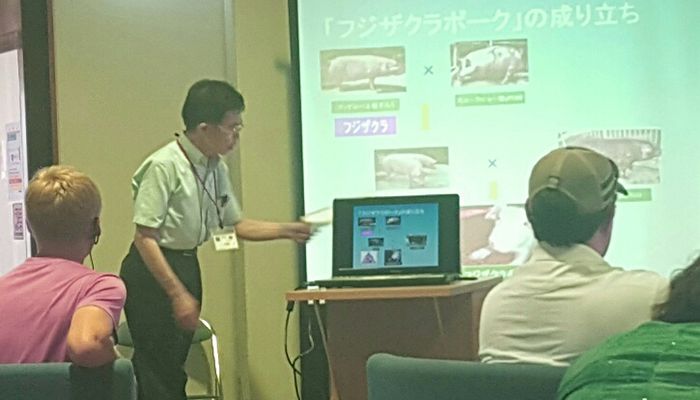 Want more news on this topic? Farm Bureau members may subscribe for a free email news service, featuring the farm and rural topics that interest them most!