Welcoming a new generation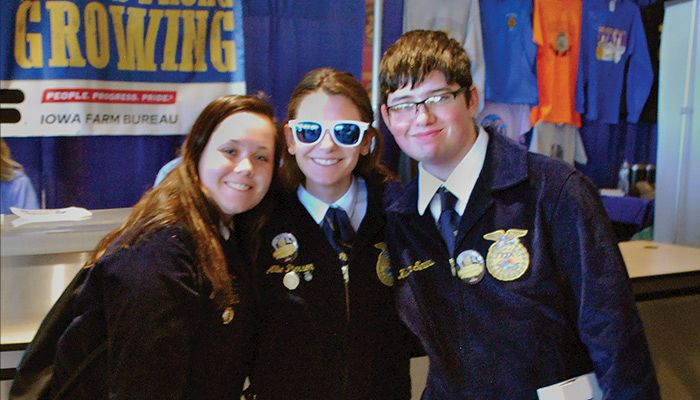 Iowa FFA welcomed five new chapters since the start of this school year, with at least two more likely to launch by next spring.
Three of the recent additions include chapters in Sioux City, Ames and Clear Lake, decidedly urban areas compared to FFA's traditional home in more rural school districts.
"We're focusing on (providing programs that are) developmentally appropriate for 13- to 17-year-old students," explained Scott Johnson, executive director of Iowa FFA.
He doesn't see an urban versus rural divide because FFA allows flexibility for chapters to cater to their demographics.
"The activities being done … there are some things being done that will be a draw to some schools that won't be a draw at other schools," Johnson said. "The best we can do is to show a buffet of options."
This freedom from chapter to chapter fosters growth. Johnson explained that starting an FFA chapter requires three components: the school must offer agriculture course work, employ an agriculture teacher and have at least 10 students that are enrolled in an agriculture course who want to found a chapter.
There are a variety of aspects beyond this required to make a chapter successful long term, but the basics are pretty straight forward.
Emily Lair was hired at Ames High School this year to spearhead its ag education program. She previously taught ag and advised FFA chapters in Spirit Lake and at her home district of Estherville.
At the start of this school year, Ames High School didn't have a FFA chapter. For Lair, the addition of one seemed like a natural extension of her work in the classroom.
"I presented the idea to start a chapter to my students," she explained. "I talked about FFA for the first couple weeks of the courses just to get some interest from students. (The school) had a club fair, so I made a board and brought in a couple state FFA officers … who stood at the board and they were able to talk to potential FFA members."
At the club fair, 30 students expressed interest in FFA. From there, it was a matter of paperwork, electing officers and a few other processes. The Ames High FFA chapter was launched at the beginning of October.
FFA has experienced growth over the last decade, both in Iowa and nationally.
According to Johnson, there were 242 FFA chapters and more than 15,000 members in Iowa at the end of the last school year. Nationally, there were more than 700,000 active FFA members. In both instances, 2018 was a record-setting year.
"Within the last decade, our membership has grown somewhere between 20 and 25%," Johnson said. "When you think about an organization that has been around for 90 years, that's pretty good for a decade's worth of growth."
Going forward, Johnson expects growth in Iowa via two avenues: expansion of agriculture programs in urban school districts and adding middle school chapters.
For Lair, one strength of FFA is that it helps to build leaders.
"I like to give (the students) the power," she said. "It's important they come up with their own ideas and are able to implement them in their own way. It's a student-run organization. The students are in charge of making all the decisions."
This approach follows in line with how Johnson sees FFA remaining valuable in all settings.
"Yes, there's value in students being connected with agricultural literacy and learning agriculture science content, but with industry professionals that are out there, (they say it is) those leadership components that are learned through FFA experiences that are really valuable," he said.
"(FFA members) know how to communicate, they know how to follow a schedule, they know how to plan events. They have a grasp of what they know and what they don't know. Then their employer can train them on some of the contents or subject matters that are specific to (the job). But the combination of leadership skills and development from experience in FFA … that's a good combination that makes students highly employable."
Want more news on this topic? Farm Bureau members may subscribe for a free email news service, featuring the farm and rural topics that interest them most!